Barty Defeats Kerber To Reach Her First Wimbledon Final

Barty knocks out Kerber 6-3, 7-6 to reach first Wimbledon final
Ashleigh Barty, from Queensland, Australia, had not performed like the world #1 at the previous two slams, losing in the quarters down under and the second round in Paris. The 2019 French Open champion was seeking her first Wimbledon final, having never reached the quarters in four main draw attempts.
Standing in her way was the three-time grand slam champion and former world #1, Angelique Kerber. The 2018 Wimbledon champion has been competing with renewed intensity and purpose since winning on the grass in Germany soil two weeks prior.
Barty served first and opened with a double fault. Following two consecutive errors off the ground, faced double break point but managed to hold with well-placed serves and two forehand winners on consecutive points.
Kerber, despite crushing her signature lefty forehand down the line, faced break point and dropped serve when her opponent ripped a forehand down the line.
Barty consolidated the break for 3-0 with a sweet drop shot, three consecutive forehand winners, and an overhead smash on game point.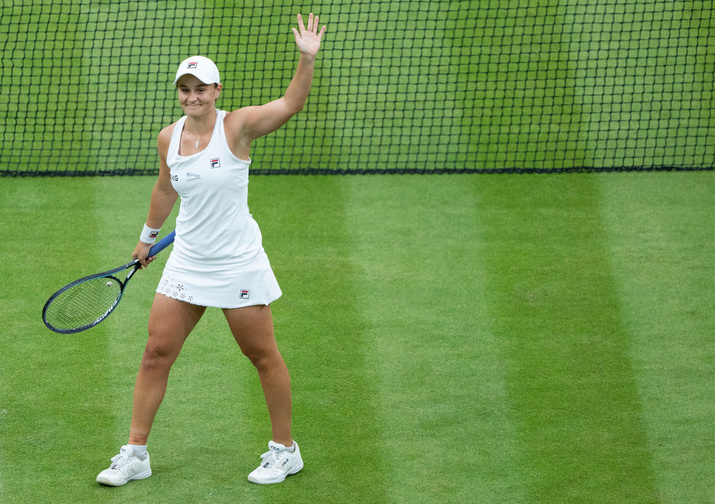 The thirty-three-year-old from Bremen was noticeably tight as she struggled to hold serve but demonstrated greater clarity in the fourth game. She opened with a splendid lob and though she faced break point, saved it with a fantastic crosscourt backhand and closed with an overhead smash.
Barty struck an ace up the tee and her second double fault but with another ace and an unreturnable serve, held for 4-1. Kerber opened with a double fault but held to 15 for 2-4 with two spectacular groundstroke winners on consecutive points.
The twenty-five-year-old Aussie, composed and supremely confident, held to love for 5-2 with three consecutive winners – two off the forehand and a backhand slice. Kerber, serving to stay in the set, returned the favor, holding to love for 3-5 after her opponent donated three unforced errors.
Barty struggled to secure the set, gifting another double fault and two groundstroke errors but clinched it 6-3 with three consecutive winners including an ace out wide on set point.
Kerber served first in the set and held to 30 for 1-0 despite donating another double fault. Barty missed 3/6 first serves and it cost her as she dropped serve following three unforced errors off the ground.
Kerber, brimming with energy, consolidated the break to love with a brilliant crosscourt backhand winner. Barty got on the board with a huge serve out wide for 1-3. Kerber opened the fifth game with an incredible inside-in backhand but soon faced double break point following two consecutive forehand errors yet held with a serve out wide and forehand down the line.
Barty kept it close, holding to 15 for 2-4 with an ace down the middle. Kerber, determined to hug the baseline and dictate play, held for 5-2 following two remarkable inside-out forehands on consecutive points.
Barty, serving to stay in the set, missed 5/8 first serves including a double fault, yet managed to hold for 3-5 with an ace and an unreturnable down the middle. Kerber served for the set but could not close following two backhand errors and a magnificent crosscourt forehand winner from her opponent.
Barty consolidated the break at love to draw level at 5-5 with two winners off the ground and an ace up the tee while Kerber struggled to maintain her focus and grip on the set. She missed 5/8 first serves and faced a deuce point but held for 6-5 with two outstanding forehand winners on consecutive points.
Barty held to 15 for 6-6 with three extraordinary, consecutive forehand winners – down the line, inside-in, and inside-out.
Kerber served first in the tiebreaker and lost the point when she netted a makeable forehand. The world #1 raced to a seemingly insurmountable 6-0 lead but lost the next three points before closing out the breaker, set, and match when Kerber netted a backhand.
Sometimes statistics do not tell the entire story but in this semifinal, they did. Barty finished with 8 aces to 4 double faults, and 38 winners to 16 unforced errors while Kerber posted 0 aces, 3 double faults and 16 winners to 23 unforced errors. In addition, Barty was highly effective at net winning 10/14 while Kerber won 2/4.
While Barty's first serve percentage was low at fifty-five, she won 88% on first and 45% on second serve points. She played smart, composed tennis. She will need that and more if she is to win her first Wimbledon title.,On Saturday she will battle former world #1 and 2016 US Open finalist, Karolina Pliskova. The 29-year-old Czech, currently ranked #13, came from behind to take out an in-form Aryna Sabalenka in the second semifinal.
While Barty leads the head-to-head 5-2, they split the two played on grass. All bets are off with a level playing field as this is a Grand Slam final with both pursuing their first Wimbledon championship.