Barty Battles Into US Open Third Round

This second-round match in Armstrong Stadium was their second tour level meeting, the first five years ago in Acapulco. The Australian, Ash Barty needed three sets then and came close to needing a third last evening to subdue the indefatigable American.
The world #2 and reigning French Open champion was pushed to the limit by the twenty-five-year-old Davis. Lauren Davis is not afraid of the big stage or the game's elite as she demonstrated this past June at the All England Club where she took out the defending champion, Angelique Kerber in three sets in the second round. Although Davis's ranking has dropped to #73 from a career-high of #26, Barty was well aware of her abilities and tenacity.
Barty, known for her variety and excellent serve, needed to employ all her weapons and more as Davis consistently matched her power and placement off the ground. Davis is renowned for her two-handed backhand and court coverage in addition to her attackable first and second serves. Barty, just twenty-three years old was often too passive on the return as well as from the baseline, allowing Davis to find the corners and dictate play.
Barty, however, was extremely focused out of the gates, opening the match with a love hold. Davis came under the gun as she faced three break points in her opening service game. Barty took advantage of several weak second serves and converted on the third break point when Davis overcooked a backhand.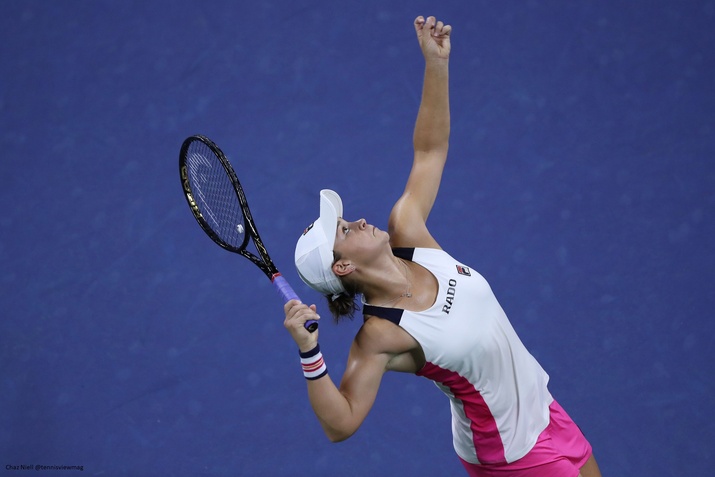 Barty was unable to consolidate the break as Davis wisely chose to hit up the middle, drawing numerous errors from her opponent. Despite striking her first ace of the match, Barty dropped serve when her customarily dependable slice backhand sailed long.
Back on serve at 1-2, Davis struggled to hold and level the match. She faced six deuce and four break points as she donated 3 double faults. Barty finally converted on the fourth as a weary Davis slapped at a slice backhand that found the net.
The #2 seed up 3-1, struck her second ace and easily held to 15. Davis's first and second serves consistently clock in well under 90mph, but due to her authoritative ball-striking from the back of the court as well as the forecourt, she is often able to defend, and hold serve. This ability was on full display at the 2018 Australian Open, where she pushed eventual finalist Simona Halep to the brink, earning three match points before losing 13-15 in the final set.
Serving down 1-4, Davis faced a deuce point but held following multiple unforced errors from her opponent. Barty faced a similar fate in the following game as Davis took her to deuce when her slice backhand found the net. Barty replied with her third ace of the match and held when Davis's slice backhand went wide.
Davis, down 2-5 served to stay in the set and force Barty to serve it out. She quickly went up 40-15 but could not shut the door as she faced a break and set point when her crosscourt backhand went wide.
Following a lengthy and hard-hitting rally, Davis saved the break point with an incredible crosscourt backhand winner. Barty earned a second set point following a backhand error from Davis and converted when she threw in her fourth double fault.
Barty served first in the second and though she missed many first serves and donated a double fault, she held with a fantastic crosscourt forehand on the line. Davis had an easier time in her first service game of the second set, holding to 15.
Barty opened the third game with and ace and once again, held at love. In the fourth game of the second set, Davis struck her only ace of the match at 99mph down the middle. She held to 30 as Barty misfired off the forehand.
Level at two games apiece, Barty struggled to maintain her focus and court position. Despite hitting three aces, she missed too many first serves allowing Davis to rip the return and draw the errors. Davis earned her first break point of the set when Barty missed wide with the forehand down the line and converted when her opponent overcooked a forehand.
Davis is extremely quick about the court and does not hesitate to move forward to finish off points at the net. Serving at 3-2, she struggled to consolidate the break as she continued to miss on the first serve and quickly faced three break points. While Barty was finding the short crosscourt angles on the forehand, Davis unloaded on a backhand down the line to hold for 4-2.
Barty once again found the first serve and held to love for 3-4. Davis, given her weak first let alone second serve, undeniably understood her vulnerability and was determined to maintain the break advantage. Despite missing 4/8 first serves, she did just that and forced Barty to hold to stay in the set.
Serving with new balls, Barty labored to find her first serve but managed to hold to 30 when Davis dumped a backhand in the net. Barty forced her opponent to serve for the set knowing this was her opportunity break back.
Right on cue, Davis faced double break point as she repeatedly overhit the forehand. Barty paid the price for being passive and tentative as she missed three forehands on consecutive points earning Davis a set point.
Barty steadied the ship, moving forward to hit a forehand winner and earn a third break point which she converted with a brilliant backhand slice passing shot up the line.
Now level at 5-5, Barty was unable to rely on her serve to take the lead as she missed 5/8 first serves. Not wanting to go the distance with Davis, Barty, determined to win the match in straights, changed her tactics by charging the net and struck an outstanding crosscourt backhand stab volley to hold for 6-5.
The pressure immeasurable as Davis would have to hold to force a tiebreaker. She was out of challenges and running out of time as she donated yet another double fault. Barty reached deuce four times and earned three match points but was unable to cross the finish line as she butchered a forehand on game point.
As the match approached the two-hour mark, Barty served first in the tiebreaker and quickly went up 5-2 as Davis threw in her 6th double fault. Barty reached match point at 6-2 following a well-placed serve and after an extraordinary duel from the baseline, sealed the deal when Davis's forehand went wide.
Ash Barty seemed relieved to have closed out this second-round match in straight sets. Although she played well, she will need to significantly up the ante in her next match if she hopes to make a deep run.
She missed 37/68 first serves – normally a reliable weapon and although she was able to win 76% of first serve points by employing the slice and dictating with the forehand, against her next opponent she will need to reduce the unforced errors and play more inside the baseline.