Australian Open Women's Final Preview

One hundred twenty-eight women came to the Australian Open seeking a title. That field has now been whittled down to two. Unsurprisingly, Ash Barty is one of the pair still in the hunt as she aims to add a third slam title to her name. Opposite her will be Danielle Collins, a player who has made inroads at previous slams and now finds herself just one win shy of securing a coveted maiden major crown. On Saturday evening, under the lights in Melbourne, these two will commence battle in what could be a highly competitive affair to determine whether it will be heroics at home for Barty or if Collins will play the spoiler.
Both of these women have to be feeling confident that their respective games have what it takes to get them over the finish line. Standing five inches taller, Collins appears to be the more imposing of the duo, and she definitely has an arsenal that can inflict damage on any opponent, including Barty. She has a big first delivery on serve, and her groundstrokes, which she takes early and robs her opposition of time, are both flat and penetrating. When firing on all cylinders, her backhand is one of the most lethal shots in women's tennis. She is at her best when she is playing aggressive, quick-strike tennis, and her odds of upsetting the top seed will certainly increase if she can stay on offense, keeping the points short to avoid allowing Barty the opportunity to utilize her variety to extend the rallies and take the American out of her rhythm.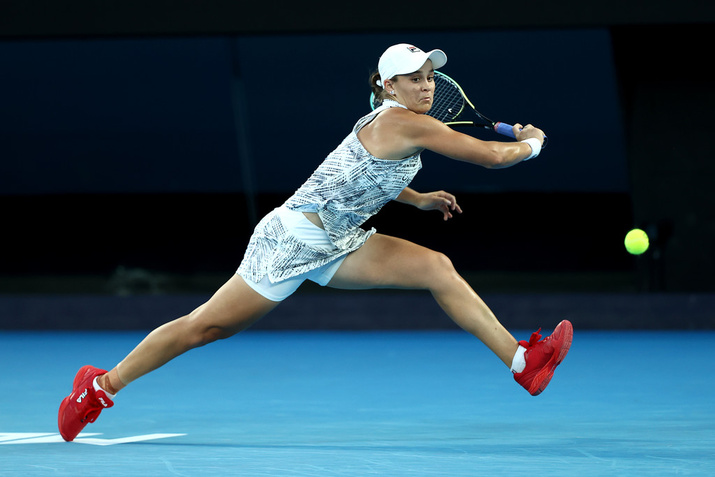 While Barty will fully respect the firepower that the twenty-seventh seed brings to the table and the danger it poses, she should also step onto the court knowing that she is perfectly capable of taking it to Collins. At 5'5", the Australian is on the shorter end of competitors on tour, but she produces a brand of tennis that belies that physical stature. Her serve is among the most effective in the sport and is sure to garner her some free points. She is comfortable dictating rallies from the back of the court off of either wing, whether it be it putting shape on the ball or flattening out her shots. Couple that with her stellar transitional game and exemplary net play, and she can put together an offensive onslaught that is intimidating to any opponent. Furthermore, her defense is superior to the American's, thanks not only to her movement but the variety she can produce from the ground, especially off the backhand. Provided she is not being outright blown off the court, she has more tools in her bag to open multiple avenues to victory.
Undoubtedly, execution of their game plans will play a role in determining the outcome of this contest, but as always, it is not the only component. The other piece of the puzzle is between the ears. On paper, Barty looks the surer bet to handle the situation best as she has to be brimming with more confidence now than ever. She came into this tournament having won both the singles and doubles titles at the Adelaide warm-up event, and she has barely dropped games, let alone a set, on her way to this final. She already has two major titles under her belt and leads Collins in their rivalry 3-1. She does have the pressure of being the clear favorite, and she has to walk that delicate balance of appreciating the crowd support while avoiding the pitfalls that come with wanting too badly to win the title in front of the home crowd. She has managed those pressures well thus far, and if she can do it for one more match, the crown could be hers.
No one should be counting out the ability of Collins to rise to the occasion, however. She does come with the usual question marks that surround a debutant at this stage of a major, with fans and pundits alike wondering how she will respond to the moment. Only time will tell, but Collins's demeanor would suggest she is more apt to be the type to rise to the occasion than wilt. Her background as a college tennis player, competing in front of partisan, rowdy crowds, could also pay dividends. And although she trails in her rivalry with the top seed, she did win their most recent encounter, which came last year in Adelaide. She has played Barty tight in the past, and the fact that she has come through some battles throughout this event could also give her a boost of belief on the pivotal points. She has the luxury of being the underdog, and as she has proven in the past, she can be exceptionally difficult to deal with when she is allowed to swing away.
All told, this has all of the ingredients to make for an entertaining and enthralling championship worthy of a grand slam final. Both are fitting champions, and neither would be an unlikely victor. Even so, between her better all-around game, experience, and the form she has been in since the 2022 season got underway, Barty should be expected to live up to her seeding, not only to her own delight but to that of her entire home nation.