Australian Open: Murray Survives Epic First-Round Battle

Murray survives Basilashvili in five to reach Australian Open 2nd round
It was neither easy nor extraordinary, but it was epic. Sir Andy Murray could have won in straights but went the distance; after nearly four hours he prevailed 6-1, 3-6, 6-4, 6-7, 6-4.
Murray, the former world #1 and three-time grand slam champion ended last season with a convincing straight-sets win over Rafa Nadal at an exhibition event in Dubai. He lost his first match of 2022 to Facundo Bagnis in Melbourne but reached the final in Sydney the following week.
En route to the final, the 34-year-old Scot dispatched former world #7 David Goffin, #25 Reilly Opelka, and #22 Nikoloz Basilashvili in the 4th round in three tight sets. He also won their first tour-level meeting last June in the opening round at the All England Club.
Murray has reached the final down under five times but has yet to lift the Norman Brookes Cup. It is worth noting that four of the five losses were to current world #1 Novak Djokovic who is not competing due to the revocation of his visa.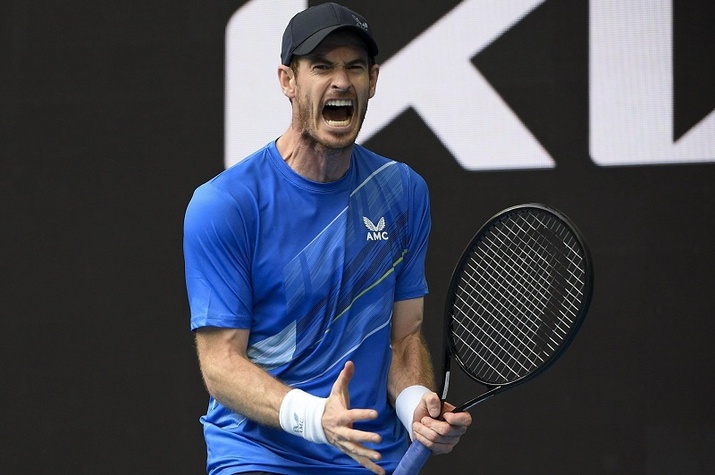 Basilashvili, a month shy of this thirtieth birthday, has not had an auspicious start to the season having lost both matches for Georgia at the ATP Cup in addition to his loss to Murray last week at the Sydney Tennis Classic. With lethal groundstrokes and a high-risk game, he reached a career-high ranking of #16 in 2019. His best performance to date at the Australian Open was the third round in 2018 and 2019.
Murray won the toss and elected to receive. Basilashvili missed 3/5 first serves but held to 15 for 1-0 with an ace up the tee and an unreturnable serve. Murray had an easier time in his opening service game, holding to love for 1-1.
Basilashvili opened the third game with a double fault and following three unforced errors, dumbed serve while the former #1 consolidated the break for 3-1 with two consecutive aces. Although the Georgian opened with an ace, he once again dropped serve following a slew of unforced errors.
Murray consolidated the break at love for a commanding 5-1 lead. Basilashvili serving to stay in the set donated three consecutive errors and faced a triple set point. Murray needed just one, clinching the set with a blistering backhand return.
Murray opened the second with an ace and held easily to 15 for 1-0. Basilashvili settled in, finding his range off the ground, and with an ace up the tee, held for 1-1. Murray took his foot off the gas, lost his way, and serve following a ballistic backhand down the line from his opponent. The 21st seed made 4/6 first serves and consolidated the break for 3-1.
Murray missed 5/6 first serves including a double fault and dumped serve when he netted a makeable forehand. Basilashvili struck two winners off the ground and another ace yet dropped serve following a netted backhand and a double fault.
Murray struck his fourth race and with another well-placed serve, consolidated the break for 3-4. Basilashvili continued to pummel the ball off both sides as he held to 30 for 5-3. Murray serving to stay in the set, reached game point at 40-15 but dropped serve and the set following two backhand errors and a crosscourt forehand winner from his opponent.
Basilashvili served first in the third and with his fifth ace, held to 30 for 1-0. Murray held to 15 striking his fifth ace on game point for 1-1. Basilashvili, despite gifting another double fault, struck another ace and a tremendous inside-in backhand for 2-1. Murray continued to cruise on serve, holding to 15 for 2-2 while Basilashvili struggled, facing triple break point. Despite hitting two consecutive aces, he faced four deuce and another break point before dropping serve after he netted a forehand.
Murray failed to consolidate the break as his serve betrayed him. Basilashvili converted his third break point when Murray mishit a drop shot. The world #22 missed 3/6 first serves and it cost him as Murray broke back with a well-struck drop shot. The two-time Wimbledon champion hit three aces and secured the lead 5-3.
Basilashvili, serving to stay in the third set, continued to commit unforced errors and faced three set points yet managed to hold for 4-5 with a spectacular inside-out forehand. Murray, despite missing 3/5 first serves, closed out the set 6-4 when his opponent's backhand went wide.
Basilashvili served first in the fourth and held to 30 for 1-0 while Murray, following a 19-shot rally, held to 15 for parity. They remained on serve thru six games; Basilashvili drew first blood, breaking the Brit with an outstanding inside-out forehand. Murray immediately broke back, taking advantage of another double fault and an overcooked lob. Although Murray faced a set point in the 10th game, he held for 5-5 with an ace out wide.
Level at 6-6, Basilashivili served first in the tiebreak and raced to a 5-1 lead, but it was short-lived as Murray clawed back to 5-6 with a monster serve up the tee. Basilashvili however, would not be denied as he forced a deciding set by taking the breaker 7-5.
Murray served first in the fifth and with his 12th ace, held at love for 1-0. Basilashvili faced a triple break point and dumped serve when he netted a backhand. Murray raced out to a three-love lead but his opponent held at love for 1-3, striking his 12th ace of the match.
Murray opened the fourth with an ace out wide and once again held at love. It appeared as if he would take the fifth the way he took the first, but his opponent refused to cooperate. Basilashivil kept it close, knowing his opponent would have difficulty closing out the match. It was anything but smooth sailing for the five-time Aussie Open finalist as he lost focus and his serve as the errors continued to accrue.
Basilashvili consolidated the break to level the set at four games apiece. Murray down 15-30, executed a deft drop shot, and held for 5-4 following a backhand error from his opponent. Basilashvili faced a triple match point and managed to save two with consecutive forehand winners but capitulated with yet another unforced error.
Though they both struck 13 aces, Basilashvilli gifted 7 double faults while Murray donated one. While they posted similar serving percentages, they differed considerably on break points converted; Murray won 9/19 while his opponent won 6/10.
Basilashvili tallied 69 winners and 99 unforced errors while Murray hit 25 winners, 46 unforced errors and finished with 26 more points than his opponent.
It was not an exceptionally clean match, but it was highly entertaining. Throughout the match, Murray's defense, and ability to redirect the ball were sublime. How his body will recover is anyone's guess, but he most certainly will grind, grimace and battle not only his opponent but himself.
Next up, Taro Daniel from Japan. The 28-year-old reached a career-high ranking of #64 in 2018 but is currently ranked #120. Murray won their only previous match in 2016 in Davis Cup.