Australian Open: Kenin Reaches First Grand Slam Final

Kenin knocks out the #1 seed Barty 7-6, 7-5 to reach first Grand Slam Final
These two young women took the court on Rod Laver Arena in 100+ degree heat with a coveted spot in a grand slam final on the line. Ash Barty, the hometown favorite and world #1 is the reigning French Open champion but had yet to reach this stage at the Australian Open, losing last year in the quarterfinals to eventual finalist, Petra Kvitova.
Sofia Kenin, the #14 seed, just twenty-one years of age, is playing in her third Aussie Open, having lost last year in the second-round. Incredibly, this time last year, Barty was the #15 seed while Kenin was unseeded.
This tight two-set match, though littered with errors and frayed nerves, delivered high drama, especially as the final set reached its denouement.
Barty, won the toss and chose to serve. She managed to hold to 30 despite missing 5/6 first serves. Kenin, a bit unsettled too in her first service game, missed 3/6 first serves but held to 30 for 1-1.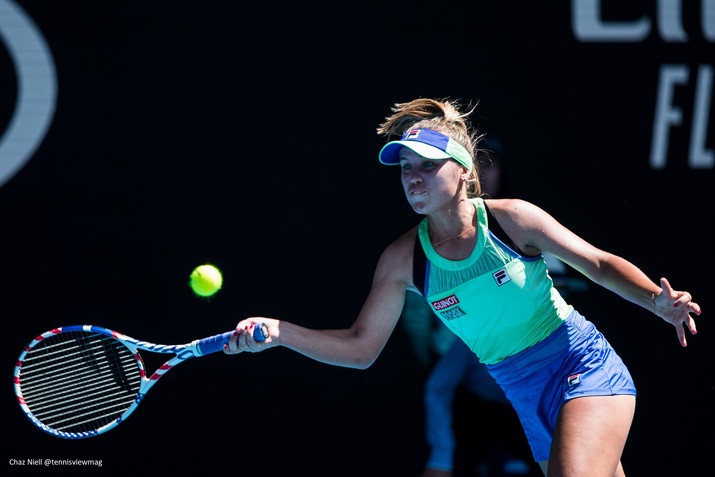 It appeared that Barty had found her footing as she opened the third game with two consecutive aces to held at love. Her opponent returned the favor, hitting a perfect backhand lob which landed on the baseline and struck an ace down the middle to hold at love for 2-2.
Barty continued to uncork on serve, firing four aces out wide and held to 15 for 3-2. Kenin, usually well inside the baseline, continued to retreat and it cost her. She struggled for parity as she faced three deuce and break points.
Barty's signature slice backhand let her down on two of the three break points and failed to convert the third when her backhand return sailed long. Kenin, battling herself as well as her opponent, held for 3-3 when the Aussie's return found the net.
Barty remained composed despite failing to secure the break and once again held to love with a scintillating inside-out forehand winner for 4-3. Kenin continued to give up court position and appeared flat-footed but found success coming to net, striking a crisp cross-court backhand volley winner for 4-4.
The tension and apprehension mounted as the set crawled to a close. The world #1 effectively employed the kick serve and held to 15 to take the lead 5-4. Kenin, known for her combativeness and singular focus was unusually sedate yet managed to successfully navigate these awkward patches to hold to for 5-5.
Barty, the more seasoned player and grand slam champion, failed to capitalize on her opponent's indecisiveness as the unforced errors off her racquet continued to accrue.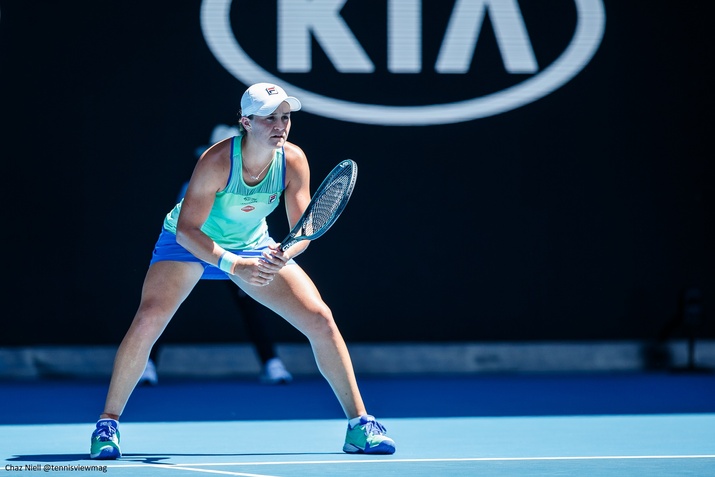 Barty quickly went down 0-30 following two forehand errors on consecutive points. It appeared that Kenin had seized the momentum and might finally earn a break point. Luckily for Barty, her opponent returned the favor dumping two forehands on consecutive points. Now level at 30-30, Barty earned game point with on a remarkable forehand down the line but Kenin refused to yield, earning three deuce points.
In spite of mounting pressure and expectation, the Aussie native held for 6-5 with an inside-out forehand winner and ace up the T on consecutive points.
Kenin, serving to stay in the set and force the tiebreaker, put her foot to the gas, playing with a sense of urgency rarely witnessed during the course of the set. The feisty competitor reemerged as she held to 30 with an outstanding backhand winner on the run.
Barty served first in the breaker and lost the point when Kenin unfurled another exquisite lob but gave back the mini break when her forehand sailed long. Both alternated between outright winners and unforced errors but it was Barty that earned two set points at 6-4 following inside-in and inside-out forehand winners on consecutive points.
Kenin saved one set point when Barty's slice backhand found the net. Barty had one set point remaining on her serve. Kenin pounced on the second serve with a blistering backhand return and finished with a fantastic inside-out forehand winner to level at 6-6.
The young American dazzled as she reached set point following an extraordinary forehand swing volley winner and claimed the breaker and set when Barty's forehand found the net.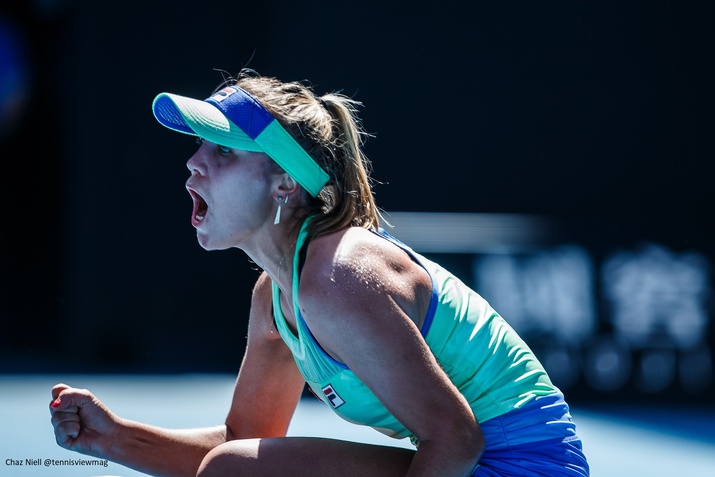 Kenin served first in the second and held to 15 as Barty continued to miss off the ground off both wings. Barty made 4/5 first serves and held to 15 for 1-1. Kenin, knowing her opponent would not capitulate, found herself down break point as Barty unleashed with the forehand and slice backhand on consecutive points and converted when Kenin overcooked the backhand.
Barty, serving with new balls consolidated the break for 3-1. It seemed this semifinal encounter was heading to a decisive set but Kenin kept in close, holding for 2-3 with a well-executed drop shot.
Despite missing 3/5 first serves, Barty was pumped as she struck two outstanding slice backhand down the line winners on consecutive points for 4-2. Kenin held to 30 as Barty donated three additional unforced errors but the Aussie appeared to have steadied the ship and easily held to 15 for 5-3.
Kenin, serving to stay in the set, held to 30 with a marvelous drop shop, forcing her opponent to serve it out. Barty, once again two points from the set, could not convert as she seemed to wilt under the intense heat and pressure.
Kenin earned her first break point with an incredible crosscourt forehand return but Barty leveled at deuce when her opponent's backhand return went wide. Kenin would earn a second break point when she crushed the crosscourt backhand and converted when Barty butchered a forehand swing volley.
Level at 5-5, Kenin, finally overflowing with confidence and grit, announced her intentions, holding boldly at love for 6-5. Barty, serving to stay in the match could not replicate her opponent's intensity or conviction as she opened with her first double fault of the match. Donating two more unforced errors, Barty faced double break and match points. The Aussie saved one with a terrific crosscourt forehand winner but could not save the second as she committed her thirty-six unforced error of the match.
Sofia Kenin, having lived in the shadow of the 15-year-old phenom Coco Gauff whom she defeated in the fourth round, unequivocally has emerged. Unseeded at this even last year, Kenin, a first-time grand slam finalist, will take on the two-time grand slam champion Garbine Muguruza who defeated Simona Halep by the same score in the other semifinal.
This will be their second tour level meeting, the first, last fall in Beijing won in three by Muguruza. History will be made as Melbourne Park crowns a first time Australian Open champion; a fitting end to an exceptionally exciting fortnight down under.