Australian Open: Barty Dismisses Anisimova

Barty knocks out Anisimova 6-4, 6-3 to reach the Australian Open quarterfinals
Ash Barty, the Australian and world #1, is a two-time grand slam champion. She conquered the terre battu in 2019 and the grass last July. Her best performance to date down under was the semis in 2020 so an Australian Open title would be more than fitting for the Queensland native. Barty was brimming with confidence heading into the season's first slam having triumphed earlier this month in singles and doubles at the Adelaide International.
Amanda Anisimova from Freehold, NJ, is currently working on a trial basis with Darren Cahill, a former player who coached former world #1, Simona Halep. In 2019, at the age of seventeen, Anisimova reached the semis at Roland Garros losing in three to eventual champion, Barty. Anisimova achieved a career-high ranking of #21 in 2019 but understandably, it began to plummet following the sudden death of her father in August that year.
After claiming her second tour-level title at the Gippsland Trophy in Melbourne on January 8th, the twenty-year-old continued to impress. Though currently ranked #60, she eliminated four-time grand slam winner and defending Aussie Open champion Naomi Osaka in three to reach the round of 16 for the second time (2019).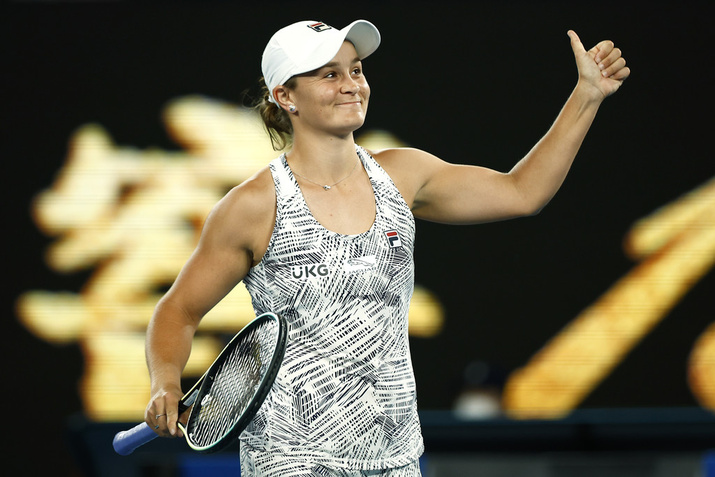 @getty images
Anisimova served first and despite donating four unforced errors and facing a break point, held for 1-0. Barty had a much easier time in her opening service game, hitting an ace and a huge serve up the tee on the last two points for 1-1.
Anisimova made 5/5 first serves and held easily to 15 for 2-1. The #1 seed gifted two consecutive double faults and faced break point yet held for 2-2 with an inside-out forehand slice and backhand down the line on the last two points.
Anisimova, struggling with her movement and shot selection, faced three deuce and two break points but managed to hold behind well-struck serves while Barty made 3/4 first serves and held at love for 3-3.
The twenty-year-old American missed 4/6 first serves and it cost her as she quickly faced a triple break point. Though she saved two with two forehand winners, she lost serve when she overcooked another.
Barty, serving with new balls, faced break point but consolidated the break for 5-3 with a well-placed serve and a forehand down the line. Anisimova, serving to stay in the set, hit two consecutive aces and a terrific inside-out forehand on game point for 4-5. Barty held at love, hitting her third ace to clinch the set 6-4.
Anisimova served first in the second and held despite donating a double fault and facing two deuce and break point. Barty threw in her fourth ace, but it was not enough as she dropped serve following two consecutive errors off the ground.
Anisimova gave back the break as the unforced errors continued to mount. The #1 seed opened the fourth game with her fifth ace and although she donated a double fault, hit another ace, and held for 2-2 with a fantastic forehand down the line.
Anisimova clocked the serve, making 4/5 and held easily to 15 for 3-2. Barty hit her 7th ace and with another well-struck serve, held to 30 to level at three.
Anisimova, serving with new balls, opened with an ace but it was all for naught as she dropped serve following a mishit overhead and two forehand errors. Barty continued to serve well making 4/5 and held easily to 15 for 5-3. Anisimova serving to stay in the match seemed to crumble under the pressure as she lost serve and the match following three additional backhand errors.
Ash Barty finished with 7 aces, 3 double faults, and converted 4/11 break points. She was stellar at net winning 6/6 and twenty-three winners to seventeen unforced errors. She won 78% of first and 50% of second serve points and an impressive 45% of receiving points. She was in control throughout the match and played with the poise and assuredness befitting the world's top player.
Next up, the 21st seed Jessica Pegula who defeated the 5th seed Maria Sakkari to reach her second and consecutive Australian Open quarterfinal. In 2019, Barty en route to the French Open title defeated Pegula in straights in the opening round. This will be their second tour-level meeting and first on hardcourt.