ATP US Open Day 11 Preview: Berdych-Cilic, Federer-Monfils

The ATP quarterfinals conclude at the US Open on Thursday with a clash between two giants from Eastern Europe and a five-time champion facing a French showman.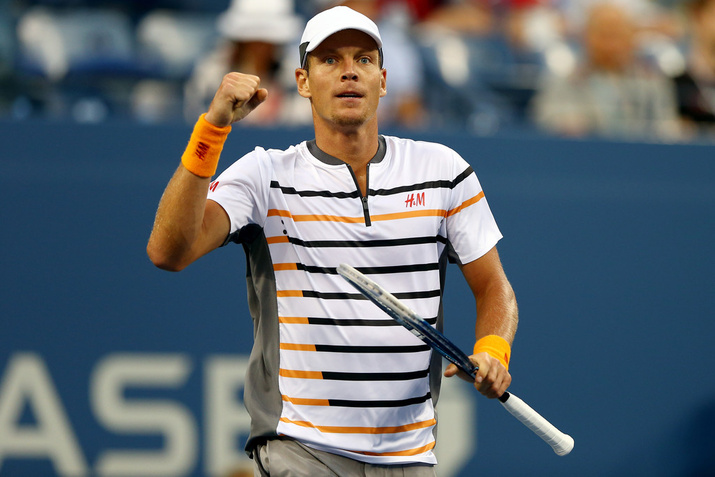 Marin Cilic v. Tomas Berdych
In the battle of the big men, Tomas Berdych and Marin Cilic will be facing off for a coveted spot in the U. S. Open semifinals.
Berdych's last appearance in a major semifinal came this year at the Australian Open, when he fell to eventual champion Stan Wawrinka in four sets. You have to go back to the 2010 Australian Open to find Marin Cilic's last and only appearance in the semifinal of a major. Cilic nearly reached the semifinals of Wimbledon earlier this summer but was ousted by eventual champion Novak Djokovic in a tight five-set match.
The Czech No. 1 leads the head-to-head 5-3 and has won three of their four hard-court meetings. Cilic did get the best of Berdych in their last meeting, which came earlier this summer at Wimbledon. Their last match on a hard court occurred in the final of Rotterdam in February, a match that Berdych won in straight sets.
Berdych overpowered Dominic Thiem in the fourth round, only conceding seven games on his way to victory. Cilic didn't have such an easy time, needing five sets to get past the ever-consistent Gilles Simon.
For their respective sizes (Berdych 6'5 and Cilic 6'6), they are both very solid movers. Berdych is by far the more technically sound player and has a much easier time generating pace. Don't be shocked to see a tiebreak or two in this one, considering the high-voltage serves we will see from both ends.
Two critical components of this match will be the big points and depth. Breaks will likely come at a premium in this encounter. In addition, if we do see some tiebreaks, the player who handles the pressure points better will have a decided advantage. Depth also will be an important factor in this match because these are two players who make no mistake when dealing with a short ball. If either player is unable to find his range off the ground and is constantly feeding the other with shorter balls, it will spell trouble.
There's not really one area of the game where Cilic can say he has an advantage over Berdych. If Berdych is able to produce the same level that he demonstrated against Thiem, he'll have a wonderful chance of beating Cilic and advancing to the semifinals.
Prediction: Berdych in four sets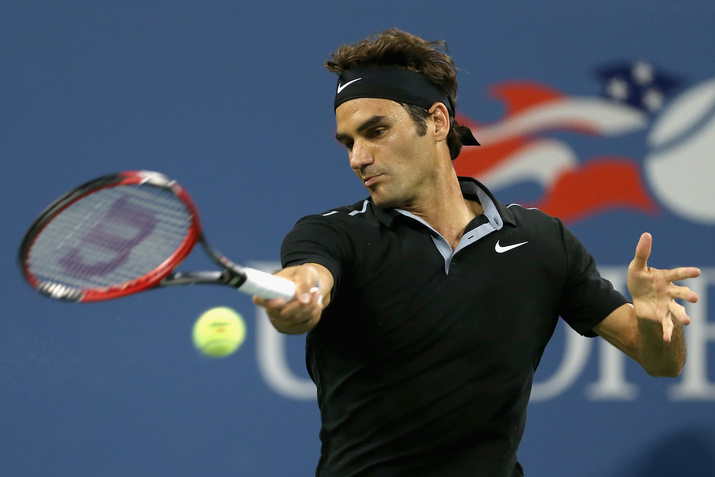 Roger Federer v. Gael Monfils
There will be no absence of shot-making in this quarterfinal match pitting one of the greatest entertainers in tennis history against one of the greatest players of all time.
When Gael Monfils and Roger Federer square off on Thursday night, the always enthusiastic Arthur Ashe crowd will be charged up and ready to go. The creativity stemming from the rackets of both Monfils and Federer should be enough to provide the fans with the adrenaline they need to possibly stay up through the wee hours of the night.
Monfils has looked outstanding thus far. He's reached the quarterfinals without dropping a set, having beaten Richard Gasquet and Grigor Dimitrov along the way. Federer dropped his only set against Marcel Granollers in the second round and has yet to be seriously tested.
Monfils and Federer most recently met in Cincinnati. Federer, who would go on to win the tournament, needed three sets to fend of the Frenchman. They've met at the Grand Slam level three times with all three meetings occurring at the French Open and all three meetings being won by Federer.
Following his fourth-round victory against Roberto Bautista Agut, Federer said that he expects Monfils to do a lot of good defending and for himself to do a lot of good attacking. If this ends up being the case, Monfils will be giving himself the smallest opportunity to come out ahead. In his two victories over Federer, Monfils took the bull by the horns and attacked. He served big and controlled the baseline, something not easily done against Roger Federer. Unless your name is Rafael Nadal, there's almost no chance you can beat Federer by exclusively defending.
There are times when Monfils starts to get lazy with his footwork and swing speed. It will be critical for Federer to take advantage of these periods, if they do indeed occur, and rush the Frenchman in order to extract errors and short balls.
Monfils has looked very convincing throughout this U. S. Open, and although Federer is the man of the moment, this match looks primed to go the distance. This is a tossup from my vantage point, but the nod actually goes to Monfils, who looks ready to finally make that big breakthrough we've all been waiting for from him.
Prediction: Monfils in five sets