ATP Trend? Injuries Plague Stars from Nadal to Del Potro

Every fan and athlete knows that there are outside variables that inevitably have an impact on outcomes and the general landscape of any sport. Unfortunately, one of those variables is injuries, and the ATP World Tour cannot escape them. In just the opening weeks of this season, there has been a rash of injuries leading to a number of retirements, withdrawals, and otherwise compromised performances. It is a trend that could have a significant bearing on what transpires through the rest of the year, considering the influence those injuries have already had in 2014.
The year's first Grand Slam bore its share of injury disappointments with John Isner, Bernard Tomic, and Tommy Haas representing just a handful of the players who saw their Australian Open campaigns cut short due to various ailments. And nobody could forget Rafael Nadal's back injury, which became one of the hottest topics in Melbourne. It marred what had started out as an intriguing championship match and arguably overshadowed Stanislas Wawrinka's impressive run to his maiden Grand Slam singles title.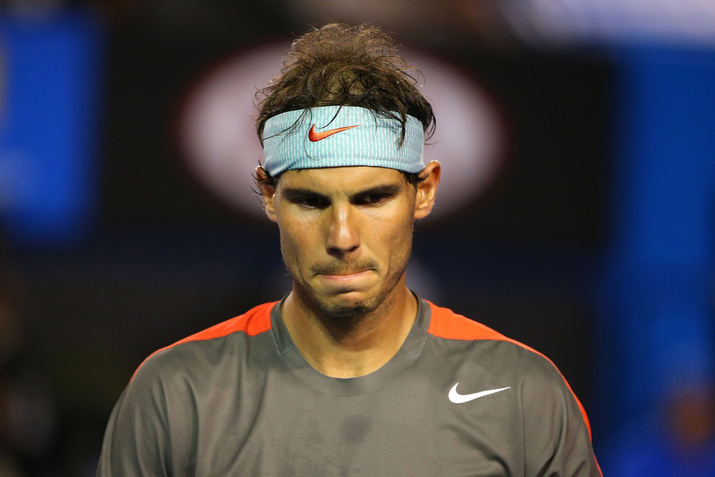 A week later, injuries were wreaking havoc on the Davis Cup competition as some nations were prevented from putting their best foot forward. Isner was forced to remain on the sidelines with a niggling ankle injury and watched as his American team fell to Great Britain for the first time in over a century. Then there was the brouhaha that arose when Germany failed to field a man for one of the two dead rubbers this past Sunday against Spain. It was a poor decision by the German squad, and the ire of the fans was understandable. On the other hand, two members of Germany's team (Phillipp Kohlschreiber and Haas) had exited the Australian Open with injuries. One can hardly blame them for being cautious about re-aggravating their injuries by playing a meaningless match on both personal and national levels.
Aside from these direct impacts on matches, injuries have proven themselves to be real momentum killers this year. After a relatively promising end to 2013, Juan Martin del Potro once again logged a disappointing showing in Melbourne as woes with his left wrist continued. Judging by his long journey back after undergoing surgery on his right wrist in 2010, the Argentine could be in for a rough road. Additionally, newly crowned Australian Open champion Wawrinka will have to wait a little longer to try and build on his victory in Melbourne after the Swiss No. 1 had to pull out of the Rotterdam event next week with a leg injury.
If this injury trend continues, it could lead to changes in the ATP pecking order. A quick glance at the rankings shows there has already been a subtle shift that could indicate a breakup of the dominance of the Big Four. While Nadal and Novak Djokovic comfortably hold the first and second spots, respectively, it is Wawrinka, Del Potro, and David Ferrer who round out the top five. Of course, these recent ailments could prevent Wawrinka and Del Potro from cementing their positions in the rankings. And not even the established elite are safe either. Lingering back issues or recurring knee problems could spell trouble for Nadal, particularly given that the Spaniard has so many points to defend following such a successful 2013.
But one player's loss is another's gain. If someone like Roger Federer can stay healthy and build on the form he has already shown this year, he could take advantage of the misfortunes of others to climb back up the rankings. Similarly, a fit Tomas Berdych could benefit from weakened opposition to enjoy a breakthrough similar to that of Wawrinka. In the end, it is all about making the most of the opportunities that are there, irrespective of how they come.
As much as fans may be rooting for different scenarios to play out concerning their favorite players, all can agree that no one wants to see change come about from injuries. They are a source of frustration for both the players and the fans, detracting from matches and tainting results. Hopefully, this current round of injuries is an anomaly and not something that will continue throughout the months to come. After all, tennis should not be about the injuries. It should just be about the tennis.