ATP Roland Garros Quarterfinal Previews: Nishikori, Federer

The ATP quarterfinals at Roland Garros open with an all-Swiss contest and a contrast of styles featuring the only remaining home hope.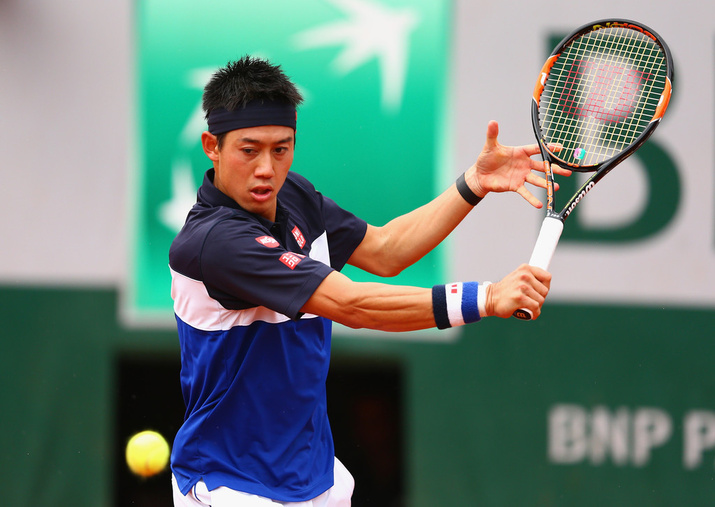 Kei Nishikori vs. Jo-Wilfried Tsonga:
Nishikori has been flying under the radar, it would seem. With the Roger Federer-Gael Monfils match and now of course the Novak Djokovic-Rafael Nadal match taking much of the attention, Nishikori has quietly raced his way through to what should be a very intriguing quarterfinal against France's finest.
If history is any indication, the Frenchman certainly has his work cut out for him. These two have met five previous times, with Nishikori having won four of them. The four matches Nishikori has won against Tsonga have gone the distance, and the only one Tsonga won was in straight sets. This would seem to tell us that if this match goes deep, Nishikori may have a bit more confidence in closing it out. Tsonga can also get erratic over the long run, which would also seem to help Nishikori if this one goes to a fourth or fifth set.
Tsonga scored his best win of his entire season in the fourth round, handing a stubborn Tomas Berdych his first loss to a player outside the top 10 in 2015. Nishikori easily disposed of the feisty Russian Teymuraz Gabashvili in straight sets.
This match will be played on Court Philippe Chatrier. The Parisians are desperate for a French winner at the French Open, and even though it is improbable, Tsonga has the game to upset anyone on his day, and the French crowd will surely attempt to push him to do so. He is the lowest-ranked player remaining in the tournament and the only one not in the top 10.
Nishikori is going to destroy Tsonga in any backhand-to-backhand rallies. It's about as sure of a bet as you'll get with this match pitting Tsonga's weakest shot against Nishikori's best shot. Of course, Tsonga will attempt to run around his backhand as much as he can, which of course is also risky on a slower surface against a speedy opponent. The margin for error is lower, and the quality of the shot has to be that much better.
One area of the game where I think Tsonga has a clear edge over Nishikori is at the net. Tsonga is far and away the better net player and should look to abridge rallies by moving forward and forcing Nishikori to pass.
Both men will be aggressive, and while I have been impressed by Tsonga, Nishikori has just been too good over the last several months on clay (only losing to Murray and Djokovic) for me to write him off here.
Prediction: Nishikori in four sets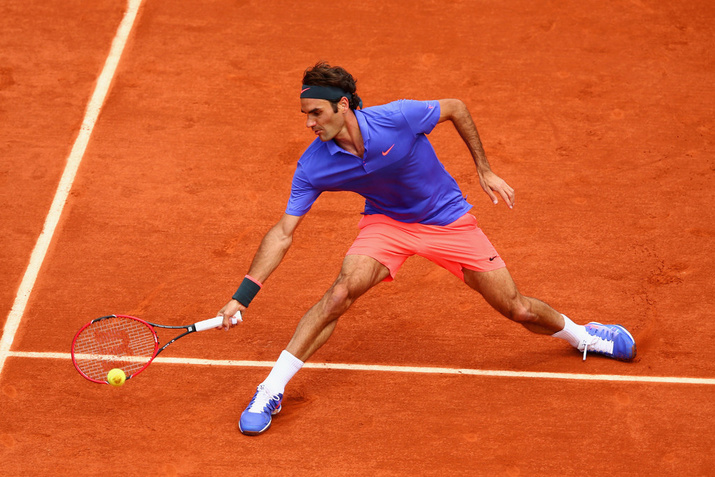 Roger Federer v. Stan Wawrinka:
It took Roger Federer less than an hour to beat Stan Wawrinka the last time they met, which was only a few weeks ago in the semifinals of the Rome Masters. Wawrinka got off to a blazing start before he crumbled and Federer sprinted to the finish.
Ever since winning the Australian Open last year, Wawrinka has posed a bigger threat to Federer than he ever had. Not only did Wawrinka beat Federer in the Monte Carlo Masters final last year, but he also pushed Federer in the Wimbledon quarterfinals and at the World Tour Finals.
Although Wawrinka won his major on a hard court, he has said in the past that clay is his favorite surface, and it's easy to see why. He thrives on time and can pack a heavy punch off both wings when given time. His backhand is a legendary shot that will go down as one of the greatest ever.
Federer excels on the clay because his offensive toolbox compliments an uncanny ability to move and slide on the surface. He's been to the French Open final five times, making clear that although clay is his worst surface, he's still awfully good on it.
Wawrinka is one of the few players who can really take the offense out of Roger's hands and direct the action the way he wants. He has incredible power from the back of the court, which works in tandem with his forceful serve. Federer isn't the best defender, so when Stan is clicking, he doesn't have many answers. Waiting out the storm is really the only option sometimes. One matchup problem Wawrinka creates for Federer is the backhand-to-backhand. Wawrinka can rip topspin and get Federer to play balls out of his strike zone, creating space for his offense to flourish.
Federer is going to trouble Wawrinka with his ability to put the ball wherever he wants, making Wawrinka play out of the middle of the court and attack his friend's weak chip returns of serve.
This match is a really close one to call, but given the up and down nature of Wawrinka over the last year and a half, I'll go with Federer in four tight sets.
Prediction: Federer in four sets