ATP Roland Garros Previews: Nadal-Sock, Ferrer-Cilic

Nine-time Roland Garros champion will be a heavy favorite against American newcomer in Jack Sock when they vie for a berth in the quarterfinals. On paper, not as much separates top-10 players David Ferrer and Marin Cilic, although their relative success on this surface tells a different story.
Jack Sock vs. Rafael Nadal:
There's not many players in today's game who can say they possess a forehand with the same qualities that Rafael Nadal has on his, but for American Jack Sock, this is not the case. Sock, who plays with a more extreme grip with Nadal and has a lot more stuff going on with his racket, can absolutely rip the forehand. It's a marvel that he's able to hit his forehand with as much spin and pop as he does and keep it in at the same time, given all he is doing with his racket to make it happen. Sock and Nadal top the leaderboard in terms of the revolutions per minute they produce on their forehands, making both of these forehands deadly shots to handle on the red dirt, which customarily produces a higher bounce.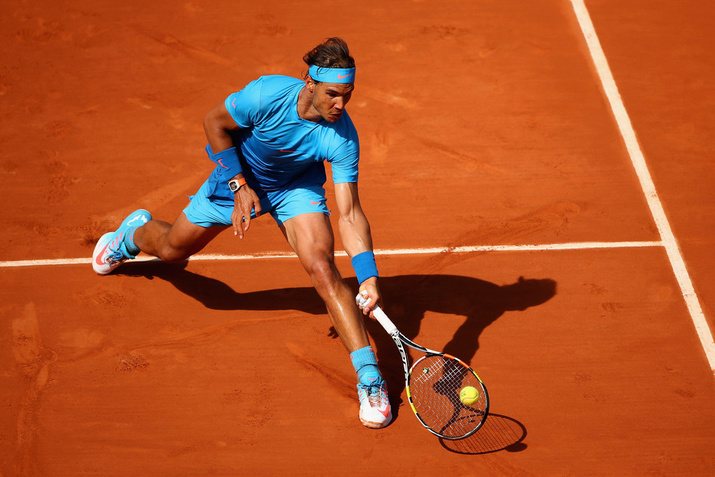 In terms of experience, Nadal and Sock couldn't be further apart. Nadal is the greatest clay court player ever, and Sock is playing in the fourth round of a Grand Slam for the first time in his entire career. Despite the gap in experience, I think Sock's playing style will end up working in his favor. Whether or not he's nervous, there's really no straying from his commitment to blast serves, run around backhands, and crush forehands. He has no other option, and it's almost impossible to envision a scenario where he avoids his typical style of play.
Sock and Nadal have never played before, and it's safe to say this is not the ideal setting to be facing Nadal for the first time. On the bright side, Nadal is going to have to deal with a taste of his own medicine tomorrow, facing balls with as many revolutions as he himself is hitting. It should be an interesting dynamic to say the least.
At the end of the day, it's not hard to see Sock squeaking out a set here, but winning the match is an extreme longshot. Even Robin Soderling, who went all out on the attack in 2009 to beat Nadal in the French Open, was able to do so off the serve, forehand, and BACKHAND sides. Running around backhands to beat Nadal in a best-of-five match at Roland Garros is close to a mission impossible. Look for Nadal to get to Sock's backhand enough to get through this match and set up the blockbuster quarterfinal battle with Novak Djokovic.
Prediction: Nadal in four sets
Marin Cilic v. David Ferrer:
Marin Cilic is quite the story right now. Entering the French Open, the Croatian was 4-6 on the year and hadn't shown any signs of being able to do what he's done during the first week, which has been to completely rout his first three opponents, most notably 2014 Hamburg champion Leonardo Mayer. Cilic took the Mayer to the woodshed, as we like to say these days, winning 6-3 6-2 6-4.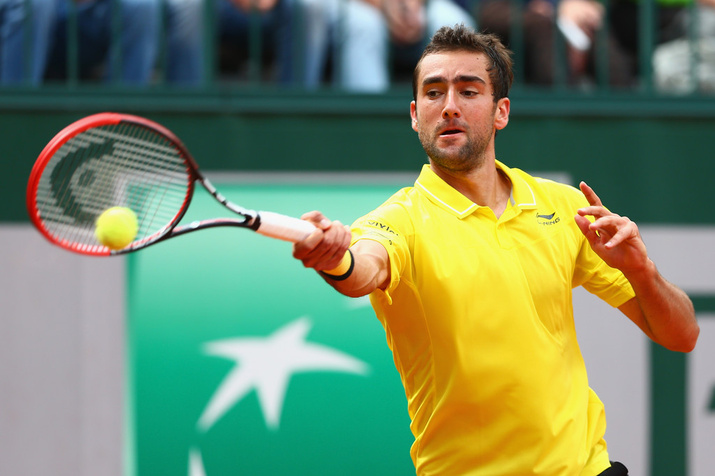 Historically, clay has been Cilic's worst surface. Of his 13 titles, only one has been on clay. Of all three major surfaces, Cilic has the lowest winning percentage on clay. At this event, he's only made to the fourth round twice, where he lost both times. For someone of his height who plays his style of ball, clay is not something you would imagine he'd take a liking to.
Of course, the real test for the U. S. Open champion will come tomorrow, when he takes on the Allen Iverson of tennis, David Ferrer. As Iverson did in the NBA, throwing his body around wherever he had to, David Ferrer will throw his body into as many balls as he has to for as long as he has to get the job done. On clay, his speed and defensive skills end up putting his body in more precarious positions than on any other surface.
Cilic and Ferrer haven't played in over four years, but interestingly enough their last match was won by Cilic on clay in Rome. Ferrer leads the overall head-to-head 3-2 and has won three of their last four meetings.
If Cilic can summon the level of play that he found during the second week of the U. S. Open last year, Ferrer is in major trouble. The quality of offense that Cilic is capable of producing is close to unstoppable, even on the slowest surface against the best defenders on the biggest courts. If Cilic isn't at a high level, Ferrer should win this match. It takes a lot to take out Ferrer on clay, and a big man on clay not executing is someone Ferrer should beat.
One advantage Cilic has is height. At 6'6, Cilic will be able to easily counter Ferrer's heavy topspin inside-out forehand. He'll be able to take it early and lean on it cross court or take a bit of extra time and rope it down the line. Either way, it's a matchup problem that could really hurt Ferrer tomorrow.
Based off this matchup and what we've seen from these two thus far in this tournament, and it's worth noting Ferrer needed five sets to fend of Simone Bolelli in the third round, Cilic is the pick here. We'll see if he can make a little magic tomorrow.
Prediction: Cilic in five sets