ATP Match of the Day: Monfils vs. Cuevas

The third round of Grand Slams is typically a time for seeded players to clash for the first time. On Friday, there is only one match between seeded players. French favorite Gael Monfils will take on the highly talented clay court specialist Pablo Cuevas of Argentina on Court Suzanne Lenglen. The Frenchman is the favorite in this one, but don't be surprised if Cuevas pulls off the upset. In reality, it wouldn't be that big of an upset considering how up and down Monfils is and how solid Cuevas is on clay.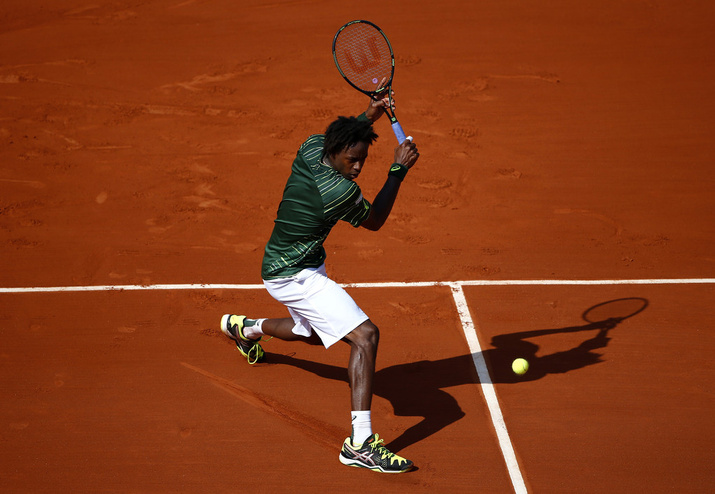 Monfils and Cuevas will be meeting for the first time since the first round of the 2008 U. S. Open, a match that Monfils won in three sets. If you're planning on watching any of the men's matches tomorrow, this should be the one. It's the highest-quality match on paper and will probably end up being the best match overall.
Cuevas enters this second-round match having scored a massive victory in the second round in four tough sets over last week's Nice champion, Dominic Thiem. Monfils snuck past a cagey Diego Schwartzman in five sets on Philippe Chatrier, a match that he made decidedly tougher than he needed, which is nothing new from Monfils.
Cuevas' clay court pedigree has been largely created through his winning of three clay titles over the last year. His run to the third round of the French Open this year marks his deepest run yet at Roland Garros. Monfils' first ATP title was in Sopot on clay in 2005. Since then, he's only won hard court titles but he's no stranger to success at Roland Garros. In 2008, Monfils reached the semifinals before losing to Roger Federer.
There is a lot riding on this match. Not only does the winner advance to the second week, but they'll also be destined for a likely fourth-round match with Federer. There's nothing more that the showman Monfils would want than a fourth-round clash with Federer on Court Philippe Chatrier.
Cuevas is an extremely intelligent player. He knows when to be offensive, he knows when to play defense, and he can transition seamlessly between them. Monfils, while being uber-talented, doesn't always utilize a strong balance between defense and offense. If you took Cuevas' playing style and combined it with Monfils' sheer talent, you'd have a pretty fine player on your hands.
Expect Monfils to target the Cuevas one-handed backhand in this match. Cuevas isn't overly proactive about taking the ball early, and on clay, the one-handed backhand can be particularly tough to handle. As a result, Monfils should seek out opportunities to gain the upper hand in the court positioning battle. In the same breath, Monfils has been known to rely on his defense, and if this happens, look for Cuevas to insert his own offense into this match.
One staple of Cuevas' game that will surely be integrated is his lethal kick serve. Monfils has a pretty solid backhand and can handle the kick serve out wide, but if he's playing passively, Cuevas will be able to make inroads pushing Monfils behind the baseline.
My head says Cuevas, but with the French crowd behind him, I'll take Monfils.
Prediction: Monfils in five sets