ATP Finals: Rublev Rises To The Occasion To Defeat Medvedev

Rublev rises to the occasion to defeat Medvedev 6-7, 6-3, 7-6 at the ATP Finals
Friendly rivals and countrymen took to center court at the Pala Alpitour in Turin on day two of the Nitto ATP Finals. They were drawn into the Red Group along side 5-time champion Novak Djokovic and 2019 champion, Stefanos Tsitsipas.
Daniil Medvedev has enjoyed great success at the season ending championships having won the prestigious title at the O2 Arena in 2020 and reaching the finals last year in Turin. Andrey Rublev was competing in his third consecutive Tour Finals though had yet to progress past the round robin stage.
Medvedev reached a career high ranking of #1 earlier this season and with two titles, is currently ranked #5. Rublev reached a career high of #5 in the fall of 2021 and with four titles this season, is currently ranked #7.
Both Moscow natives, they had met five times prior to today's match all on indoor or outdoor hard. Medvedev won the first four with Rublev securing victory in 2021 in the semis at the Masters 1000 event in Cincinnati.
Rublev served first and with an ace up the tee, held easily to 15 while Medvedev upped the ante holding at love for 1-1 with two winners. Rublev seeded 6th, held to 30 for 2-1 with a big serve out wide and a crisp crosscourt forehand volley. Medvedev faced triple break point and dumped serve following two monster forehands and a swing volley from Rublev.
Although his second serve is still a liability, the world #7 consolidated the break at love to lead 4-1. Medvedev struck his first ace and with a spectacular crosscourt backhand, held at love for 2-4. Rublev continued to serve with conviction making 4/4 and held at love for the second time with a blistering forehand down the line.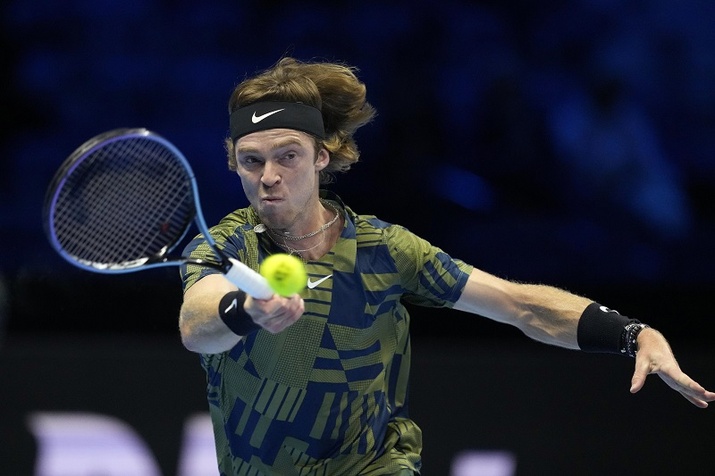 The former world #1 serving with new balls, opened with an ace and with another outstanding crosscourt backhand, held to 15 for 3-5. While Rublev was winning a majority of the longer rallies and holding comfortably, he faltered when it most mattered.
Serving for the set, he donated his first double fault and faced double break point. Though he saved one with a formidable serve up the tee, he dropped serve when Medvedev ripped a backhand down the line. Medvedev with a sense of urgency, struck three winners including two additional aces to level at 5-5 while Rublev maintained his focus, making 5/5 first serves to lead 6-5.
The 2021 US Open champion opened the 12th with a potent serve and inside-in forehand but with his first double fault, faced double set point. The 2022 Australian Open finalist showed why he reached the pinnacle of the sport as he struck four consecutive first serves to force the tiebreak.
While both had identical tiebreak records for the season (14/9), Rublev raced to a commanding 6-2 lead before Medvedev made his move. With two aces out wide and depth of shot, Medvedev extracted four errors to steal the breaker 9-7.
Rublev reeling and ranting at the chair as the linesman continued to miss calls especially on serve, left the court at the conclusion of the tiebreak. Medvedev served first in the second and despite his second double fault, held with four winners including two additional aces while Rublev made 3/5 first serves to level at 1-1.
Medvedev struck his 10th ace but dumped serve following two backhand unforced errors. Rublev continued to apply pressure by stepping inside the baseline on the return and during rallies. Serving with new balls, the twenty-five year old consolidated the break for 3-1 with an ace out wide.
Medvedev opened the 5th with a brilliant backhand down the line and held to 30 for 2-3 while Rublev fired off five first serves for 4-2. Medvedev faced 0-30 following another double fault but with two aces out wide, held to 30 for 3-4.
Rublev swinging freely off the ground, hit his fourth ace and held to 15 for 5-3. Medvedev serving to stay in the set, lost focus and gifted four double faults, the last to dump serve and the set.
Rublev served first in the third and though he missed 5/6 first serves, held to 30 for 1-0. Medvedev opened with an ace but struggled thereafter gifting a double fault and facing three deuce and break point. The world #5 admirably regrouped however, as he held with his 14th ace.
Rublev had maintained the edge in rallies over 9 shots but on the opening point of the third game, Medvedev claimed a 26-shot exchange with an incredible inside-out forehand. Rublev pulling Medvedev out wide on the forehand continued to pay dividends and with his fifth ace, held for 2-1.
Medvedev serving with new balls held at love for 2-2 with two consecutive aces out wide while Rublev opened and closed the fifth with aces - tee and out wide respectively.
Medvedev seemed to have relocated his first serve as he once again held at love while Rublev made 4/5 first serves including an ace up the tee on game point for 4-3. Medvedev opened the 8th with two consecutive aces as he once again held at love. Rublev continued to cruise on serve making 4/5 first serves including an ace up the tee on game point to lead 5-4.
Medvedev serving to stay in the match held at love for the fourth time this set with three additional aces! Rublev committed two forehand errors but with a well-struck serve and three forehand winners, held to 30 for 6-5.
Medvedev serving to stay in the match and force the breaker, missed 4/10 first serves and faced two deuce points but held for 6-6 with an extraordinary inside-out forehand and his 23rd ace.
Victory would be had winning seven points with a two-point advantage. Rublev opened the deciding tiebreak in dramatic fashion winning a stunning 38-shot rally when his opponent netted a forehand. He reached triple match point at 6-3 but Medvedev narrowed the gap with three consecutive winners including another ace.
Rublev held another match point at 8-7 after Medvedev whiffed a forehand and secured victory with a remarkable inside-in forehand swing volley after an enthralling 37-shot rally.
It was a mesmerizing, jaw-dropping performance. The tables had been turned; Rublev had dictated off the ground, on serve and on return and the stats clearly elucidate his dominance.
After 2 ½ hours, he finished with 9 aces and just one double fault! He won an astonishing 82% of first and 60% of second serve points. He was equally impressive on return, winning 21% of first and 56% of second serve return points while converting 3/9 break points. Both move on in the round robin competition while Djokovic takes on Tsitsipas during the night session.