Are Major Titles In Johanna Konta's Future?
Does Great Britain potentially have another major champion in its midst? A few years ago, that would have seemed a preposterous question. In 2017, it seems a little less so. Johanna Konta has quickly risen the ranks and after bagging the biggest title of her career last week in Miami, some may be beginning to wonder if like Andy Murray, she can bring home a Grand Slam title to her adopted home country.
Until the last couple of seasons, Konta had taken a backseat to countrywomen like Laura Robson and Heather Watson. Some of that may have been because it was not until 2012 when the Australian-born Konta became a British citizen and chose to represent Great Britain, the country where she says she really grew up. Coupled with that, Konta had never given people reason to believe she would achieve great things. It was just last year when the British number 1 was able to spend her whole season competing at the WTA level. But now, Konta is ranked a career-high world number 7, and with her victory in Miami, has secured her second title of the season. There is no reason why more and possibly greater things could not be in her future.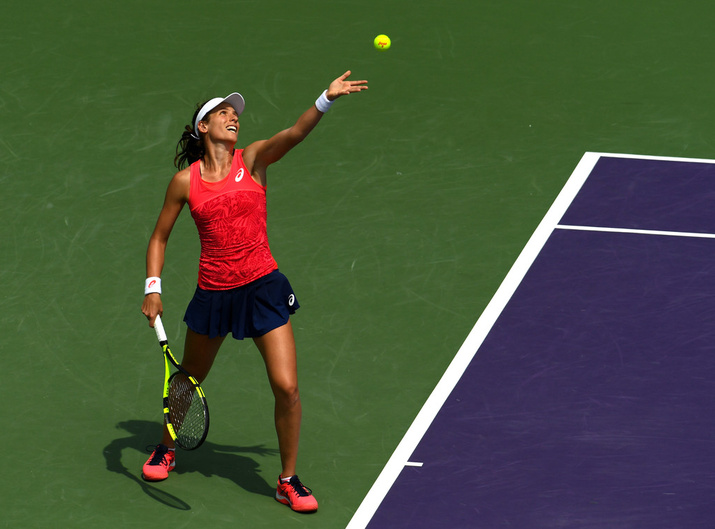 One factor in the Brit's favor is that she has a great game. Her favorite shot is her serve, and at 5'11" she gets more than her share of mileage out of that first delivery. Her greatest assets, however, are the hard, flat, and penetrating ground strokes she can effectively produce from both wings. These were on full display in her semifinal victory over Venus Williams last week where she not only frequently kept the powerful Williams on the run but regularly kept the American away from the net by pinning her behind the baseline. Furthermore, Konta is no one-trick pony. She has shown that she can also produce drop shots and execute the perfect lob, and she has also proven that she has some nice feel at the net. All told, she has a solid, all-around game that can garner her success on any surface.
As great as her game is though, the greatest contributing factor to Konta's recent success is her improved mental strength. This is something that she has acknowledged, noting that she has learned not to sweat the small things and to better cope with the peaks and valleys that inevitably happen over the course of a match.
A microcosm of her growth in this area can again be seen in her title run in Miami. She did not allow herself to go away after dropping the first set against Simona Halep, held her nerve in a tight tussle with crowd favorite Williams, and rather than getting frustrated after surrendering break advantages on multiple occasions in the final against Caroline Wozniacki, she continued to back herself and her game to ultimately gain the victory. Those are the types of wins that breed confidence, and she has begun racking up plenty of them against other top players.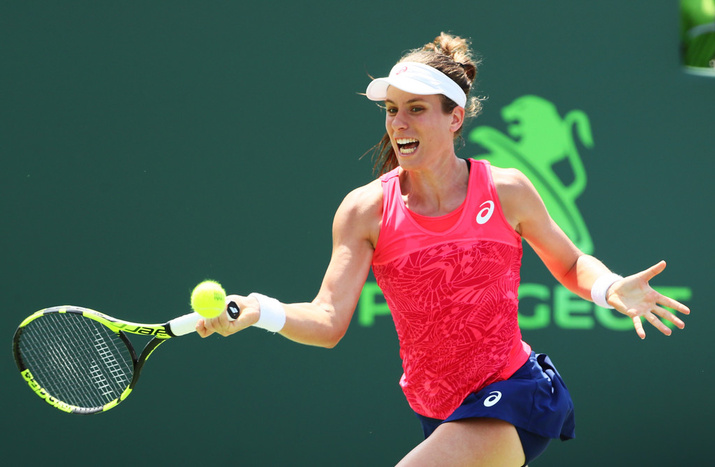 She is also getting used to making the latter rounds of events, as evidenced by the way she competes like a player who believes she should be there rather than one who is merely happy to be there. And lastly, although her success at this level is relatively new, she has plenty of experience from her time on the ITF Circuit. At age twenty-five, she also has arguably more maturity to handle the weight of increased expectations that come with success on the WTA Tour.
So, can Konta ride her recent wave of success to a major title? That is still anyone's guess. But she definitely has the tools, and with the topsy-turvy nature of women's tennis right now, it could be within the realm of possibility. The key for her will be what she does in the coming months. Clay is the surface least suited to her game, but if she can at least maintain her steady results, that should set her up nicely for the back half of the year where she can do her most damage. If she can do that, then there is no telling what other milestones may be in store for her as 2017 progresses.