AO2023: Sabalenka Handles Bencic To Reach Quarterfinals

Sabalenka handles Bencic 7-5, 6-2 for maiden Australian Open quarterfinal
Aryna Sabalenka from Belarus was barred from competing at Wimbledon and all other events in Britain as punishment for her country's collusion with Russia in its invasion of Ukraine last February. Competing on tour year-round across continents and time zones is challenging enough let alone as collateral damage for a horrific war waged by others.
Sabalenka has struggled in the past with both her emotions and serve but has found a reservoir of conviction and composure competing at the season's first grand slam. She played magnificently earlier this month winning the Adeliade 1 title and has not dropped a set en route to the fourth round.
Belinda Bencic from Switzerland has also had an auspicious start to the season winning Adelaide 2 with the loss of just one set. Sabalenka has reached the fourth round in Melbourne the last three years while Bencic last reached it in 2016. This was their third tour level match each with one hardcourt victory.
Sabalenka won the toss and elected to serve. She opened with a monster serve out wide and held to 15 with an incredible inside-in backhand winner. Bencic missed 4/6 first serves including a double fault yet managed to hold for 1-1 following three unforced errors from her opponent.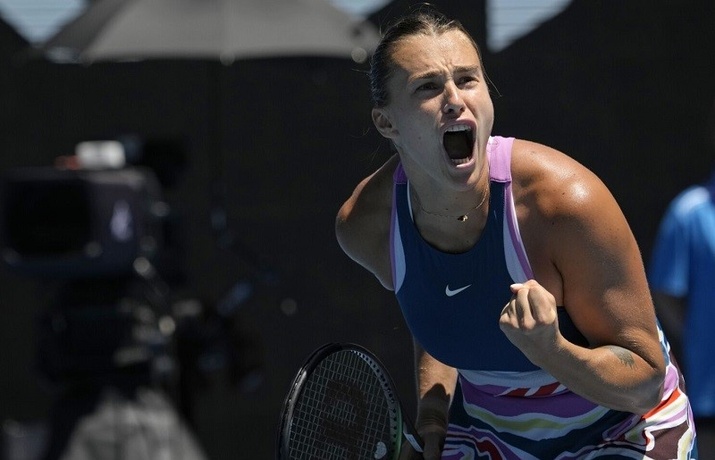 (AP Photo/Aaron Favila)
Sabalenka opened the third with a double fault and with two more, dumped serve when Bencic crushed a forehand crosscourt. The #12 seed opened with an ace and consolidated the break at love for 3-1.
Sabalenka held for 2-3 with consecutive winners while Bencic donated her second double fault yet held for 4-2 with an ace up the tee. Sabalenka maintained her poise holding easily to 15 for 3-4 with a spectacular crosscourt forehand and an ace down the middle.
Bencic serving with new balls, struck her third ace but faced break point and dropped serve when she netted a backhand. Sabalenka was relentless pummeling the ball off both wings. Although she missed 5/6 first serves including another double fault, she consolidated the break to level at four apiece.
Bencic serving to stay in the set, gifted another double fault but with a backhand swing volley winner and an ace out wide, held for 5-5 while Sabalenka struck four consecutive winners including an ace on game point to hold at love for 6-5. Bencic once again served to stay in the set but this time was unable to level as she donated her fourth double fault to concede the set.
Sabalenka served first in the second and with her third ace, held easily to 15 while Bencic gifted another double fault yet held to 15 to level. Sabalenka striking the ball with authority, hit two consecutive forehand winners for 2-1 while Bencic clearly frustrated, faced break point and dumped serve with her sixth double fault.
Sabalenka maintained her aggressive play and increased her lead to 4-1 with potent groundstrokes and an ace out wide on game point. Bencic missed 5/8 first serves including a double fault but battled to hold for 2-4 with a crosscourt forehand winner and an unreturnable serve. The 5th seed faced 0-30 but with two remarkable forehand winners and a huge serve up the tee, held for 5-2.
Bencic found herself serving to stay in the set and match. The former world #4 ran out of time as she faced double match point and conceded it following an extraordinary inside-out forehand winner from Sabalenka.
In less than 90 minutes, Aryna Sabalenka advanced to the quarterfinals at the Australian Open for the first time. It was a comprehensive and composed match in which surprisingly her opponent hit double the double faults!
Sabalenka's serving woes are so last season. In a year's time she has mastered the stroke and her emotions. She finished with 4 aces, 4 double faults and won 78% of first and 64% of second serve points.
She converted 4/5 break points and struck thirty-two winners. Now in the final eight for the first time down under, she will battle either tour veteran Donna Vekic or the teenage phenom, Linda Fruhvirtova.
Vekic with three career titles, reached a career high ranking of #19, but is currently #64 following surgery last year. Linda Fruhvirtova just seventeen, has one title and is currently ranked #82 having reached a career high of #74 last September. Vekic leads the head-to-head 5-1 so Sabalenka is probably hoping she draws the teenager whom she has yet to play.