Anisimova Outlasts Davis In All-American Duel At Wimbledon

Anisimova outlasts Davis 2-6, 6-3, 6-4 in All-American duel at Wimbledon
Amanda Anisimova, just twenty years of age, had never reached the third round at Wimbledon until today. Standing in her way was a diminutive but extremely crafty player, eight years her senior.
Lauren Davis from Gates Mills, Ohio, reached a career-high ranking of #26 in 2017 but is currently ranked #102. Anisimova the 20th seed, knew this would be a battle given her opponent's competitiveness, agility, and world-class backhand. This second-round match under breezy conditions on Court 18 was their first tour-level meeting.
Anisimova from Freehold Township, New Jersey, served first and with two outstanding inside-out forehand winners, held easily to 15. Davis missed two makeable forehands but with an ace up the tee, held to 30 for 1-1.
Anisimova stopped play during the opening point of the third game and it proved a costly mistake as the ball was in. Following two consecutive unforced errors and a blistering backhand from Davis, the world #25 dumped serve.
Davis consolidated the break with another brilliant backhand down the line and a whiffed return from her opponent. Anisimova appeared agitated as she overcooked two backhands, faced break point, and lost serve when Davis unleashed another spectacular backhand on the return. This time Davis failed to consolidate, handing back the break following an extraordinary inside-out forehand return and an overcooked forehand.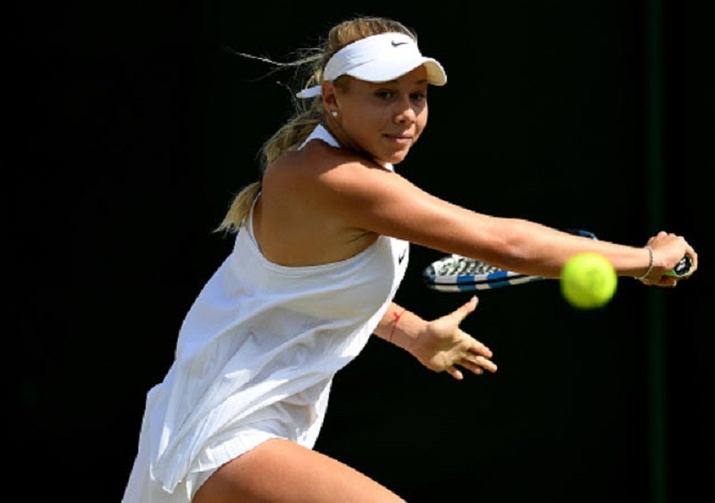 Anisimova serving at 2-4, dropped serve for the third time following three errors off the ground. Although she missed 3/5 first serves, Davis converted her first set point when Anisimova mishit the return. Anisimova left the court following the conclusion of the first set.
Anisimova, the 2022 Gippsland Trophy champion, served first in the second and with two aces out wide, held to 15 for 1-0 while Davis struck her first ace of the match and held to level at one apiece.
Anisimova held to 30 for 2-1 as they both continued to strike the ball with authority from the baseline. Davis, with a momentary lapse in concentration, donated three consecutive errors to face triple break point and dropped serve when Anisimova crushed a crosscourt backhand pass.
Anisimova gifted her first double fault yet held to 30 for 4-1 when Davis netted the return. Standing at just 5'2, Davis still gets pop on her serve, and with one at 97mph, held at love for 2-4 while Anisimova, with a monster, serve out wide, held to 15 for 5-2.
Davis pummeling the ball from the baseline, won the opening point of the 8th game with a forehand drop volley winner. Although she faced a break point following an easy put-a-way forehand, she held and forced her opponent to serve it out. While aiming for the lines repeatedly cost Anisimova a plethora of points, with spot serving including her third ace, she reigned in her power to secure the set 6-3.
Davis served first in the decider and though she donated another double fault, held to 30 for 1-0 while Anisimova made 4/5 first serves and held easily to 15 to level.
Davis missed 4/6 first serves and gifted two unforced errors as she dumped serve following a sublime inside-in backhand from her opponent.
Anisimova opened the 4th game with her 4th ace but gave back the break after three unforced errors, two off the forehand. Davis held easily to 15 as she made 5/5 first serves including a colossal one-up the tee.
Anisimova not afraid to move forward, struck an amazing backhand swing volley in addition to one crosscourt and held for 3-3 with her 5th ace.
Davis clearly feeling the pressure, missed 3/6 first serves including two double faults and dropped serve while Anisimova missed 4/4 first serves yet held at love with an unreturnable second serve!
Davis serving with new balls down 3-5, missed 5/8 first serves, and faced deuce but held for 4-5 when her opponent netted the return. Anisimova served for the match and a spot in the third round.
A superior ball-striker off both wings, Anisimova opened with an exceptional inside-in backhand moving forward and clinched the game and match with a fantastic inside-out forehand.
Amanda Anisimova was outplayed in the first set, but never panicked. An aggressive baseliner by nature, she minimized the unforced errors by playing with less risk and more margin. It was an exceedingly close match as only six points separated the combatants.
Anisimova finished with 6 aces to 1 double fault and converted 4/8 break points and 8/13 net points. She won 62% of first and 65% of second serve points and when returning won 29% of first and 54% of second serve points.
The third round could be another All-American affair should Coco Gauff defeat the Romanian veteran and lefty, Mihaela Buzarnescu. Anisimova is 0-1 vs both potential opponents with this, the first contested on grass.