Andreescu Knocks Kenin Out Of Miami Open 6-4, 6-4

Andreescu knocks Kenin out of Miami Open 6-4, 6-4
Two North Americans took the court in south Florida for a place in the round of 16. Both grand slam champions are making their way back up the rankings having previously ascended to #4.
In 2019 at the age of nineteen, Bianca Andreescu of Canada won three titles – two at the Masters 1000 level, the other a grand slam at the US Open. Now twenty-two, she is currently ranked #31 but is unseeded.
Sofia Kenin two years older and from the United States, won the Australian Open in 2020 and that same season, reached the final at Roland Garros but has since struggled both on and off court with injuries, management, sponsors, and coaches. In 2021 her ranking dropped to #12 then to #235 the following year. Currently #164, she was seeking her first round of 16 appearance in Miami.
They battled three times prior all on hardcourt with Andreescu securing 2 of 3. Andreescu won the toss and chose to receive. On Hard Rock Stadium in hot, humid conditions, Kenin held to 15 with a sweet slice backhand drop shot while Andreescu hit two consecutive winners including an ace to level at 1-1.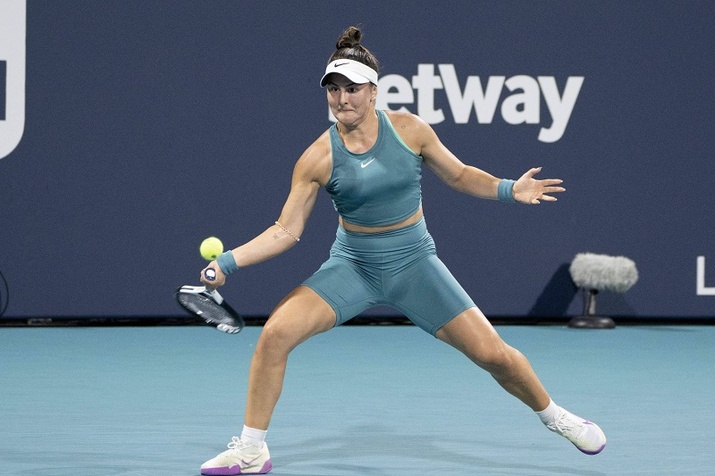 Kenin opened the third with a terrific crosscourt forehand but faced break point and dropped serve when Andreescu pummeled the backhand return down the line. The Canadian struck her second ace and held easily to consolidate the break while Kenin upped the ante with a love hold.
Andreescu with her third ace held to 30 for 4-2 while Kenin hit two outstanding winners and held to 15 for 3-4. As shadows creeped ever so slowly across the court, Andreescu hit three winners including an ace up the tee to hold at love while Kenin held to 30 for 3-5. Andreescu poised and assured, opened the 10th with an incredible inside-out forehand and secured the set 6-4 with her 5th ace and a netted return.
Kenin left the court following the conclusion of the opening set. She served first in the second and with two consecutive winners including her first ace, held to 30 for 1-0 while Andreescu made 4/6 first serves and held to 30 to level.
The American missed 4/8 first serves including a double fault and dumped serve following four additional unforced errors. Andreescu missed 3/6 first serves and donated her first double fault but managed to consolidate the break for 3-1.
Kenin opened the 5th with a double fault and dumped serve following two more errors and a ripped rerun from her opponent. Andreescu inching closer to the finish line suffered a lapse in concentration as she gifted Kenin three unforced errors to give back the break.
Kenin once again dropped the opening point with a double fault but with two consecutive winners held to 30 for 3-4 with a marvelous forehand crosscourt swing volley winner. Andreescu opened the 8th with a splendid crosscourt backhand put-away and though she donated three errors and faced deuce, held for 5-3 when her opponent overcooked a forehand.
Kenin serving to stay in the match, hit with a level of freedom clearly lacking over the course of the match. She struck three consecutive winners and held at love for 4-5. Andreescu just four points from the fourth round, opened with a whiffed backhand but with her 7th ace and a tremendous slice backhand, clinched the set and match.
Although Kenin displayed glimpses of the swagger she was known for, it was inadequate against a similarly aggressive and more consistent opponent. Confidence begets confidence and I am confident she's poised to reassert herself as an elite player.
Andreescu played well enough to win in straights and when required, revved it up. The 2021 Miami Open finalist (retired vs Barty) finished with 7 aces, 1 double fault and won 69% of first and 65% of second serve points. She was similarly effective when returning winning close to 30% of first and 52% of second serve return points. She converted 3/3 break points and dropped serve just once.
Her next opponent will be the 18th seed Ekaterina Alexandrova from Russia whom she has never played. Alexandrova survived American Taylor Townsend in three tight sets and dispatched the 9th seed Belinda Bencic in straights to reach her first round of 16 in Miami.