Alcaraz Takes Out Djokovic To Reach Madrid Masters Final

Alcaraz takes out Djokovic to reach Madrid Masters final
Teenager triumphs 6-7, 7-5, 7-6 after 3 ½ hours
Carlos Alcaraz continues to make history as he is the youngest player to defeat Rafa Nadal and Novak Djokovic at the same event and the first to do so on clay. He is also the first teenager to defeat Nadal and the second to defeat Djokovic on the dirt.
This time last year, Alcaraz was ranked #120 and fell to Nadal 1-6, 2-6 in the second round. Twelve months later, he is a Masters 1000 champion having prevailed in Miami the first week of April.
Djokovic, the 20-time grand slam champion is the all-time Masters 1000 champion with 37 titles. Alcaraz, while years away from approaching, equaling, or surpassing that haul, is now one win away from winning his second of the season!
Alcaraz turned 19 on May 5th and broke into the top-ten ten days prior. In the quarterfinals, playing in front of an exuberant home crowd, Alcaraz outperformed his compatriot and the king of clay to reach the penultimate round. While Djokovic, the current world #1 has yet to win a title this season, Alcaraz has won three.
Alcaraz won the toss and chose to receive. Despite hitting an ace up the tee, Djokovic faced break point following a double fault and dumped serve when Alcaraz passed him with a crosscourt backhand.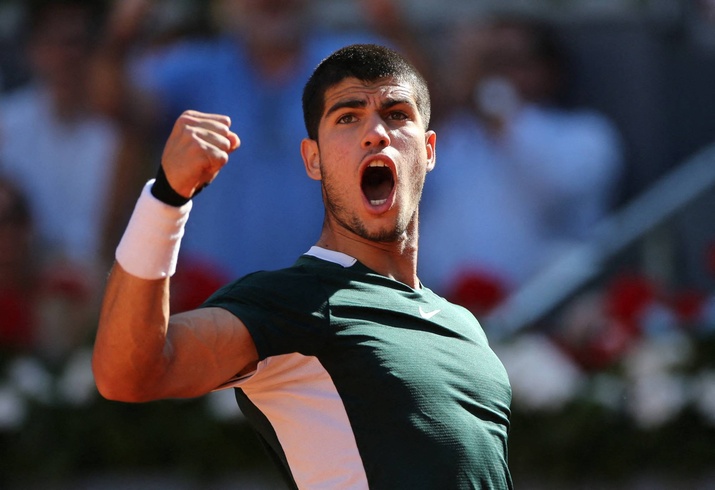 @Reuters
Alcaraz faced a break point in his opening service game following two errors off the ground but consolidated the break with a forehand drop volley winner and a netted forehand from his opponent.
The world #1 missed 3/5 first serves yet held to 15 to get on the board while Alcaraz opened with an ace and closed with a crosscourt forehand volley winner for 3-1. In the fourth game, Djokovic played flawlessly, hitting his second ace to hold at love for 2-3. Alcaraz's serve deserted him as he opened with a double fault, made 1/8 first serves, and faced break point yet managed to hold for 4-2.
Djokovic, the reigning French Open champion, struck an incredible inside-in forehand to hold at love for 3-4 while Alcaraz dropped serve following four unforced errors. Djokovic held at love for the third consecutive time while his opponent, faced a deuce point but held for 5-5.
The 20-time grand slam champion continued to impress on serve, as he once again held at love to lead 6-5. Alcaraz served to force the breaker and did just that as he held to 15 with two outstanding drop shots on the last two points.
Djokovic served first in the breaker and quickly raced to a 5-1 lead. Alcaraz won four points, the last with an exquisite drop shot but with another unforced error, lost the tiebreak 5-7.
Although Alcaraz opened the second set with a double fault, he held to 30 with a fantastic crosscourt forehand volley winner. Djokovic continued to serve well, extracting errors off the return to secure his opening service game.
Alcaraz opened the 3rd with a sweet forehand drop shot and with a monster inside-in forehand, held at love for the first time while the soon-to-be thirty-five-year-old from Belgrade, held to 30 for 2-2. Alcaraz once again opened with a double fault but following two remarkable winners on consecutive points held to 15 for 3-2.
Djokovic struggled on serve, missing 5/8 first serves, and faced a break point but battled to hold as Alcaraz mishit the last two backhand returns.
The Spanish phenom held to 30 for 4-3 winning the last two points with delectable drop shots, one-off each wing. Djokovic, with a huge serve up the tee, an ace down the middle, and a whiffed forehand from his opponent, held to 30 to level at four apiece.
Alcaraz made 7/10 first serves yet faced two deuce and break point when a forehand half-volley off the baseline went wide. The world #9 regrouped admirably, hitting forehand winners on the last two points to lead 5-4.
Djokovic, serving to stay in the set, faced 0-30 but with an ace down the middle and a missed backhand return, held for 5-5. As shadows continued to creep across the stadium court, so did the errors off Alcaraz's racquet. The teen faced break point following another double fault and a mishit dropshot yet held for 6-5 when Djokovic overcooked a backhand return.
The 37-time Masters 1000 champion once again served to stay in the set but this time faltered as he faced 0-40 following two brilliant winners from Alcaraz. He saved one with a blistering backhand down the line but dropped serve and the set when Alcaraz ripped a forehand down the line off a redrop – unquestionably, the point of the match.
Alcaraz was extremely fortunate to serve first in the decider and with his third ace, held to 30 for 1-0 while Djokovic leveled following two forehand errors from his opponent.
Alcaraz opened the 3rd game with a spectacular forehand down the line and held at love when his opponent's return sailed long. Djokovic faced break point following an extraordinary backhand down the line and faced two more with his second double fault yet leveled at 2-2 when Alcaraz missed the last two returns.
With the pressure and the errors mounting, the Miami Open champion dug deep, striking three winners, the last on game point to hold for 3-2. During the changeover, Djokovic received treatment on his hand after falling in the previous game. The reigning Wimbledon champion soon faced double break point following two consecutive errors but managed to hold for 3-3 when Alcaraz overcooked a forehand.
The seventh or swing game is typically pivotal no more so than in the deciding set. Alcaraz faced four deuce and break point but held for 4-3 with a colossal serve up the tee and a wicked inside-in forehand on the last two points.
Djokovic missed 4/6 first serves yet held to 30 to level at 4-4 while Alcaraz missed 2/6 first serves and held to 30 for 5-4. Djokovic, serving to stay in the match, lost the opening point as his opponent turned defense into offense with a marvelous forehand drop shot. The roars of the partisan crowd growing ever louder, the world #1 faced a match point when after a lung-busting rally, Alcaraz scored the knock-out blow with a massive forehand down the line.
Djokovic, exhibiting the resilience and conviction that has carried him to the top of the game, erased the match point with his 6th ace and after three more deuce points, held for 5-5 with a titanic serve down the middle.
Alcaraz maintained his composure and with an ace up the tee and a missed return, held at love for 6-5, just four points from the final. Djokovic, not to be surpassed, struck two additional aces and held to 15 to force the breaker. The first to seven with a two-point advantage would decide this epic, enthralling and historic match.
Alcaraz led 4-2 when they changed ends and reached match point at 6-4 when Djokovic mishit the return. Alcaraz re-wrote the history books when he converted his third match point with a well-struck serve and a magnificent inside-in forehand. With his parents in attendance and the country on the edge of their seats, the 19-year-old from Murcia, Spain, reached his second Masters 1000 final in just over a month.
Alcaraz won 74% of first serve points and hit 27 more winners than his opponent. It was an exceedingly close match with just two points separating the combatants. In the end, it was perhaps more a battle of wills than wheels; a testament to the mental fortitude of this young champion.
Next up, either world #3 and defending champion, Alexander Zverev who leads the head-to-head 2-0 (both on hardcourt), or world #5 and reigning two-time Montel Carlo Open champion Stefanos Tsitsipas, who has yet to defeat Alcaraz in three attempts.