Alcaraz Rolls Into Second Week In New York

Alcaraz overwhelms Brooksby 6-3, 6-3, 6-3 to reach the US Open 4th round
This third-round maiden tour level meeting between the Spaniard and the American did not disappoint. Alcaraz reached the quarters last year but retired after four games in the second set. The precocious teen is focused not only on surpassing that achievement but winning the title.
Carlos Alcaraz has had an outstanding season and one of firsts: two victories at the 500 and two at the Masters 1000 level and a top five ranking. The 19-year-old on home soil, dispatched three of the top four players including the world #1 (Rafa Nadal, Novak Djokovic and Alexander Zverev) to master the Madrid Open.
Jenson Brooksby from Sacramento, California, announced his presence last summer reaching the final in Newport, Rhode Island and the 4th round at the US Open where he took the opening set 6-1 against then world #1, Djokovic. Brooksby reached a career high ranking of #33 this past June and is currently ranked #43.
This summer in Atlanta at the start of the hardcourt swing, Brooksby took out three Americans - Mackenzie McDonald, John Isner and Francis Tiafoe before losing to Alex de Minaur in the final.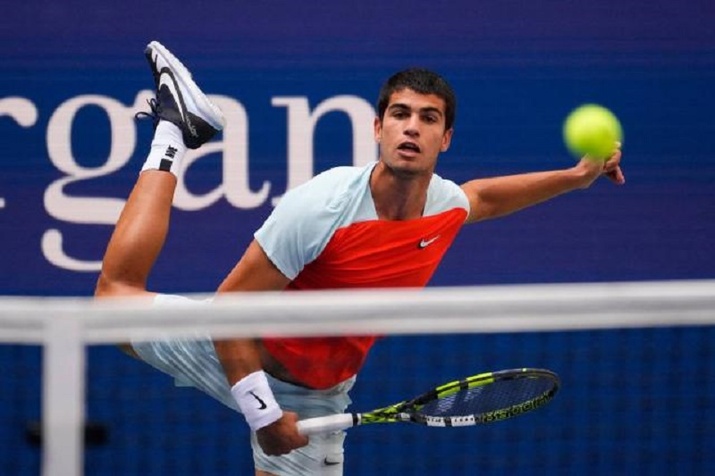 Alcaraz served first hitting a forehand down the line and a double fault on the first two points then held to 30 with a spectacular inside-in forehand while Brooksby made 5/6 first serves and held to 30 for 1-1 after an amazing exchange of crosscourt backhands.
Alcaraz opened the third with a 127mph ace up the tee and held comfortably to 30 for 2-1 while Brooksby faced break point but with an ace out wide and a mishit forehand, leveled at 2-2.
Alcaraz held easily to 15 for 3-2 with a colossal forehand and his second ace while the young American missed 4/8 first serves and dumped serve following a netted backhand and a crosscourt forehand winner from his opponent.
The Spaniard continued to pummel the ball and stretch Brooksby out wide. Though he missed 4/5 first serves including a double fault, he consolidated the break for 4-2 with two additional forehand winners.
Brooksby serving with new balls, made 4/5 first serves and held easily to 15 for 3-5 with an outstanding lob on game point. Alcaraz with easy power on the serve, made 4/5 first serves including a 132mph ace up the tee to clinch the set 6-3.
Brooksby served first in the second and struggled as he faced six deuce and three break points before dropping serve after missing a crosscourt forehand. Alcaraz opened with an ace up the tee and consolidated the break for 2-0 when his opponent went wide with the forehand.
Brooksby made 6/8 first serves and faced a deuce point but held for 1-2 when Alcaraz netted the return. The world #4 opened the fourth with an incredible inside-out forehand but faced double break point and dropped serve when he overcooked a forehand.
Brooksby made 4/6 first serves but he faced break point when he netted a makeable forehand and gave back the break when Alcaraz unloaded on the backhand return down the line.
The #3 seed struck his 15th forehand winner, holding easily to 15 for 4-2 while Brooksby held to 30 for 3-4. Alcaraz serving with new balls, opened with an ace up the tee and held at love for 5-3 with a sublime slice backhand approach and crosscourt backhand stab volley. Brooksby serving to stay in the set, faced double set point and dumped serve and the set with another forehand unforced error.
Alcaraz served first in the third and following five unforced errors including his third double fault, dropped serve. Brooksby feeding off the energy in Arthur Ashe Stadium, stepped to the line to serve but threw in his first double fault. The twenty-one year old followed with an ace up the tee and a mindboggling rally that saw him fall, get up, smash an overhead then rip a backhand down the line. With a 94mph serve out wide, he consolidated the break for 2-0.
Alcaraz's level continued to drop as he faced triple break point and dumped serve when he attempted a forehand half-volley off the return. Brooksby opened the fourth with a double fault and following two additional unforced errors, gave back the break.
Alcaraz instinctively recognized the set and match were still within his grasp. He opened with a formidable forehand down the line and closed at love for 2-3 with an extraordinary backhand crosscourt half-volley winner. Brooksby's concentration began to lapse as his opponent continued to dictate play and following a netted backhand, faced break point and dropped serve when Alcaraz crushed the forehand return.
Alcaraz lost the first two points of the seventh game but with four consecutive winners including an ace on game point, consolidated the break for 4-3. Brooksby serving with new balls, opened with his second ace but after donating his third double fault and an overcooked backhand, dumped serve for 3-5.
Alcaraz serving for the match, opened with an ace and with another, reached triple match point and secured the game, set and match when his opponent's return went wide.
It was an incredible and intelligent performance. The Spanish teenager finished with 7 aces, 3 double faults and won 72% of first and 45% of second serve points. He also was quite effective on the return, connecting with 38% of first and 76% of second serve return points. He converted 6/9 break points and won over 71% of points at net.
Alcaraz into the fourth round for the second consecutive year, will either play the #15 seed and 2014 US Open champion Marin Cilic or the #20 seed, Dan Evans. He leads Cilic 2-1 in their head to head and Evans 1-0.