An Aggressive Nishikori Battles To Third Round In Paris

Nishikori defeats Tsonga 4-6, 6-4, 6-4, 6-4 to reach French Open third round
The terre battue combatants had much in common heading into this second-round match at the second slam of the season. Both have dealt with chronic injuries and orthopedic surgeries in recent years and most impressively, each has won a title this season.
Nishikori, currently ranked #7, reached a career-high ranking of #4 in 2015 while Jo-Wilfried Tsonga, currently ranked #82, reached a career-high ranking of #5 in 2012. The career highlight for both has been grand slam finalist: Tsonga reached the Australian Open final in 2008 while Nishikori reached the US Open final in 2014.
It wasn't always high quality, but it most certainly was high drama. Playing in their ninth career match on tour, Nishikori increased his lead to 6-3 with a four-set victory over the Frenchman.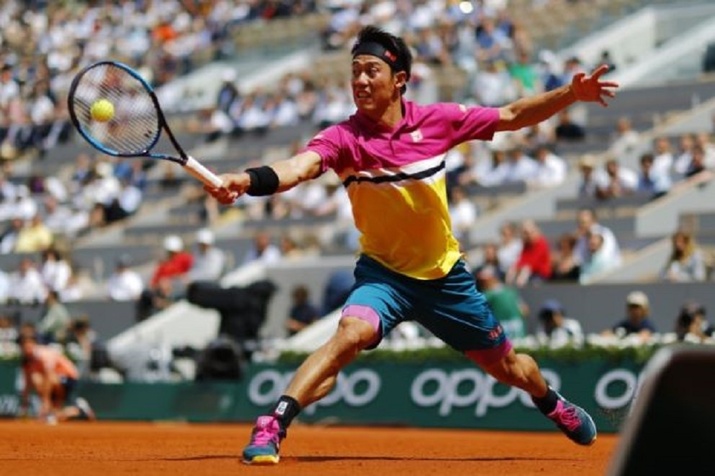 Nishikori won the toss and chose to receive. Playing in front of a home crowd on the newly renovated court Phillip Chartrier, Tsonga opened the match with a double fault but managed to hold as did Nishikori hitting an ace up the middle for 1-1.
In his following service game, Tsonga held to love with a blistering cross-court forehand pass. Not known for his first serve, Nishikori hit his spots eliciting numerous return errors and held to 15.
In the fifth game, the Frenchman was in danger of going down an early break as he faced triple break point. Despite missing multiple first serves and errors off the ground, Tsonga struck two aces and two spectacular forehand winners to hold for 3-2.
Both were trying to dictate from the baseline utilizing the cross-court backhand in addition to the inside-out and inside-in forehand to gain the advantage. Although Tsonga reached deuce on Nishikori's serve, he held for 3-3 following two return errors off the Frenchman's racquet.
The seventh game – known as the swing game – was irrefutably that and more. Nishikori, playing inside the baseline, struck an incredible forehand on the baseline earning him double break point. Incredulously, Tsonga was issued a time violation following cheers and extended applause from the partisan crowd.
Tsonga, clearly rattled and perplexed by the umpire's penalty, dropped serve on the following point. Although serving with new balls, Nishikori was unable to consolidate the break as his opponent raised his level, executing an exquisite backhand slice drop shot to level the set at 4-4.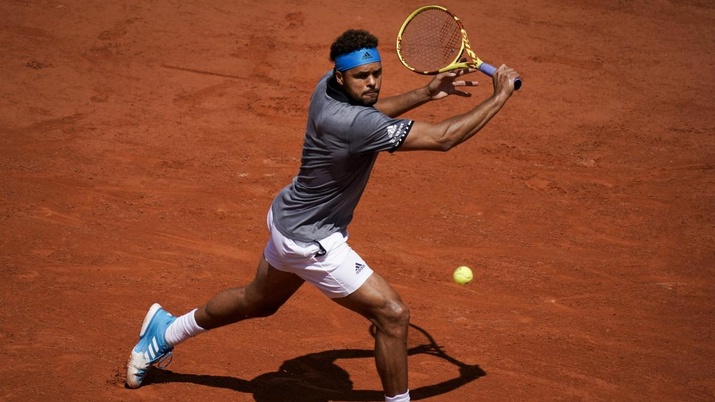 Riding a wave of forced and unforced errors off Nishikori's racquet, Tsonga held easily to take the lead 5-4. Serving to stay in the set, Nishikori seemed to come unhinged as he quickly went down triple break and set points following imposing groundstrokes from Tsonga and two double faults, one to lose the game and set.
Tsonga served first in the second and dropped serve following a double fault and a great backhand lob and inside-out forehand winner by Nishikori. The momentum continued to shift as Nishikori, feeling rushed, faced break point. Nishikori seamlessly shifting gears from defense to offense, held for 2-0 following a delicate drop shot winner.
Both covered a lot of ground, using the drop shot, volley and well-placed lobs to great effect as they held serve through the remainder of the set. With just one break of serve, Nishikori closed out the set 6-4 to level the match at a set all.
Tsonga served first in the third and held when Nishikori missed an overhead. Tsonga continued to apply the pressure with his weight of shot drawing multiple errors off Nishikori's forehand, the last of which cost him the game.
The Frenchman, serving with the lead at 2-0, appeared to be on cruise control but it was merely an illusion. The chair umpire would once again insert herself by issuing another time violation, this one resulting in the loss of a serve. Nishikori seized the opportunity by crushing the forehand return down the line for the break.
Throughout the course of the match, neither player found it easy to consolidate after breaking serve. Nishikori, serving down 1-2, faced four deuces and four break points before escaping for 2-2. Tsonga, utilizing power in addition to deft touch on the volley, struck an ace on game point for 3-2.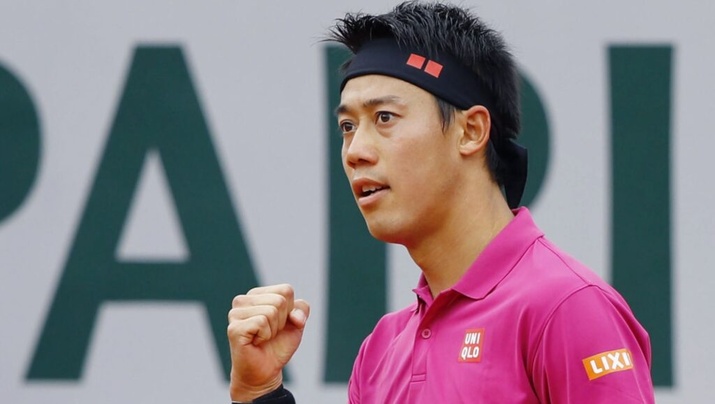 They remained on serve through eight games, each positioning the other like a pawn on a chess board. Nishikori gained the advantage and a break point when Tsonga's forehand found the net. Taken out wide once again, Tsonga was unable to retrieve the ball and dropped serve. His opponent, appearing weary and haggard, Nishikori wasted no time reaching triple set point, converting with a massive forehand down the line winner to take the third 6-4.
Tsonga served first in the fourth and quickly faced a slew of break points but managed to hold when Nishikori's return found the net. Just when it appeared that Tsonga had run out of gas and inspiration, he dug deep and pummeled the return earning a break of serve.
With the home crowd unequivocally behind him, Tsonga held at love for 3-0 and it appeared this was going the distance.
Nishikori continued to go big with serve and it paid off. Tsonga got a bit complacent serving up 3-1, 40-15. Nishikori passed him with the backhand and continued to crush the steady diet of second serves his opponent fed him and dropped serve when his forehand down the line missed wide.
Nishikori held for 3-3 following an enthralling rally punctuated by an incredible inside-in forehand winner. Nishikori earned two break points in the following game and converted with a forehand pass off a poorly executed drop shot.
Nishikori was relentless off the ground hitting with authority and conviction as he closed in on victory. Although he held for 4-5, the Frenchman was unable to make inroads in the next service game as Nishikori served out the match 6-4.
After three hours and two minutes, Kei Nishikori finds himself in the third round at Roland Garros. While he struck four more errors than winners, Nishikori seemed to have taken a page from Roger Federer's playbook, coming to net 21 times winning 71% of the points. His best result at the French Open was the quarters last year. If he continues to play aggressively and mix it up, he should book a spot in the second week.