Adversity to Excellence: Stanislas Wawrinka Enters the Elite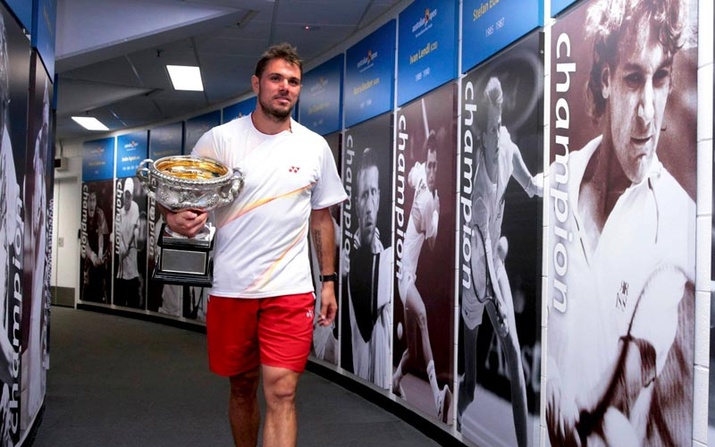 Overshadowed by Roger Federer for most of his career, the new Swiss No. 1 has found the courage to blaze his own trail to the top.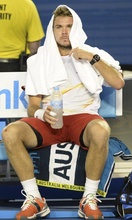 The actors had returned to a familiar stage. Excitement rippled through Rod Laver Arena as defending champion Novak Djokovic was set to take on world No. 8 Stanislas Wawrinka in the quarterfinal of the 2014 Australian Open.
Just one year prior, in almost the exact round, Wawrinka had lost 10-12 in the fifth set to his Serbian nemesis in one of the most memorable matches of the year.
Despite the defeat, sentiment toward Wawrinka had forever altered in his favor. The long-time Swiss No. 2, Wawrinka had finally stepped out from under the shadow of Roger Federer and emerged as an elite contender in his own right. He had always wielded plenty of weapons, especially an explosive one-handed backhand that has ranked among the game's best throughout his career. What he had lacked until then, and what he added in 2013, was the mental strength needed to contend in a sport where the psychological can matter as much as the physical.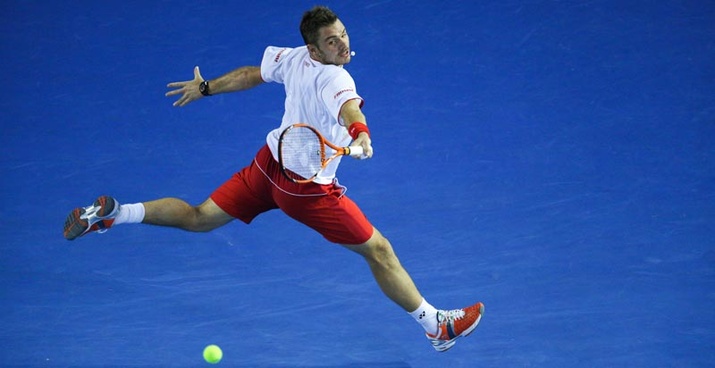 At 28, Wawrinka believes that he has learned to mentally master key moments in matches better than he ever could before. "So much comes from experience," he told Tennis View. "Especially before a big match, I think we all get a little nervous. The question is how you deal with that, and the better players deal with it much better. They accept it more, and they still play their game when they are nervous. Some players change the way they play a little bit on the big points, and that's not good."
For Wawrinka, the key to performing under pressure lies in focusing on himself and the game plan that he brings to the court. "I try to force myself to not change what I had decided to do in the match," he asserted. "It's all about you when go out there. Even if you're not feeling confident, the worst thing you can do is to hesitate and doubt yourself."
Wawrinka credits much of his recent success to Magnus Norman, who joined him in April 2013 after the Masters 1000 tournament in Monte Carlo. Most successful on clay during his career, Norman had risen as high as world No. 2 after reaching the Roland Garros final in 2000. The Swede had worked with former Australian Open champion Thomas Johansson and Rafael Nadal's former nemesis, Robin Soderling, before joining Wawrinka.
"I honestly believe that Magnus is going to make a big difference for me in the next few years," said Wawrinka of his coach. "He's helping me have the confidence to believe in my game. He's telling me to be more aggressive. He wants me to attack more with my forehand and my serve, but my game is still more or less the same. That's understandable, of course. But sometimes on court I'm hesitating about things because I'm not feeling confident in my shots, and that's what I'm trying to change."
The charismatic Swiss showed greater confidence when it mattered most in 2013, and his painful loss to Djokovic in Melbourne soon started to fade. That defeat could have crushed the spirit of a player with less resolve, but for Wawrinka, it only rekindled his motivation to improve.
"That match gave me a huge amount of belief in myself," he reflected. "I always knew that I was capable of beating the top guys, but that match made me genuinely believe it. Afterwards, I was really disappointed, but I thought about it and it encouraged me to keep practicing the way I had been and keep fighting in every match to get the chance to do it again."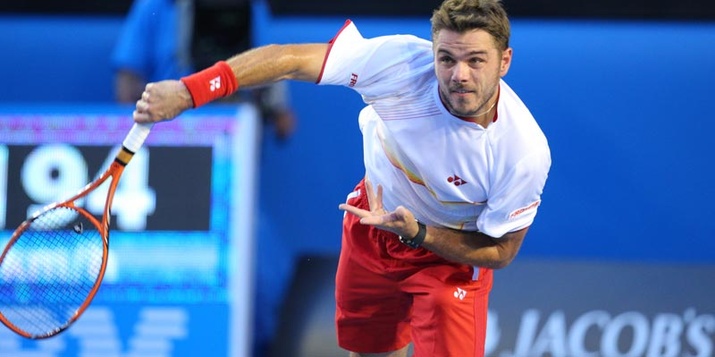 Determined to learn from defeat, Wawrinka watched a DVD of his Australian Open loss to Djokovic. The experience offered him insights on what he could improve as well as further reassurance for the future.
"I always think that I know more or less what's happened," he observed. "But it's interesting when you see what the camera shows and what other people will be seeing, not your own insights. I looked at what Novak was doing and what I was doing, and I could see that it was all about my level. When it was high, I was pushing Novak and doing a lot of good things. I have looked back to that match many times ahead of tournaments. It's something positive to think about because I showed myself and everyone watching that I can test him over nearly five hours, and I was really close to beating him. So I still keep the memory of it for when I need it."
Wawrinka got the chance to employ his formula when he faced Djokovic again at last year's US Open, having reached his first major semifinal after dominating defending champion Andy Murray. Again, he pushed the world No. 1 to a fifth set. Again, he fell short. Again, he focused on the positives.
"My team told me they were really proud," said Wawrinka. "[Swiss Davis Cup captain] Severin [Luthi] told me in New York that I can take only positive things from the match because I'd played at an amazing level and I was so close to beating the world No. 1 in a Grand Slam. After a defeat like that, you need to be honest with yourself. This is the most important thing. If it's a match where you gave everything, you need to accept that."
The Swiss capped off his breakthrough 2013 season with more victories against top-10 opponents than any player except Djokovic and Nadal and qualified for the World Tour Finals in London, the prestigious season-ending showcase for the top eight men, for the first time.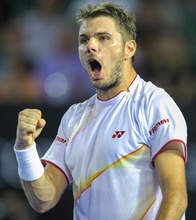 After a rigorous off-season, Wawrinka felt ready to improve on his previous year's results at the Australian Open. When he was again set to meet Djokovic, this time in the quarterfinals, some observers still saw Wawrinka as little more than a temporary speed bump the Serb's march toward another showdown with Nadal.
But the script was about to be rewritten.
Circumstances early on in the match between Djokovic and Wawrinka didn't look encouraging for the Swiss as he emerged tight with tension, dropping serve twice in the first set. Yet he persisted, believing against the odds that he could turn his 2-15 record against Djokovic into 3-15. Wawrinka clawed himself back into the match, one bludgeoned backhand and seismic serve at a time. By the third set, he had become the man dictating the baseline rallies and forcing his opponent onto the defensive.
Thoughts of the year before flooded into the minds of everyone watching when the Serb leveled the match and took an early lead in the fifth set. Battling those thoughts as well as a surging Djokovic, Wawrinka remained determined to fight.
"It's always tough, especially against Novak, (but) I cannot just let the match go," he said later. "I don't want to lose every time in five sets against Novak. I had to find solutions. I had to fight within myself to fight against him and try to hold my ground during the game."
Swiftly leveling the set, Wawrinka did not lose serve again for the rest of the night. Then, with Djokovic serving in the 16th game, the Swiss struck the right balance of patience and aggression as he earned the decisive break and the win. Wawrinka had turned the tide from 2013 to 2014, winning a fifth set from the man who had won two five-set matches against him the year before.
Many men would have been ecstatic with that feat, content to bask in its glow and unable to regain their focus for the next match. Wawrinka, however, greeted his triumph with poise.
"I trust myself when I go on court," he said calmly. "I know that I can beat those players. I try everything to beat them. Even when I lose, I go back to practice to try to improve."
In the semifinals, Wawrinka's steeliness surfaced again when he defeated another top-10 opponent, Tomas Berdych, despite breaking serve just once in four sets. The reward was his first major final, aligned against no less an opponent than world No. 1 Rafael Nadal. Not only had Wawrinka never defeated three consecutive opponents ranked in the top 10, but he had never even taken a set off of Nadal in their 12 previous meetings. And yet he rose to the occasion.
"It was the perfect start," Wawrinka would say later of the first set in the final. "I was playing amazing tennis." Seizing the set with fearless aggression, he raced ahead early in the second set. Then Nadal abruptly doubled over in pain as he injured his back. When he returned to the court, the world No. 1 was only a shadow of himself, unable to move with his usual explosiveness.
Wawrinka soon claimed a two-set lead, edging closer to the finish line. Nevertheless, a champion of Nadal's pedigree does not surrender easily. He continued to compete with determination despite his ailing back. Unsure of what to expect from across the net, Wawrinka lost the boldness that he had shown in the first set under more predictable conditions.
"I didn't play well because I was waiting for him to miss, and that was a big mistake from myself," he said afterward. "I [thought that] I'm not going to win the match because I'm nervous. I started to realize that I can win the Grand Slam."
When the third set slipped away, Wawrinka searched for his former aggression. Just enough of it returned late in the fourth set to halt Nadal's improbable comeback. At 5-3, with nerves still jangling, Wawrinka held serve at love to secure his first major title. The man long overshadowed in his own nation had reached center stage at last.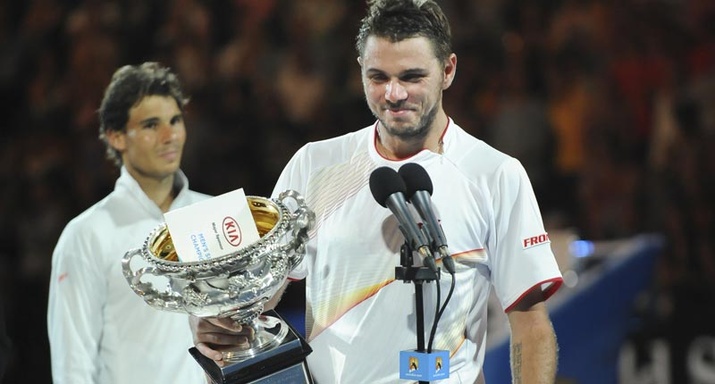 Nobody was more stunned than Wawrinka by his achievement. "I never expected to win a Grand Slam," he reflected. "I never dreamed about that because I was not good enough to beat those guys. I still think that I'm dreaming. I saw so many finals. I always try to watch the final of a Grand Slam because that's where the best players are playing. I never expected to play a final. I never expected to win a Grand Slam. And right now, I just did it."
Along Wawrinka's left forearm extends a quotation that inspires him. Attributed to Irish playwright Samuel Beckett, the tattoo reads, "Ever tried. Ever failed. No matter. Try Again. Fail again. Fail better."
With his momentous win, Wawrinka has finally crossed the line between failing better and achieving success. And in his 36th appearance at a major, he showed that this line is much more narrow that it seems.
Wawrinka Before/After January

2013
Average wins per season (

2006

-12

):

33
Wins from Jan.

1

,

2013

-Jan.

31

,

2014

:

62
Average wins per season vs. top

10

(

2006

-12

):

2.1
Wins vs. top

10

from January

1

,

2013

-January

31

,

2014

:

12
Average wins at majors per season (

2006

-12

):

7.6
Wins at majors from Jan.

1

,

2013

-Jan.

31

,

2014

:

19
Ranking before

2013

Australian Open: No.

17
Ranking after

2014

Australian Open: No.

3
This article is from the Mar/Apr 2014 - Stan Wawrinka issue

SOLD OUT

Subscribe now and you'll never miss an issue!