The 2020 Australian Open: Food For Thought

The start of the 2020 Australian Open is just a couple of scant days away, and although the horrific bushfires and their impact on playing conditions have been one of the dominant topics of late, the chatter about the favorites and the story lines to follow are as present as ever. Here are just a few to keep tabs on as the year's first major gets underway.
As usual, one of the topics that have dominated men's tennis for the better part of a decade is whether or not anyone outside of the Big 3 will be crowned champion. Truthfully, the odds would be "no" in Melbourne. Rafael Nadal, Novak Djokovic, and Roger Federer occupy the three top spots in the rankings respectively, and as such, they have been seeded one, two, and three. The trio are typically great at playing their way into majors, and both Nadal and Djokovic have already been tested with their play at the ATP Cup, coming through with the victory on all but one occasion. Lastly, Djokovic has been particularly lethal in the Australian metropolis, and until someone comes along to knock him off his perch, he will remain the favorite with his fellow members of the Big 3 right behind.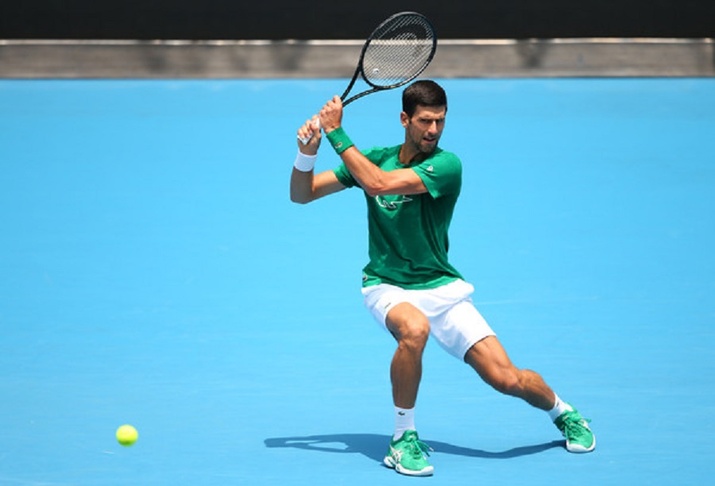 Of course, even though the odds favor a member of the Big 3 to secure the trophy, that does not mean that is what will transpire. In fact, a strong case could be made that the gap between the Big 3 and the rest of the field is shrinking. It was at this event last year where Stefanos Tsitsipas upended Federer and really announced himself, backing it up by being crowned the ATP World Tour Champion at the end of 2019. Denis Shapovalov also has a flashy, imposing game, and logged a very competitive effort against Djokovic just a week ago in the ATP Cup. Perhaps the most promising right now is Russian Daniil Medvedev. He had a phenomenal summer and early autumn, reaching six consecutive finals, including the US Open where he nearly pulled off a five-set upset of Nadal. In fact, the fourth seed is playing so well right now, Nadal is unlikely to feel that he caught any significant break by having Medvedev land in his half rather than Federer.
The men's draw is not the only tournament to offer up some intriguing food for thought, however. Once again, all eyes will be on Serena Williams and whether or not she can win major singles title 24. To her credit, she has made the final of the last two slams, and she did just win the singles title in Auckland last week. That said, she will face some stiffer competition if she hopes to come good in Melbourne. She is in the half with the bigger hitters, with Naomi Osaka and Sofia Kenin located within her quarter. Whether or not she can overcome the competition and her nerves will be an interesting journey to track.
And if Serena Williams does not win the title, who will? It certainly would not be surprising to see Simona Halep or perhaps Ashleigh Barty come through to delight the home crowd. But it may be time to crown a new champion. Karolina Pliskova is a former Number 1, who has a tough opener against Kristina Mladenvoic, but with her win in Brisbane could be poised to make good on her potential and earn a major crown. The young Belorussian Aryna Sabalenka could also bash her way to the title. In short, the women's field is as wide open as ever, and be it a new face or a familiar one, there are any number of women who could be named champion.
Lastly, the women's draw offers up some sentimental storylines that feature players unlikely to secure the title but whom many will be hoping to make a deep run. Sadly, two of those players are veteran Venus Williams and last year's Cinderella, Cori "CoCo" Gauff, who face off in the first round, meaning for one, her Australian Open campaign will end right out of the gates. Fans are apt to be torn between wishing a deep run for the veteran but also rooting for someone who appears to be a future star of the WTA. Veteran Maria Sharapova will also be looking to get her season going back in the right direction but faces a tough out in nineteenth seed Donna Vekic. Arguably the match that is sure to garner the most attention though will be that of Caroline Wozniacki. The Dane announced that this year's Australian Open – the site of her first and only major singles victory- will be her last tournament as a professional. Whether the end comes early or tuns into a deep fairy tale run, no doubt the fans will turn out in droves to wish her farewell.
These are just a handful of the players and stories to watch as the first week gets underway. There are apt to be plenty of twists and turns that lead to a whole new series of intriguing plot points that will take shape in Week 2. So, sit back and enjoy the ride, as the surprises and the delights commence at the 2020 Australian Open.