2012 Olympic Plotlines: Wimbledon, Revisited and Redefined

Just weeks after the All England Club crowned its 2012 champions, the reserved hush of its lawns gave way to the exuberant energy of the Olympics tennis event. Competing in five different disciplines, including the first Olympics mixed-doubles tournament, stars large and small seized the opportunity to represent their nations on a stage familiar to all. Filled with passion and intensity, this week of fiercely contested matches produced a series of storylines to remember.
Men's Singles: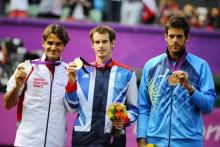 A month after he had shed tears on Centre Court at the All England Club, Andy Murray faced his Wimbledon tormentor again on the same stage. This time, the Scot earned redemption with an emphatic straight-sets victory over Federer to claim a gold medal for his host nation. Losing only one set throughout the Olympics, Murray also defeated recent world #1 Djokovic in a gripping semifinal, also in straight sets. These victories marked the first time that he defeated the top two men in the world consecutively and may signal a breakthrough for the world #4 as a contender on the level of the top three. Able not only to withstand the pressure but to thrive on it, Murray played with an aggression and optimism rarely seen from him before.
Denied his dream of a gold medal, Federer nevertheless ventured into uncharted territory by collecting his first Olympic single's medal of any type. The silver medalist probably never will complete his career Golden Slam, in part because of a formidable effort by his semifinal foe Del Potro. Only after the longest three-set match in history (nearly four and a half hours) and a 36-game final set did the Swiss star earn the right to play for the gold, and his depleted energy undermined him on Sunday. Meanwhile, the valiant Del Potro garnered a thoroughly deserved consolation prize by defeating Djokovic for the gold medal. Unable to conquer either of his principal objectives this year, either Roland Garros or the Olympics, the recently deposed #1 suffered the demoralizing fate of finishing fourth—the best of the rest.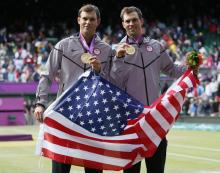 In a Europe-dominated era, men's singles became the only competition in which Americans won no medals. Towering server John Isner did reach the quarterfinals, however, before bowing to Federer in a pair of highly competitive sets. And few could fault an aging Roddick for finding no answers to a masterful Djokovic. More disappointing was Ryan Harrison's petulant first-round exit to a clay specialist, punctuated by a smashed racket, which revealed not only his immaturity but the unique pressure of competing in the Games.
Women's Singles
Nearing her 31st birthday, Serena Williams delivered arguably one of the most brilliant performances of her career. Undefeated on grass in 2012, she became just the second woman to complete a career Golden Slam (joining Steffi Graf) as she yielded just 17 games en route to the gold medal. Never losing more than five games in a match, Serena defeated four current or former No. 1s in Jelena Jankovic, Caroline Wozniacki, Victoria Azarenka, and Maria Sharapova. Whereas she often leaned on her serve to escape danger at Wimbledon, every department of her game shone from the first ball to the last. Stoked by the significance of the stakes and the quality of her opponents, Serena's intensity never flickered even when she accumulating commanding leads. In likely her last Olympics, she won her first career medal and the only medal that she needs to consolidate her status as the greatest player of her generation—and perhaps ever.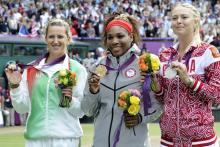 Although she won just one game from Serena in the 55-minute gold-medal match, Maria Sharapova relished every moment of her Olympics experience from carrying the Russian flag to standing on the podium wearing a silver medal. Avenging her Wimbledon loss to Sabine Lisicki with a gritty three-set comeback, Sharapova also ended the medal bid of four-time major champion Kim Clijsters. Her performance this week extended arguably the best season of her career, but she will not rest satisfied with these accomplishments. Instead, Sharapova vowed to return at the 2016 Games in Rio to pursue a gold medal again.
World No. 1 Victoria Azarenka settled for the bronze medal after the draw unkindly cast her on the same side as Serena, whom she failed to challenge as effectively as she has before. In the bronze-medal match, Azarenka overcame surprise semifinalist Maria Kirilenko, who sought to become the fifth Russian medalist in women's singles over the last two Olympics. Kirilenko had advanced through an upset-riddled section of the draw, defeating 2011 Wimbledon champion Petra Kvitova in the quarterfinals and avoiding world No. 2 Agnieszka Radwanska. Two days after carrying the Polish flag, the Wimbledon runner-up fell to Julia Goerges in the first round.
This article is from the Sept / Oct 2012 issue

SOLD OUT

Subscribe now and you'll never miss an issue!