CHICAGO —Wilson Sporting Goods Co., announced the introduction of its new 2017 Ultra racket line, which delivers more power than the previous generation of the racket while maintaining its versatility from every corner of the court. The 2017 Ultra collection has been designed for singles and doubles players who seek a racket that can provide effortless power on every shot and, in turn, enhance the effectiveness of their play. ATP ranked #22 Gael Monfils, #28 Feliciano Lopez and #54 ranked Borna Coric, and WTA ranked #21 Madison Keys will debut their 2017 Ultra rackets during the US Open Series.
"Our 2017 Ultra line is by far the most comprehensive and versatile collection we've created to date, said Hans-Martin Reh, General Manager of Wilson Racquet Sports. "We have high expectations for this racket as it delivers on what we have heard from a wide range of professional, avid and amateur players – 'I want more power without losing feel'. Ultra reflects a unique blend of modern design and novel technologies that expand the hottest part of the racket's sweetspot by 15 percent. This translates into a racket that gives more power and force where and when it is needed while enhancing feel."
"Many players and fans have been asking me about the blacked-out racket I've been playing with recently, and I am excited to say it's the new Wilson Ultra," said Gael Monfils. "I cover a lot of court in every match and I want power at every angle, and with every swing. This racket feels incredible no matter where or how I hit. It gives me that extra bit of confidence to play my best game, and I think other players will love it as well."
The 2017 Ultra collection features the brand's new design DNA for its performance rackets. This look is comprised of clean lines, bold color accents, matte finishes and a smooth, velvety paint that not only enhance the racket's appearance, but adds the element of texture, or feel, to Wilson tennis rackets. The 2017 Ultra franchise showcases midnight navy and bright blue as its primary colors.
ABOUT THE 2017 ULTRA RACKET LINE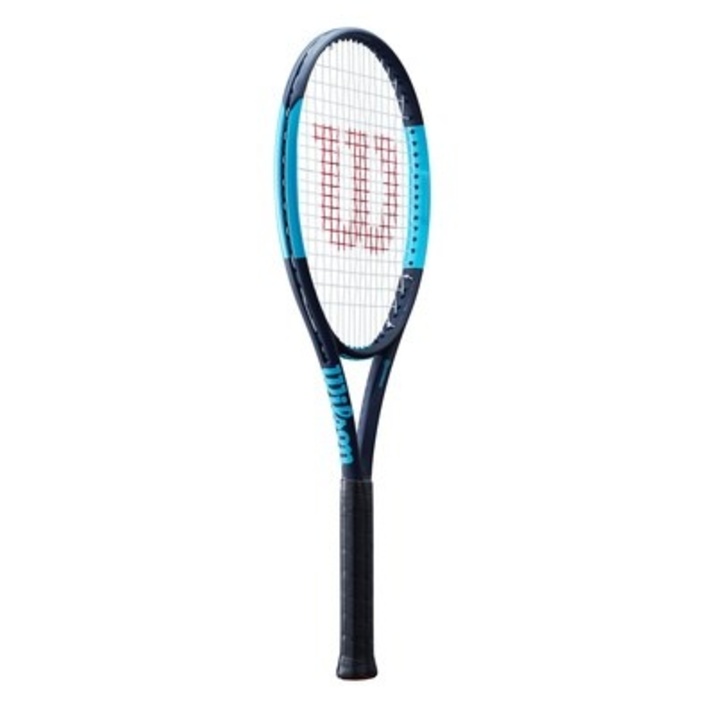 The 2017 Ultra line has been designed to enhance the performance of a wide range of players. It consists of six models: the Ultra 100 Countervail® (CV), Ultra 100L, Ultra 100UL, Ultra 105S CV, Ultra 110 and Ultra Tour. Each model has been developed to reflect differences in athlete age, size, and ability, and varying head sizes, weights, technologies and string patterns allow players to select a model that is right for them based on their individual needs and style of play.
The Ultra 100L and Ultra 100UL are two maneuverable, lightweight options ideal for juniors and smaller adults.
New technologies in the 2017 Ultra line include Power Rib™ and Crush Zone™, both of which have been integrated to provide the player with greater power:
Power Rib is an enhanced racket throat geometry at a crucial bending and twisting area of the frame. This provides greater stability and stiffness that result in more power and increased directional accuracy.
Crush Zone is an innovative grommet system that compresses at impact and increases ball dwell time on the strings. The benefit of this technology is better feel and more potential energy that drives explosive power.
Together, these integrated technologies increase the racket's hotspot by 15 percent. The hotspot is located in the center of the sweetspot, where players derive the greatest power and force behind their shots.
Two models in the 2017 Ultra line feature Countervail (CV) technology (the Ultra 100 CV and
Ultra 105S CV), which is exclusive to Wilson performance rackets. CV is an integrated frame technology that minimizes vibration without sacrificing performance and feel. According to a University of Minnesota School of Kinesiology study**, tennis players using a racket with CV experienced up to 30 percent less vibrational energy from the racket and, as a result of less fatigue, 40 percent more control over their shots. In addition to maximizing player energy, CV shortens recovery time after matches.
Each 2017 Ultra model is compatible with the brand's X2 Ergo handle technology, which is a customizable handle shape for the top hand of two-handed backhands to create optimal feel for the modern two-hander. This provides players with more power, versatility and leverage.
Four models from the 2017 Ultra line are available for pre-sale via tennis specialty retailers (in-store and online) and on www. wilson.com starting today and will be available for purchase worldwide on August 15. Those models include the Ultra 100L, Ultra 100UL, and Ultra 100UL ($199.00/MRP US); the Ultra 100 CV ($219.00/MRP US) and the Ultra Tour ($249.00/MRP US). The Ultra 105S CV and Ultra 110 ($219.00/MRP US) will be available for sale globally on October 2, 2017.
For more information about the 2017 Ultra racket collection, please visit www. wilson.com/ULTRA.
Countervail is a registered trademark of Materials Sciences Corporation.
Power Rib and Crush Zone are trademarks of Wilson Sporting Goods Co.
*Based on 2017 Wilson LABS study comparing 2017 Wilson Ultra 100 CV tennis rackets with Power Rib and Crush Zone integrated technologies versus the same model rackets without such technologies.
**Based on 2016 University of Minnesota School of Kinesiology study comparing Wilson tennis rackets with CV technology versus standard Wilson tennis rackets without CV technology.
Note: Pros often customize the racket they use. Racket specifications on endorsed consumer models may vary from the models used by pros for match-play.