Top WTA Women's Tennis Professionals Return For TaliMar Rancho Santa Fe Open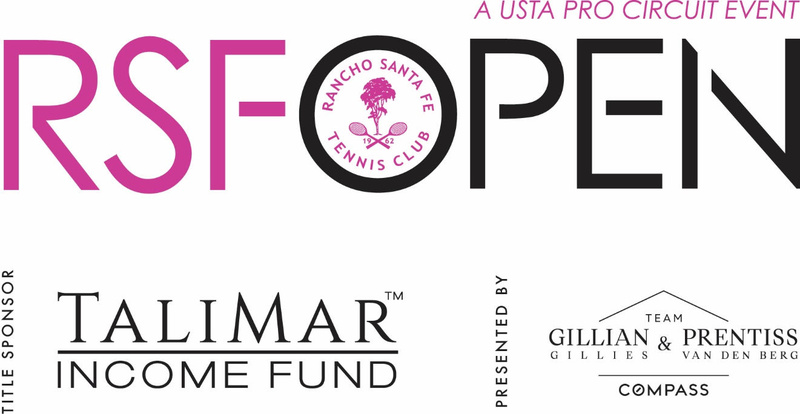 Rancho Santa Fe, Calif. – August 3, 2023 – The Rancho Santa Fe Tennis Club will have a lot to celebrate once the TaliMar Rancho Santa Fe Open returns to town this fall. Consider the following:
Rancho Santa Fe Tennis Club General Manager John Chanfreau has announced the third edition of the TaliMar Rancho Santa Fe Open, a USTA Women's Pro Circuit $60,000  event, taking place October 9-15.
The club was notified just two weeks ago it has been named one of the USTA's Outstanding Facility Award winners and Chanfreau and his team will be honored at a special ceremony at this year's US Open. TaliMar Income Fund has been named the title sponsor of the tournament, TaliMar Income Fund President Brock VandenBerg has announced.
Presenting sponsor Gillian Gillies and Prentiss Van Den Berg of Compass Realty return for a second straight year.
"I'm looking forward to this year's 3rd Annual TaliMar RSF Open," Chanfreau said. "We are thrilled to welcome TaliMar Income Fund as our title sponsor along with returning presenting sponsor Gillian and Prentiss from Compass Realty. With these major sponsors we can really make this tournament a memorable event for the community of Rancho Santa Fe and San Diego County. We have a lot to look forward to in the next few months and can't wait to proudly receive the USTA Outstanding Facility Award for 2023 at the US Open in September and hosting the TaliMar RSF Open in October."
Last year's memorable finals day saw Marcela Zacarias of Mexico capture the biggest professional title of her career winning the singles event. Zacarias was a runner-up in doubles alongside former USC All-American Gugu Olmos, who was a US Open Mixed Doubles runner-up in 2021, held a career-high ranking of No. 6 and qualified for the 2022 WTA Finals.
"TaliMar Income Fund is excited to be involved as the title sponsor for the RSF Open," Brock VandenBerg said. "We are elated to be promoting the game of tennis in Southern California and bringing together some of the best women's tennis players from around the world to compete at the beautiful Rancho Santa Fe Tennis Club."
Added Gillian Gillies: "Prentiss Van Den Berg and I are thrilled to be presenting sponsors of the RSF Open once again this year. We love being able to see top-level professional tennis women play in our own backyard. The local community seems to agree based on the attendees. Tennis is truly alive and well at the Rancho Santa Fe Tennis Club."
Last year, the Cymbiotika San Diego Open WTA 500 took place the week after the TaliMar RSF Open, but this year the top women's players in the world will compete at Barnes Tennis Center September 11-16. Chanfreau said some of those same WTA players could potentially return to Rancho Santa Fe in October for what will be the final women's $60,000  tournament of a four-week stretch that will start with events in Berkeley (Sept. 18-24), Templeton (Sept. 25-Oct. 1) and Las Vegas (Oct. 2-8).
On August 28, the Rancho Santa Fe Club will be honored at the US Open in New York City when Chanfreau and other club dignitaries will accept the USTA 2023 Outstanding Facility Award.
Chanfreau said player entries will be announced in the coming weeks, as well as a tournament schedule that will include "Opening Day" festivities that will kick off the tournament and take place Friday, October 6. The night will include an opening ceremony and sponsor recognition, pro doubles exhibition and appetizers and drinks with the community and competing players.
Gold tournament sponsors include: ENGIE, Vertical Collective and SLP Urban Planning. In-kind sponsors include: Aqua Luna, Skin in the Game and Fulcrum Surf. Featured non-profits include: Do Cancer and Curebound. For more information on about how to get involved or to be a sponsor, contact Stacey Lankford Pennington at stacey@slpurbanplanning.com.
The tournament is part of the USTA Competitive Pathway circuit. Check out the tournament's Instagram page @RSFOpen. For more information on the title sponsor TaliMar Income Fund, click HERE and the presenting sponsor Gillian and Prentiss – Compass, click HERE. In the coming weeks, player announcements and other tournament news will be announced.