Zverev Storms Into Rome Quarterfinals

Sascha Zverev kept his 22-consecutive sets-streak alive, bursting into the quarterfinals of Rome with a 6-4 7-6(5) victory over Kyle Edmund, his victory punctuated with a tiebreak that required 8 wasted match points to seal.
The recently crowned Madrid champion was pitted against one of the surprise in-form players this year in Kyle Edmund. Edmund arrived in Rome off the back of his own slick spell of form, a quarterfinal run in Madrid, and most importantly the respect and understanding from the locker room aware that his improvement has been profound, and his ability is to be respected. Nobody understood that more than Zverev, who heaped compliments on the British number one after their Thursday encounter.
"Every short ball that he gets he's trying to go for it, and he's not missing much," said Zverev. "So, before he was missing a little bit more. His backhand was always unstable, which it isn't now. He's actually using it very well when he's backing down the line as well. So, on that part, he has improved a lot. I think the backhand is the shot that is the most noticeable on him that he has improved."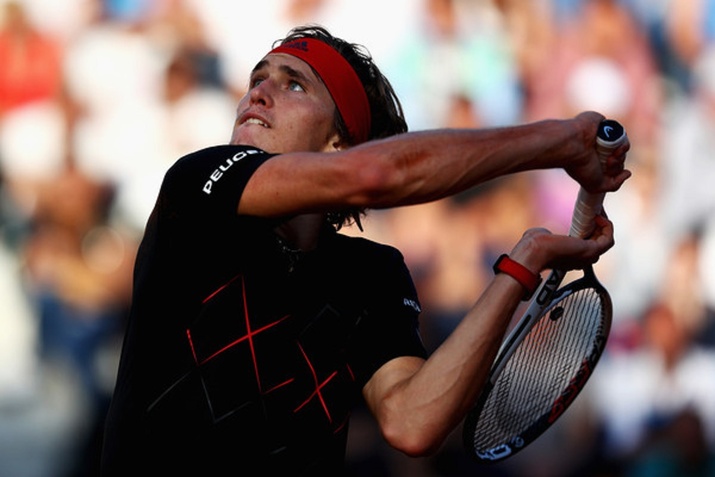 Although Edmund dropped his serve in the opening game, as the match settled, the pair engaged in an endless stream of backhand rallies. Edmund's continued willingness to play to his opponent's favored wing was a fatal error, but it also revealed the depth to his improvement on his backhand side as his weaker wing held up surprisingly well in the countless testing exchanges between the pair of two-handers, using his backhand down the line and setting up opportunities to skip around the court and find his blistering forehands.
Edmund leveled the first set from 3-5 down, breaking back with a series of punishing forehands followed by a slick backhand passing shot. But, deep in backhand crosscourt exchanges, Zverev retained the break almost immediately, showing off the versatility of his favored wing. First, he stepped in and crunched a backhand down the line for a clean winner after a lengthy crosscourt exchange, then he showcased his backhand on the defense, countering a nuclear Edmund forehand with a running defensive backhand that dropped deep to the Brit's feet and forced an error. As can only be expected from a man with such serving prowess, he didn't make the same mistake a second time.
The second set followed a similar pattern. Once again, Zverev sprinted to an early break lead, and once again the Brit's tenaciousness kept him in the match, a whistling forehand passing shot leveling the match at 4-4. As the pair rushed to a tiebreak, Zverev held a 6-3 lead, only to send his racquet flying as all three match points went amiss. Edmund saved four more match points, two with punishing forehand winners, but he was only able to stave off the inevitable as one final forehand error sent the match the way of the German.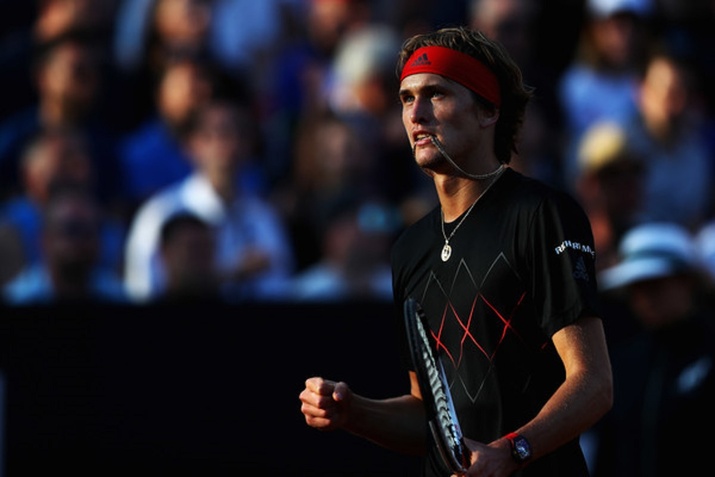 After the match, Zverev's press conference played host to the typical exhibition of the young German's extreme bluntness and ample confidence. He was practically beating his chest as he suggested that he considered himself the second best in the draw.
"When I play well, there isn't really a shot that, you know, I – opponents know that I'm gonna miss," he said. "So, for me it's more about getting the rhythm and getting the timing right for me to play well and to get me into this position. When I am there, I mean, I'm happy to play anybody. Of course, if I play Nadal, I'm not going to be the favorite. But, you know, everybody besides that, I'm more than happy to play."
Zverev's disdain for the questions he deems unimpressive was particularly distinct throughout. The scene was opened with a convoluted question in broken English about the German's clay prowess. After chuckling under his breath and rolling his eyes in one, the German responded with a burying "That doesn't make sense, buddy. At all." Eventually, the question was halted and told in Italian, only to be translated afterward.
The following left-field question, a meandering query about whether he had put in sufficient effort to appear a palatable personality followed. As it was asked, Zverev's quiet chuckling turned into audible laughter, his head shaking and his face in his palms. But once the laughter subsided and the question was finally complete, his initial response was unintentionally illuminating. "Sure. I think winning helps. I think when you're No. 3 in the world, people like you more than when you're 70 or 80 in the world, that's for sure." Win, and everything else will follow. As he enjoys his 11th consecutive win, it's an ethos that he is following closely and successfully. The rest will soon be seen.
(Photos - Dean Mouhtaropoulos/Getty Images Europe)