Zverev Gets Signature Win Against Federer In London

For much of the final week of the 2018 ATP season, the numerous headlines revolving around Sascha Zverev have sprouted more from the words careening from his mouth than tennis balls he has struck. The German has had a fairly bizarre public debate with Federer and Djokovic, through their press conferences, about the "ridiculous" length of the calendar. He has jokingly called out a journalist for "thinking his forehand is absolute crap". He has suggested that Lendl's mythical strictness wouldn't last too long.
All the while, the German has also, surprisingly, actually played some tennis at the O2. His first match in London was an ugly, tense battle against Croatia's Marin Cilic, in which he had to recover from a break down in each set, finally coming through in two tiebreaks. He eventually notched a second victory against John Isner, showing his mental strength by coming through 7-6(3) 6-3 with his back to the wall as his spot in the semi-final loomed.
But wins over Cilic and Isner are rarely enough to break the news cycle. When the real litmus test came in Novak Djokovic, Zverev's tennis was worthy of a headline for only 8 fleeting games. Zverev started brilliantly, serving big, out-wrestling Djokovic in many of their long exchanges, and then creating two break points in the eighth game. But failing to convert both, he simply collapsed, sealing the set with a double fault then winning only one further game. His form fell so abjectly Djokovic seemed convinced that something was physically wrong.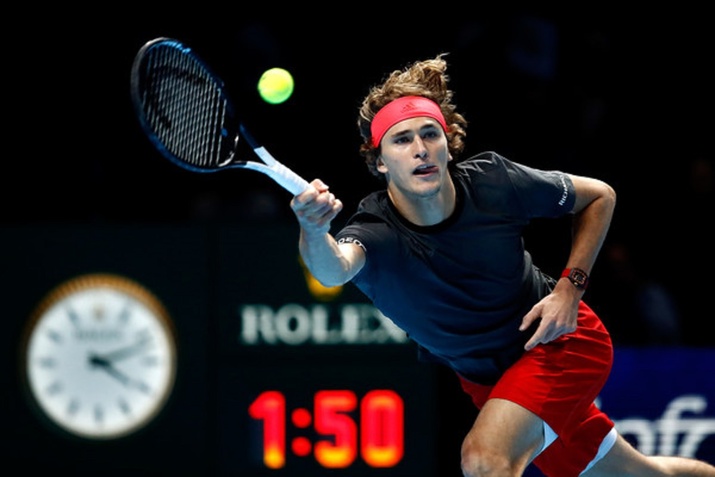 Finally, against Roger Federer in Saturday's semi-final, Zverev stepped up and showed the talent his results have promised, defeating Federer 7-5 7-6(5) to reach his first finals at the ATP Nitto Finals.
Throughout his upset victory, Zverev's serve had shifted to another level and throughout the first set, he took care of his service games with ease. When he did momentarily falter at 3-3, he eventually found his first serve to hold on.
What the German did behind his first serve and his movement was even more impressive. From the opening exchanges, Zverev decided to move to the net whenever the opportunity presented itself. Despite possessing arguably some of the worst volleys in the top 50, and missing a couple of easy volleys, he continually put pressure on Federer's still-brittle serve and made some great ones.
"Against Roger, you have to be the one that is aggressive," said Zverev afterward. "You have to kind of take the time away from him, otherwise he's not going to lose the match, especially in a big match, in a big tournament, where he already found his rhythm in the last two matches, playing really good tennis. You kind of have to take that away. That's what I tried to do. It worked out well", said Zverev.
Finally, after both men held resolutely through 11 games, the forehand that produced "crap" was Federer's, not Zverev's. As Zverev ratcheted up the pace on his forehand and then slapped a sizzling, running, down-the-line forehand passing shot to bring up 0-30, it was the Federer forehand that crumbled, producing two dire unforced errors to hand over the set.
Zverev picked up in the second set by continuing to command the match. When Federer broke for 2-1, the German immediately returned the favor. When Federer finally found his service rhythm going into the second set tiebreak, Zverev matched him with ease.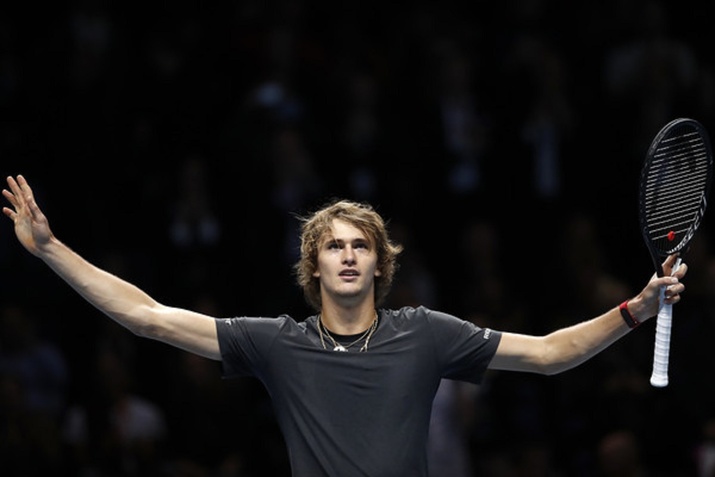 *3-4 down, no mini-breaks, Federer whipped a deep, heavy backhand to the deuce court. The weight of the shot pushed Zverev back, yet suddenly the German started moving and barking "no". A ball kid behind Federer had dropped a ball. Zverev stopped the point. The crowd booed, Federer strutted to the umpire, and the point was eventually replayed. Zverev responded by firing down an ace, and Federer never recovered. Shortly after, the German sealed the victory with a backhand winner.
It was a humongous victory, one after a year that has been strong but also been marred by his failure to make his mark in slams and a dearth of great performances against the Federesque giants. But instead of cheering their new young star, the crowd erupted to boos as they made clear their displeasure towards Federer's bad luck. As the 21-year-old, speechless for once, gathered himself, emcee Annabel Croft took the near unprecedented measure of sternly castigating the crowd, urging them to "show more respect."
"I was very emotional afterwards," said Zverev in his press conference. "Obviously a lot of emotions going on through my head. I was really upset afterwards in the locker room, as well. I'm not going to lie. I had to take a few minutes for myself."
Zverev's comment came after five questions on the subject after Federer had been reduced to laughter at the absurd amount of questions on the incident minutes earlier. It was a shame. Sascha finally had his big win against a big player at a big event, but even then, his actual tennis wasn't the main headline.