Zverev In Cruise Control to Claim Citi Open Title

WASHINGTON, DC – After a breakthrough year on the ATP World Tour, 20-year-old Alexander Zverev has become the youngest men's Citi Open champion since Juan Martin del Potro won in the nation's capital in 2008 at age 19. The budding German defeated a resurgent Kevin Anderson, 6-4, 6-4, to also become the youngest player since Del Potro in 2008 to win four ATP titles in a single season.
When asked how he viewed the high expectations put on him and his fellow "Next Generation" players, Zverev was methodical.
"There are so many expectations for so many of us, like Dominic Thiem and Nick Kyrgios. I'm not the only one," reflected Zverev. "It's about working hard. I only listen to a few people, [ones] on my team. So I try not to read too much into the media and what they think I might become, or who the top players think I might become. There have been so many great young players who never won a Grand Slam … Obviously, I want to improve as fast and as much as I can until I'm at the top of the game."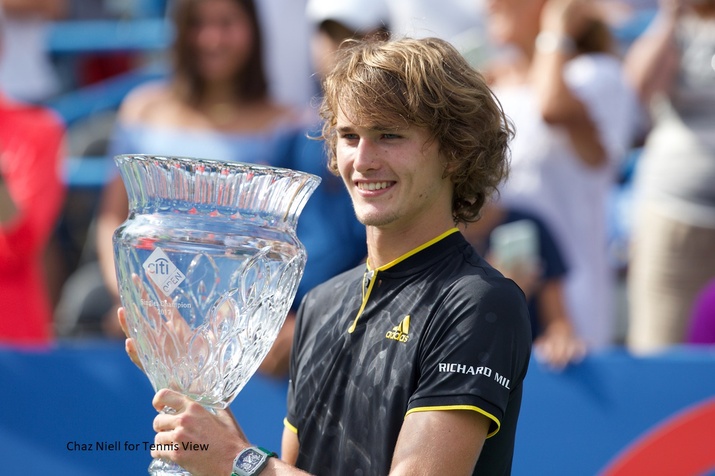 From the first ball on stadium court today, Anderson seemed to struggle from the onset, double faulting three times in his first two service games to hand Zverev the only break he needed that set. Anderson commented in press that he felt like he was playing from behind after the service break. Meanwhile, Zverev returned Anderson's blistering serves with speed and hit winners from all angles of the court. An eventual Anderson backhand went wide to give the German the first set, 6-4.
The second set was very much a "rinse-and-repeat" of the first, with Anderson getting broken in the opening game and unable to recover. Zverev seemed to be in cruise control as he only lost four points on his first serve. As the match progressed, Zverev's level only seemed to increase – as it had been all week with each ensuing opponent.
"I feel like the longer a tournament gets for me, the better I start to play," Zverev commented. "And every match, I'm playing better and better. Hopefully, this can continue."
The German-born Zverev, nicknamed "Sascha" under his Russian familial roots, reached a career-high ranking of No. 8 just one week ago. Earlier this year, he captured crowns in Montpelier and Munich before taking out Novak Djokovic in the finals of the Rome Masters, his biggest title to date. He reached the fourth round of a Slam for the first time at Wimbledon before losing to Milos Raonic. But Zverev will aim to keep his focus and continue his rise during the US summer hard court series.
"I think I improved a lot in the last few months so that I could win these kinds of tournaments," admitted Zverev. "I just hope I can continue playing like this. We'll see what the next few big tournaments hold for me.
Next on Zverev's schedule? The Montreal and Cincinnati Masters events where he is only defending first round points. If his rise in recent months is any indication, runs there and at the US Open may prime the young German to potentially enter the top 5 by the end of the US hard court swing.