Zhang Shuai: The Future of Women's Tennis in Asia?

The post-US Open season, long dominated by European indoor events, has changed gears (and continents) in recent years to be rebranded as an Asian swing. Just seven years ago, there were indoor European events during six of the nine weeks following the US Open, culminating with the WTA Championships in Madrid. This year, six of the seven weeks after the US Open will host a tournament in Asia, and the WTA Championships now call Singapore home. In addition, a tournament in Shenzhen opened the 2014 WTA calendar, while events in Hong Kong, Tianjin, and Wuhan will all make their debuts this year. Although Europe still leads the pack in WTA tournaments, Asian events now outnumber North American events on the calendar.
However, this abundance of tournaments located in Asia has yet to translate to an abundance of players rising up the WTA ranks. For the better part of the past decade, Li Na, Zheng Jie, and Peng Shuai have done their part in carrying the banner for Chinese women's tennis, but only in recent years have their achievements truly pushed them to the top of the world stage.
Zheng became the first Chinese player to win a Grand Slam of any kind when she and partner Yan Zi won the 2006 Australian Open and Wimbledon Championships in doubles. She later became the first from her country to reach the semifinals of a major in singles at Wimbledon in 2008. Zheng blazed the trails, but Li has since eclipsed her as not only as a star of women's tennis in China, but as an international superstar. Two major titles, a world No. 2 ranking and millions of dollars in endorsements have come Li's way since 2011. On the doubles court, Peng partnered with Hsieh Su-Wei and made history by winning Wimbledon last year and becoming the first Chinese player to reach to World No. 1 in any discipline this year.
For all this trio has accomplished, the increased focus on Asia as a tennis market has come with their increase in age. Peng Shuai is the youngest of the group at 28, and the future of Chinese tennis beyond them looks uncertain. There are just five more ranked inside the top 300, and just one of them also owns a top-100 ranking.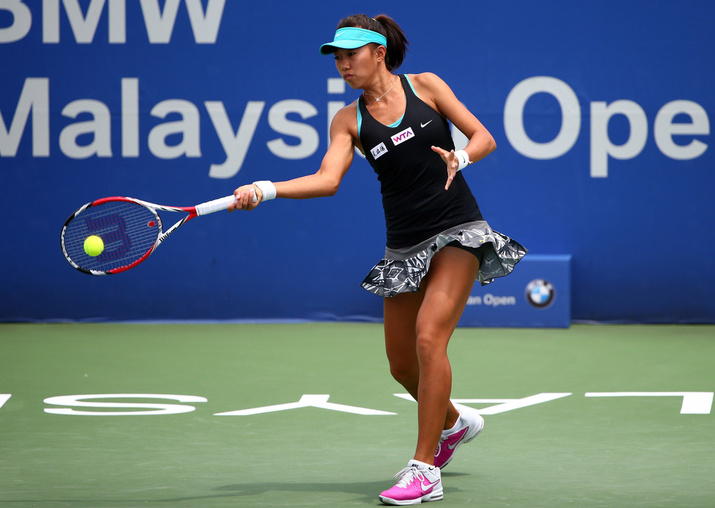 That one player is 25-year-old Zhang Shuai.
Zhang's initial claim to fame was being the lowest-ranked player in the history of the WTA to defeat a reigning world No. 1. With Dinara Safina's star fading fast due to a back injury, it was Zhang, then the 20-year-old No. 226, who took advantage of the Russian's 13 double faults to with 7-5 7-6 (5) in the second round of the 2009 China Open. Languishing well outside the world's elite since then, Zhang had a breakthrough in the fall of 2013 following the US Open. Perhaps coinciding with returning home, she won 19 of 24 matches, won her first WTA title at Guangzhou, and won her first WTA 125K Series title in Nanjing. She became the fifth Chinese player ever to win a WTA title after Li, Zheng, Yan Zi, and Sun Tiantian.
Rising into the top 50 with two semifinal showings in Acapulco and Kuala Lumpur to begin 2014, Zhang snapped a four-match losing streak by beating American Lauren Davis in straight sets in the first round in Rome on Monday. Facing off against Petra Kvitova in the second round, Zhang had a chance to put one of the oddest streaks in women's tennis to the test. Since defeating Safina in 2009, Zhang had amassed a 1-29 record against players ranked in the top 30. Kvitova came into the match off a bye and a semifinal showing last week in Madrid.
Kvitova went up 4-0 in an instant, but Zhang reeled off five straight games to take her first lead. The two eventually found themselves in a tiebreak, and down two set points at 6-4, Zhang won four straight points to go up a set. She continued to roll into a 5-3 second set lead, but the listless Kvitova found the energy to muster up four straight games to force a third. The final set proved to be a microcosm of the match, as Zhang won the first three games, lost the next three, and won the final three for a 7-6(6), 5-7, 6-3 triumph that lasted two hours and 35 minutes. Zhang will play either Camila Giorgi or Christina McHale for a berth in the quarterfinals, never having faced either woman before.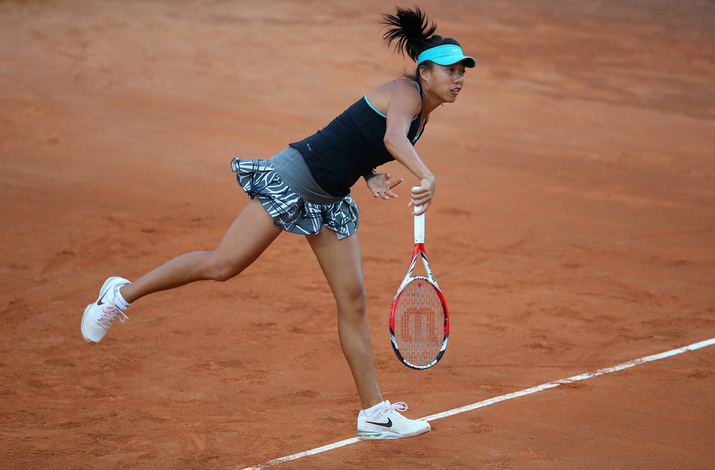 Thus, Zhang improved her record to 2-29 against top-30 players, with both wins coming against the highest level of opposition: the top 10. For a player born in the same year as Victoria Azarenka, Agnieszka Radwanska, and Dominika Cibulkova, Zhang's WTA experience pales in comparison to her contemporaries. The win over Kvitova was the 300th of her professional career, but she's never been past the second round of a Grand Slam tournament. The highest-ranked player to have such futile success in major events, it remains to be see if Zhang will achieve even a fraction of what those who've come before her have.
Whatever she does, however, she'll have the eyes of a nation, of a whole part of the world, upon her.