Your Turn

Your Turn Charles Ledbetter, Tulsa,
OK
Spreading the Word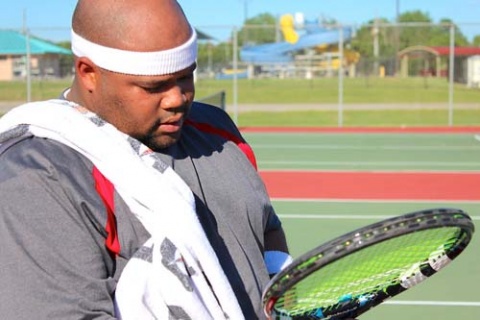 I'm not a gym-only kind of guy; I love being outdoors and playing sports. Unlike other "team" sports, with tennis, I try harder and exert more energy because it's only me on one side of the net. I just get excited playing tennis, and it's kept me very active and improved my overall health.
Tulsa, Oklahoma is not a very tennis rich city, so over the past couple of years, I have really tried to spread the word about the positive health benefits of tennis and how enjoyable it is for all ages. A lot times if I'm practicing by myself, I'll take extra racquets in case someone asks, "Hey can I try that?" I always look to introduce this great game to new players.
I got into tennis solely because of Andy Roddick. I love his playing style, humor and in one word, POWER! I also like Serena Williams' dominant style of play and the fact that she's never satisfied with her game. I appreciate that both of them are big charity supporters.
Your Turn Alana Haselwood, Hodgenville,
KY
Natural at Net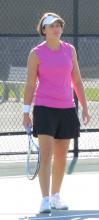 My passion for tennis all began because I turned on the television one summer as a child and was instantly mesmerized by the grass courts of Wimbledon and Dick Enberg's legendary play-by-play. Tennis has always been a hobby of mine, but as I grow older, so does my passion for the sport. In fact, most of my travels are tennis related – as a fan or player – which has allowed me to see many new places and meet a lot of new people.
Last year, I attended a Serena Williams practice session at the Western and Southern Open in Cincinnati. It was one of the most impressive practice sessions, men or women's, I've ever seen. I have always enjoyed watching her dominate the game, but I have much more respect for her now that I've seen her train. My favorite ATP players are the Bryan Brothers. I admire their dedication to both the sport and the fans. No matter how many records they're breaking, they always have time for their fans.
When I play the game, I'm definitely a net player. As a basketball player first, net play is the most natural place in the game of tennis. The focus is on a player's footwork and reaction and less about technique. And that's what I love about tennis – no matter how flawed a person's technique may be, the sport does not discriminate. Tennis is a family that creates an instant bond with players and fans.
---
Are you passionate about tennis? Email your story to feedback@TennisViewMag.com or log on to TennisViewMag.com and send a message through the "Contact" page
---
Conflicts
&

Resolutions
Know the rules. Keep the peace.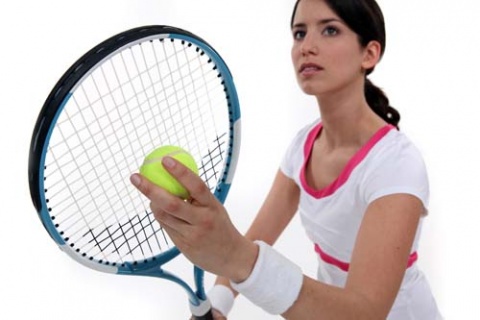 IN

QUESTION

Serving out of turn
CONFLICT: I played in a charity tournament recently where I broke my opponent's serve to go up 4-3. We switched sides during changeover, and without thinking, my opponent served again. After she won the game and hit the balls to me to serve, I realized that she served out of turn. Neither of us knew how to proceed, so we agreed to continue the match at 4-4 with me serving. Did we choose correctly?
RESOLUTION According to Rule 27, Correcting Errors, because the game had already been finished, you made the correct call: score stands, you serve and the order of serve will continue as altered. If you had discovered the error during the game, however, you would then correct the service immediately, all points would stand and you would serve the completion of that game. If there was a fault, you would start serving with a first serve.
IN

QUESTION

Hit by a Ball
CONFLICT: One of my opponents in doubles stands almost smack dab on the service T when I'm serving the ball. It's very distracting, which is probably her intention, and I'm always tempted to give her a wake-up call by hitting her with my serve. I'd hate to stoop to that sort of unsportsmanship-like behavior though. If any ball (during the service or a rally) hits a player before it hits the ground, no matter where that opposing player(s) is standing and no matter how far out the ball was, which player loses the point? And what about a let serve that hits either opponent?
RESOLUTION Regardless of where an opposing player is standing or how far out the ball was, if any ball (during the service or a rally) hits a player before it hits the ground, then that player hit by the ball loses the point. If on a service let the ball hits either opponent in doubles before the ball bounces, it's a let serve. Receiving teams should be warned, when the ball coming from an errant [or angry!] server travels towards the receiver's partner at the net, if that ball hits either opponent before the ball bounces, no matter where either are standing during the serve, the serving team wins the point.
IN

QUESTION

Lost Ball
CONFLICT: I was recently playing a mixed doubles USTA league match, when our male opponent with tons of topspin hit the ball and it jumped over the fence, bouncing deep into some thick brush and trees. I tried to find the ball but couldn't. I returned to the court to continue, but our opponents said we couldn't resume play without the original ball and if we didn't find it within 90 seconds, we'd have to forfeit the game. Neither my partner nor I was familiar with that rule. Seems like the person who hit the ball out is at more fault than our team?
RESOLUTION Wow, that's a very creative rule that your opponent's tried to convince you to believe, and I hope you didn't buy into it! If after searching for the ball for a minute or so and the ball is truly lost, just simply replace it with a ball that has similar wear. Regardless of who hits the ball leading to its disappearance, no one gets docked points or games for not finding it.
Court Conflicts collected by Kay Caldwell. Resolutions reflect the ITF Rules of Tennis and the USTA's The Code
CONNECT WITH US
Email your court conflicts to editorial@TennisViewMag.com and include your name, city/state, and email address.
This article is from the Sept/Oct 2013 issue

SOLD OUT

Subscribe now and you'll never miss an issue!