WTA Profile: Alison Riske

For 29-year-old American Alison Riske, 2019 was a breakthrough year. After being on tour for eleven years, she's now ranked a career high of world No. 18.
In July, she reached the quarterfinals of Wimbledon, playing her quick grass-court-specialist style, beating world No. 1 Ashleigh Barty. A fortnight later, she married Stephen Amritraj, a former pro with a famous surname: his father Anand, uncle Vijay, and cousin Prakash, all with successful careers in tennis. Stephen is now the Chief Tennis Officer at Universal Tennis Rating.
Speaking with Alison at the WTA Elite Trophy in Zhuhai, China, in late October, I tell her I'm not only a fan of her tennis but also her blog: https://riske4rewards. wordpress.com.
"Oh," she says and gives a big laugh.
"You're good!"
I tell her it's my first time in China and that I liked this part especially: Communication CAN be complicated at times. If you are not fluent in Mandarin or sign language, you are shizzy outta luck.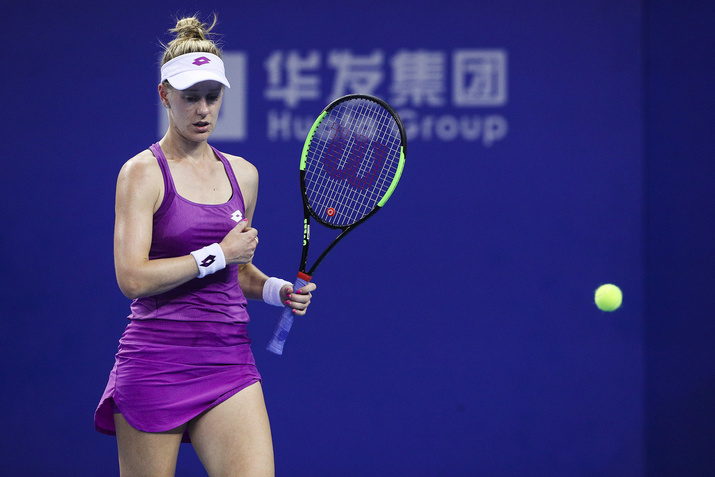 "Now you're making me want to get back on there," she says.
"The last time was in 2018," I say. "And I saw your Bollywood wedding dance [a video that went viral], which was amazing."
She says, "I could have used you a few days ago, get my confidence up."
I smile giddily and ask how much practice did that wedding dance take.
"It was honestly my sister's idea, so I can't take too much credit for that. But it was a total surprise. Stephen and his family had no idea.
"I started learning—my sister started sending me videos in Dubai last year—so what was that March?—and she would learn pieces of it at a time, and she would slow them down and send them to me. I would just kind of learn them on the road.
"And because Stephen doesn't travel all the time, I was able to get in my practice. We practiced for the first time together a couple days before the wedding, so it was definitely a few months in the making."
"I saw on Twitter someone say, 'Is there anything she can't do.' Is there anything you can't do?"
"If you speak numbers to me," Alison says. "Math, I can't do math."
I ask about growing up in a tennis family.
"My parents both wanted all their kids in an individual sport. That was their first prerequisite so we could kind of determine our destiny. And the other thing was they wanted it to be something that we could get a free education for college. They chose tennis luckily."
Her sister, Sarah, played college tennis at Vanderbilt, and her brother, Dan, played at West Liberty State. "My sister is nine years older, almost like a second mom to me, and my brother is six years older, so once I came along I didn't really have a choice.
"I didn't play any other sports. I went to one ballet lesson and freaked out so I went straight back to tennis, and I've been with it ever since.
"I definitely didn't like it at the beginning. I only liked the competition and the winning aspect. That's what kept me in it. My dad forced me to play, forced me to practice and if it wasn't for him, there's no chance I would be here."
I think of my father, who did not force me to play, and how I quit after a year of college tennis, but I imagine Alison and I were raised in a similar way. Raised to be nice.
I tell her that I've read she's Pittsburgh-proud.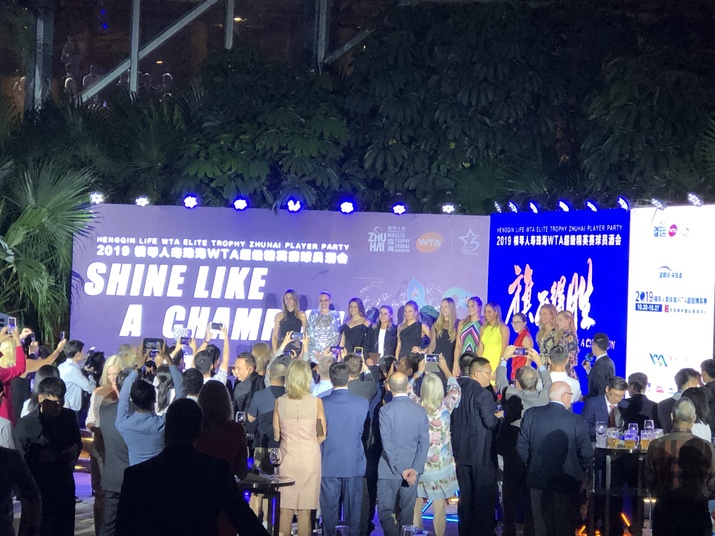 "It's an amazing sports city," she says. "So that's where I grew up and for such a small city you have so many great sports. And I think that's something very special. And you have a real hometown feel. And everyone's friendly. It's a great place to be brought up and you're surrounded by good-hearted people."
Later that night, at the packed and posh Players Party, outdoors amidst bright skyscrapers changing colors—gold, green, purple, red—and the beats and bass of electronic dance music, she comes over to me, says, "Hi, how are you?"
I'm beyond excited by this.
"You were so nice this morning," she says.
"So were you!" I say.
I begin introducing her to my group, my new young journo friends from around the world. Before I can introduce her to Franzi from Germany, she says: "Oh my gosh, is this your daughter? You look exactly alike."
I grin.
She quickly says, "No, not daughter, sister."
I tell her it's fine. I will take that compliment.
Tennis journalism, like being a tennis player, is mostly a young person's game. I came to tennis writing in midlife, from a fiction background. I've written three novels. During our interview, I nervously told Alison this, and she said, "I'll have to read them, what are the titles?" I redirected a question back to her, thinking to myself: Wow, she's just so nice.
"I have one more question," I say. "One I forgot to ask this morning: Do you like tennis now?"
"Oh, yeah," she says. "I love it, love traveling."
She tells me that before all this, she had actually signed to play at Vanderbilt, had a dorm room and everything. But at the last minute, a sponsor came forward with financing. "Without that, I wouldn't be here."
I can hardly believe that I'm here myself. This night, this dreamlike night in Zhuhai, feels like another dimension, a parallel world where I achieve my junior tennis dreams.
Alison smiles her million-watt smile, turns away gracefully with her long blonde hair flipping in time with her black floral outfit—I'm quite sure she could have done ballet—and makes a path through strobe lights, palm trees, guests with champagne glasses, until she blurrily disappears.