Women's Quarterfinals Begin Wednesday in Indian Wells

How the Bottom Half of the Draw Shook Out
The women's quarterfinals at the BNP Paribas Open in Indian Wells are set, and there are a few surprises and upsets in the players' wake. One big asterisk this week is the viral illness that seems to have hampered the success of players in both draws. Serena Williams withdrew in the middle of a match against Muguruza, while Sascha Zverev was upset by Jan-Lennard Struff before revealing he had a fever over 101 that morning. Rumors of illness also surrounded Novak Djokovic's loss to Philipp Kohlschreiber.
Garbiñe Muguruza [20] vs Bianca Andreescu [WC]
Garbiñe Muguruza reached the quarterfinals by fighting her way through a difficult draw. The twentieth seed faced the tenth-seeded Serena Williams in the third round and won on retirement. In the round of 16, she faced seventh seed Kiki Bertens whom she had a 1-3 win/loss record against. The Spaniard took nearly two and a half hours to defeat the Dutch player and finally did so 7-5, 1-6, 4-6.
Her opponent's round of 16 match was a full hour shorter. Canadian Bianca Andreescu reached the quarterfinal with a 7-5, 6-2 victory over Qiang Wang. After entering the tournament with a wildcard, the 18-year-old made her way past thirty-second seed Dominika Cibulkova 6-2, 6-2.
The two players have never met, and their match Wednesday will pit showcase slam winning experience against youthful energy. Muguruza is excited for the challenge, telling press: "I think she's playing very well since the start of this year. I don't know a lot about her. I think she's – well, not around for a long time, so she's starting to play better and better." Muguruza will have to invest a little extra time in scouting before the encounter, but already has some sense of what makes Andreescu such a strong competitor: "Well, I think she's having more and more confidence, because she's beating very good players. I think she has a strong physique and a good mover. Yeah, I will watch a little more."
Andreescu, by contrast. has been watching Muguruza on TV since childhood but is not intimidated: "She's a hard hitter. She likes to use her serve to control the point. She fights really hard. She moves really well, as well. So, she has the whole package. I have no doubt that it's gonna be a tough match tomorrow, but I'm going to go out there and play my game. I think I can win tomorrow, but I know it's going to be a tough match."
Elina Svitolina [6] vs. Marketa Vondrousova
Elina Svitolina, the sixth seed at the tournament, has only had to face one fellow seeded player on her way to the quarterfinal and it was a tough battle. In her round of 16 match against Australian Ash Barty [12], Svitolina needed three hours and twelve minutes to finish the job in a 7-6(8), 5-7, 6-4 victory that ranks as the longest WTA match of the year.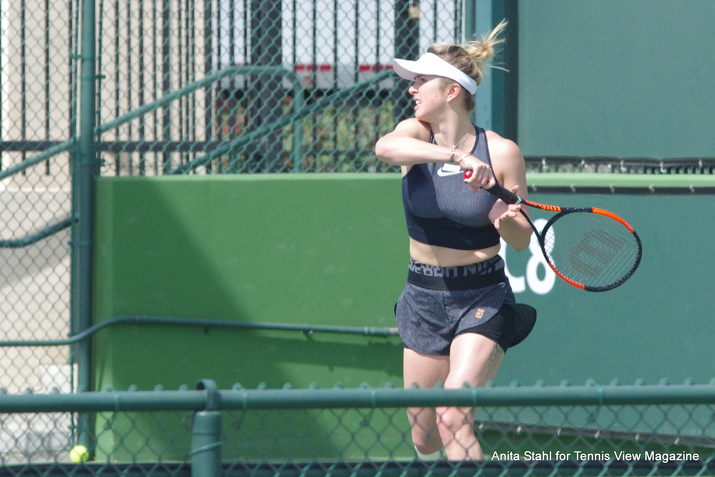 Vondrousova reached the quarterfinals with a 6-2, 6-1 victory over last year's finalist Daria Kasatkina [14] and a 4-6, 6-3, 6-4 victory Grand Slam winner Jelena Ostapenko [22] all before meeting up against world number two Simona Halep. In just over an hour and a half, Vondrousova beat the 2015 champion 6-2, 3-6, 6-2. The 19-year-old Czech player was all smiles when she spoke with press after the victory: "I mean, it's my first top 10 and top 5 win. I'm just so excited. I think I'm playing well all week, but this is something special, because she's No. 2 in the world. I was just fighting for every point. It was very tough. She's incredible fighter and champion. So, I was just playing every ball."
The two played each other twice last year, with Svitolina winning both encounters. Having seen what the Czech teenager can do, Svitolina knows what she has to do: "Her spin is a little bit different because she's left-handed. I have to adjust to this. For me, it's just important to bring my game. I try to recover first. I don't think so much about it tonight. Just enjoy this day to day, because it was very, very tough. And very happy the way I could finish it with a win in the end. For me, it's just another match, another match to bring my good game tomorrow. So, we'll see. It's never easy, but I will try to work my way into the match."