The Winning Streak of Ivo Karlovic: Books Final in Washington

WASHINGTON, D. C. – On a sweltering day in Washington, DC for semifinal Saturday at the Citi Open, it was a battle of serves and endurance as Croatian Ivo Karlovic defeated American Steve Johnson, 6-4, 6-4.
Despite on-court temperatures creeping near 140°F (60°C), both players came out firing and wracked up a combined 21 aces. Karlovic hit 41 winners to Johnson's 17 to seal what has become his fate the past two weeks: making the final of a tournament.
"Yea, it was hot. Unbelievable," Karlovic commented. "There was this moment that I just wanted to lay down on the floor. But I kept going. It was difficult but near the end it was a little [breezy] so that helped."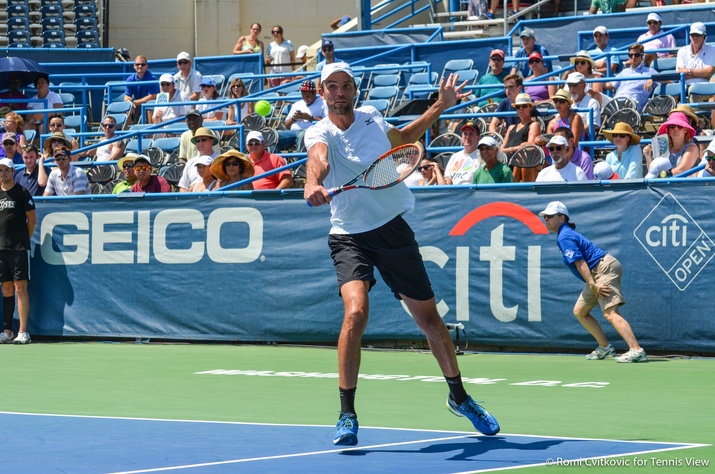 While neither player had dropped serve all week, that quickly changed as Karlovic broke the American to go up 3-1 in the first set, which sealed him the set.
In the second set, a Karlovic backhand slice winner broke the American to once again go up 2-1. Johnson nearly broke back in the next game, up 40-15, but Karlovic dug himself out of a hole with three straight aces and an errant Johnson return that went wide. Johnson kept his composure the next game winning to love. But it wasn't enough as the 6'11" Croatian ran away with the match, serving two aces alone in the final game.
After a 0-6 start to the year, 37-year-old Karlovic has compiled a 15-8 match record in the past nine tournaments. Today's win extends his winning streak to 8 matches, including last week's title-run in Newport, Rhode Island. Tomorrow's final marks his second final of the season and 15th career final. But he didn't see this run coming, especially after his rather early loss in Wimbledon in the second round.
"I lost in Wimbledon early because I was not as aggressive as I am here," the Croatian reflected. "Of course, after Wimbledon, I didn't really see that I would be [doing this well] today. I'm just confident from Newport, winning there, and every match winning here.
A veteran of the tour, Karlovic stated after his quarterfinal match against Jack Sock that his goal for the next few years would be "winning, maybe a 500-event like here, that would be great." That may come sooner than expected as he takes on the winner of Gael Monfils vs Alexander Zverev in tomorrow's final.