Windy Friday at Indian Wells Begins to Upset the Draw

The second round of the WTA draw at the BNP Paribas Open was in full swing Friday with the top-seeded star players taking to the courts for the first time this week.
Garbiñe Muguruza [20] started her run at Indian Wells with a 6-1, 6-3 win over American wild card Laruen Davis. While strong gusts whipped up dust in the surrounding desert and carried it to the lesser protected practice courts, the players on Stadium 1 worked hard to control their ball tosses. Muguruza was pleased with how she handled the weather: "I think it was a great match, considering the conditions. I think it was especially windy. We both played very good during the whole match, so I'm happy that I won." The Spaniard won the 1:35 hour match on her second match point.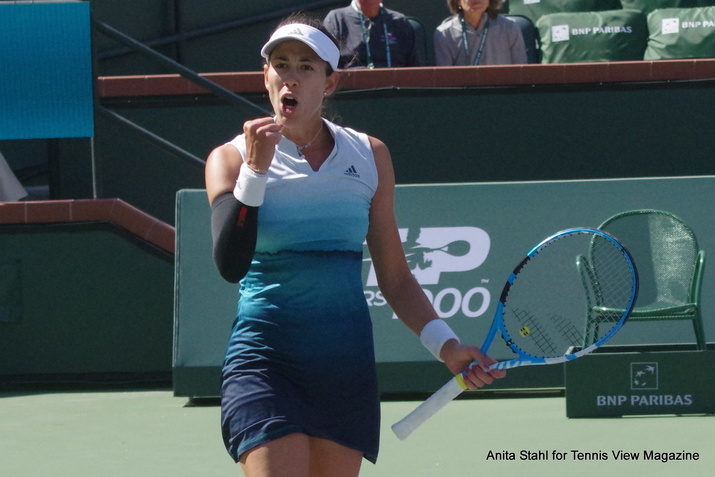 Asked about what would surely be a tough third round set up that was yet to be determined but could have featured either Serena Williams [10] or Victoria Azarenka, Muguruza was cheerful: "I think it's great. I think it's very good match to have. That's the matches that I feel are exciting, that I want to play, that it could be any final. It's early. Yeah, I will be watching. Hopefully it's going to be a good match." She will, in fact, be playing against Serena Williams.
Serena Williams beat Victoria Azarenka 7-5, 6-3 in a night match that stretched just over two hours long. Fighting through deuces in 12 games, the American came out on top. The match had the tension and level of a final. As soon as one player raised her energy to pull ahead, the other one would dig just a little deeper to move better, hit harder, and draw more cheers from the crowd.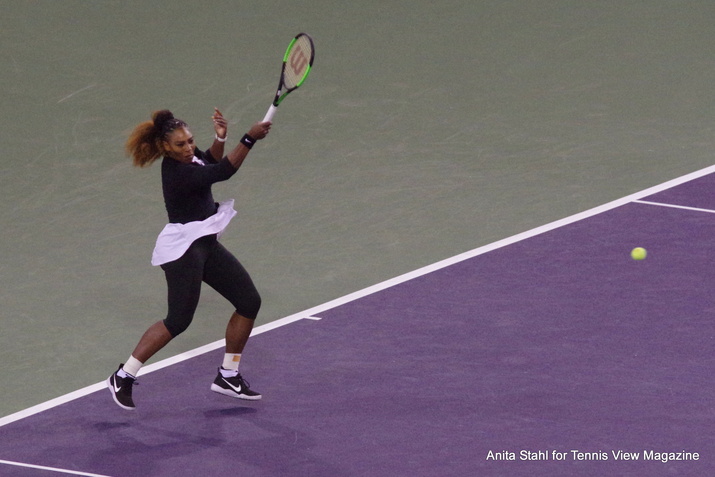 After Williams finally took the win on her third match point, the players embraced at the net. Azarenka, speaking with press after her defeat, was generally happy with her performance, even if it was not the outcome she hoped for: "We have mutual respect and love off the court. On the court it's a fight. It's a war. But after the match, it's over, that's it. Whoever won, you know, congratulations. I think it was quite an amazing match. I hope people enjoyed watching it. I hope we can do some more of that, because that's what tennis is about today. And having such a match on International Women's Day, I felt that was really incredible."
Williams echoed Azarenka's thoughts, explaining their connection further: "She's a very good friend. I would say we're pretty close. We're both moms, and we know how hard it is and how hard it's been for us to come back, you know, and starting literally from scratch and fighting our way back."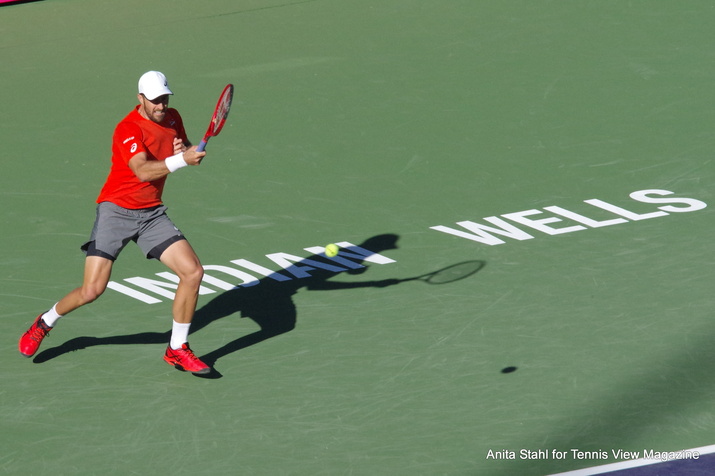 In an all-American Stadium 1 matchup, Steve Johnson defeated Taylor Fritz 6-3, 6-3. The match fell just short of being an hour long. Johnson's first serve percentage was not close to Fritz's with only 52%, compared to 67%. However, Johnson did have a vastly stronger return game that was critical in the blustery conditions. Johnson won 38% of first return points, while Fritz only won 4%.
Fellow American Sloane Stephens [4] lost her second-round match to Swiss qualifier Stefanie Voegele. The result, though disappointing for Stephens, was not too surprising as it was their sixth meeting and Voegele approached it with a 4-1 lead in their head to head. Stephens made no excuses for the result: "The conditions, it was windy, but windy for both of us. I just didn't play a great match today." Asked what she struggles with in this particular match up, she was at a loss for an explanation. She smiled as she told reporters: "I'm not sure. I'm still trying to figure it out, obviously. If I knew, I would probably do a little bit better."