Wimbledon: Tsitsipas Battles Into Second Week

The best shot of Wimbledon 2018 so far was an audacious blend of instinct and talent. Within the intimate confines of Court 18, Stefanos Tsitsipas led 4-3 40-30 in the 5th set of his two-day second round match against Jared Donaldson. Tsitsipas sensed an opening and he took it, crushing a forehand crosscourt and storming the net. Donaldson responded by flicking a quality passing shot that redirected low and fast down the line. Most opponents would have stared in awe as the ball flew past, but Tsitsipas launched himself into the air, reached his arm out at full stretch and then rolled onto the turf. His back to the net, the ball curved at a short angle over the net and stopped dead.
One of the main takeaways from the Wimbledon first week is that, as Tsitsipas, 19, stormed into the second week of Wimbledon for the first time in his career, this is not the last time that such a sight will play out on a grass court. It was not his first dive volley on grass - a few weeks ago in Rosmalen he took to flight for a backhand volley, this time he completed his military roll and was back up in time to reach out for the next volley and kill the point.
Nor was it his first charge to the net. Fashioned by the perfect blend of a former Russian professional tennis player mother and a Greek tennis coach father, Tsitsipas' is a clear proponent of all-court tennis. His bread and butter are his serve and a silky, accurate eastern forehand that he uses to take the ball early and finish points. His flowing single-handed backhand, consistent and capable of flattening down-the-line with venom, steals attention every time it reaches the top of its follow through and his wrist unfurls.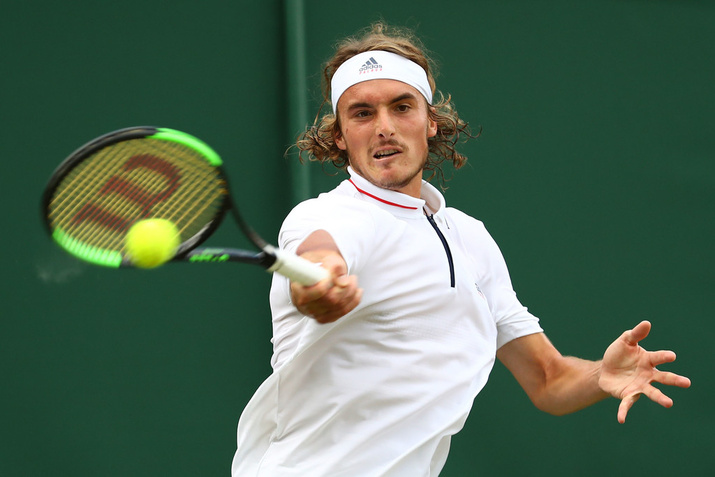 Beyond his big serve and groundstrokes, the net is Tsitsipas' playground. He follows big forehands into the net, he creeps in behind some slices and he periodically serve and volleys. In his first-round match against George Barrere, he waltzed to the net 50 times and he did so 44 times against Donaldson. Though his game flows like it, when he speaks about his volleys, his words are more logical and calculated than doused with poetic flair.
"Well, when I step out on the court, it's not a priority for me to do a diving shot during the match. It's not on my mind. It just comes at a certain moment, maybe a crucial moment where I really need to win the point," he said. "I'm tall, have a good serve, good baseline strokes, groundstrokes, and coming to the net can solve a lot of problems sometimes, you know. Put pressure to the opponent. Have him think where he's going to return."
The second-round match Tsitsipas found himself in on court 18 was a tussle that seemed he would lose. Tsitsipas initially led Donaldson by two sets until he learned his first lesson in just how drastically momentum can change, even in a 5-set match. Donaldson took a medical timeout, then darkness loomed. From a comfortable 2 sets to 0 lead, the 19-year-old lost two successive sets and arrived in the final set hemorrhaging errors and looking passive and vacant.
While the combined expertise of his parents created an impressively well-rounded player, there are some trilingual downsides. In the stifling heat of battle, their diverging methods clash. It's not unusual for the mother to spend a match shouting advice to her son in Russian, while the father devotes half his energy to quieting her in Greek, while he angrily barks back in English. But in the heat of battle, Tsitsipas seems to back himself more than he needs the input of his parents. He overturned the 1-3 deficit in the final set by sticking to his guns, approaching to the net and directing with his forehand. When asked about the origins of his fight after his third-round win, Tsitsipas' first word was 'Sparta'.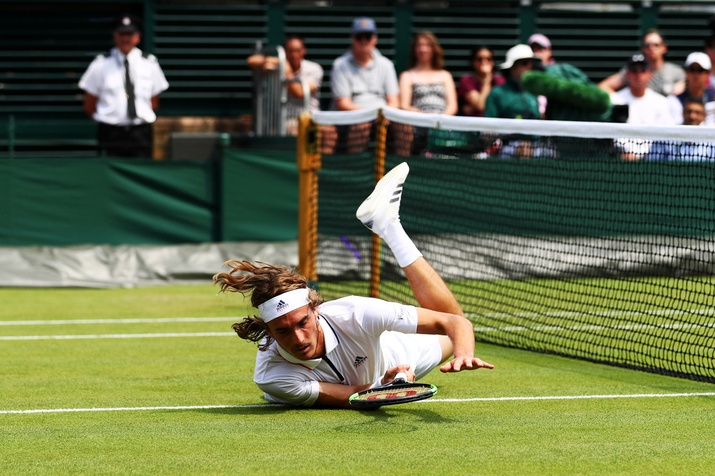 He smiled. "I'm kidding, I'm kidding. No, no, no, yeah, I have been a fighter. It's something that – I was a fighter and I hated losing since a very young age. Back in the day, I used to compete with children my age, in my age group in Greece, and then I moved on to tennis Europe level. But I've always wanted to be the best from a very young age. I just hated losing."
During the worst of the Greek financial crisis, his father worked multiple jobs, his mother looked after his younger siblings and a lonely Stefanos trained abroad and traveled the world for his tennis until his father decided to quit his job and risk it all on his son's dream. Tsitsipas speaks with an assuredness and poise that belies his age, and it seems to come from these experiences.
He is only a year older than Denis Shapovalov, and though the Canadian is as similarly likable and a ballistic talent with a single-handed backhand and a violent net-rushing dynamism to match Tsitsipas' smoother brand of all-court tennis, the Greek seems less youthful and more than a year wiser, even in his second language.
After exploding into the tennis consciousness with his victory over Rafael Nadal and his run to the fourth round of the US Open, Shapovalov remarked on the homesickness he felt during the end of 2017 as he graduated to life as a top 100 touring ATP professional at the exact time his fellow 18-year-old friends were off to university.
For Tsitsipas, he has already faced the pressure of living far from home with the knowledge that his application determined the future of his family, a difficult experience that seemingly built the character he has today.
"Well, in the beginning, as a kid, I had a completely different eye of this, like, different perspective and everything and different look," he said. "But now I do, I appreciate it more than I did before, because I do understand how this world works and how tough it is to, you know, leave certain things behind."
Of course, even as their careers take off, not every player thrives personally in the foreign tennis academy system. Many players are blunted socially in the quest to flourish as players. But Tsitsipas is openly confident and reveals his extroverted personality with his vlogs and the social media presence he is now asked about on a daily basis. He knows that he is talented. He knows he is confident. He knows that when he has the audacity to chase down the net, launch into the air and roll, it's not because he's trying to have fun. It's because the likeliest outcome is that onlookers will jump to their feet with him and roar as he wins the point.