Wimbledon: Tiafoe Fast Out Of The Gate

Frances Tiafoe said he was super excited to come out and play at Wimbledon. He wasn't really nervous, but ready to get going, see how we go. He must be pleased to get through the first round in straight sets, especially with all the starts and stops of rain delays. He defeated Yibing Wu of China 7-6(4), 6-3, 6-4.
The 25-year old American broke into the Top 10, at No. 10, for the first time last month after winning the title at Stuttgart.
Tiafoe has a good grass-court game. He's an excellent mover, very quick. He has a nice, simple backhand: straight back, straight through. He is a good returner. That efficiency in the backhand helps him on the return. He has soft hands at the net and with the slice.
His serve is a bomb. He gets so much power, routinely serving first serves at 130 mph, with his live arm, that slingshot motion.
He also has other good qualities that make him so fun to watch. He looks happy and relaxed on the court, casual and not stressed. He's quick to smile. He has a very good appreciation of when something special happens in the match, whether he makes a good shot or his opponent makes a good shot.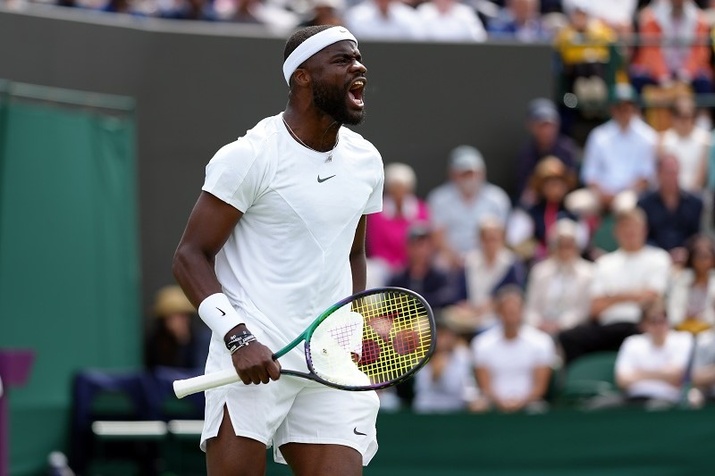 Photograph: John Walton/PA Wire
Against Wu, he hit a fantastic slice backhand flick on the full sprint for a winner, and then the next point he hit a forehand volley stick save to the open court. He was in full flow. The crowd appreciated it, and he appreciated it.
He has humor.
In his post-match press conference, he was asked who are the funniest guys on tour. He said, "Well, definitely me. Definitely putting myself in there." Then he smiled.
"I would definitely put obviously Gael in there. He's unbelievable. It's just who he is. Just how he carries himself and things he says, quite funny.
"I'm just going to throw a curveball, you guys won't really think. I'm going to put Andy Murray in there. Very dry humor. Very, very funny.
"You guys think he's boring or whatever, but I think he's hilarious. Man, I love that guy. We get along really well. Yeah, he's not one people think about, anything about funny. He's definitely very funny."
Tiafoe's best Grand Slam result was reaching the semifinals at the 2022 US Open, where he lost to Carlos Alcaraz in five sets. He became the first American man to reach the semifinals at the US Open since Andy Roddick in 2009.
When asked about his chances at Wimbledon, Tiafoe said that it was because of the US Open that he feels he has a chance.
"I think the Open changed my mindset for a lot of tournaments in general. I mean, the first few slams this year, you know, I had similar-type losses, which I thought if I won that match I could have went very deep.
"But it's all about the big ones, especially when you're sitting where I'm sitting at now. If I want to keep rising, top five, top three, whatever case, it's got to happen here at these events.
"More so, I mean, just Wimbledon and US Open, since I was a young kid is always the two—every slam is huge, significance obviously, but these two, this one especially.
"It's the pinnacle of sport. Wearing all white, the royal box, I mean, it's absolute scenes here.
"I definitely always want to play my best tennis here. Now being in my prime, so to speak, I definitely want to compete for this thing."