Wimbledon: Sousa Books A Spot In Week Two

João Sousa has made tennis history as the first Portuguese player, male or female, ever to reach the second week of Wimbledon. In a high-quality third round, Sousa outlasted Great Britain's Dan Evans 4-6, 6-4, 7-5, 4-6, 6-4 in just under four hours.
In amazing symmetry, world No. 61 Evans led world No. 69 Sousa in every set. The first four sets each lasted 48 minutes with Evans getting the early break and up 3-1. Evans, who has restless, jumpy energy, won two of them with his wicked backhand slice and deft volley. Sousa, who kept his composure despite playing from behind, won two of them by crushing his serve and forehand.
Because of the darkening sky, the roof was closed for the fifth set. Sousa served first (as he had in every set), and it looked like Evans would break then, too. But Sousa was able to recover from love-thirty with a backhand error from Evans, two beauty forehands—one a runaround down the line, the other an inside-in—and a booming serve that Evans missed long.
Evans held his serve for 1-all. In the third game, Evans broke at fifteen with a massive forehand down the line off a short ball. Evans was up 2-1 and serving. In that game, he hit the most well-disguised, brilliant drop shot—the ball spinning back and away—but also double-faulted and folded on his normally reliable backhand slice. Sousa broke for 2-all and was able to hold for 3-2.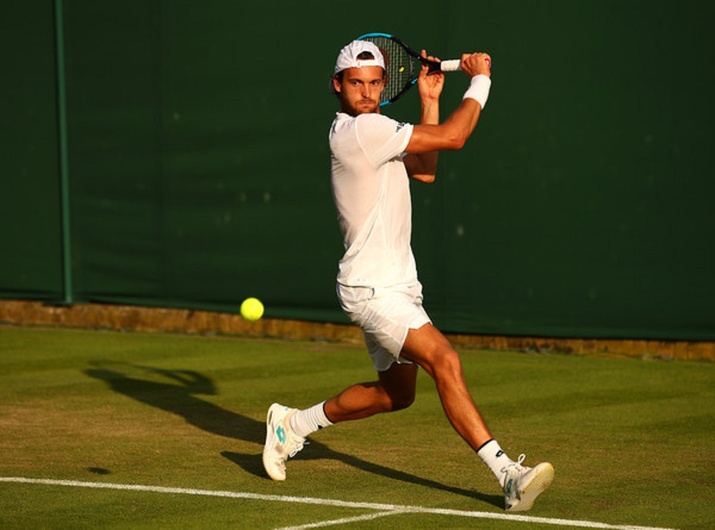 They stayed on serve until Evans was serving at 4-5, 30-love. Sousa came back to 30-all and hit an incredible backhand down-the-line pass to set up match point. Then, in a sad way to end such a compelling contest, Evans missed an easy backhand dropshot into the net
Afterward, Sousa said: "Was unbelievable. The crowd was amazing. Playing on Court 1 at Wimbledon is just a dream come true.
We [Portugal] are a small country. But also, very proud to be part of this small country."
Sousa said: "In the end, it could be me. It could be him. In the end, was me. I was able somehow to win. I have to congratulate Dan because it was a great battle."
In his press conference, Evans said: "I didn't serve very well. I mean, that was it. I didn't play any big points that great. Fought as hard as I could fight and that's all I can do on the day, is leave everything out there. You know I haven't served that great the whole tournament, to be honest. It's been a bit up and down. Yeah, I mean, a little unlucky, you know. A few games were tight. Didn't hold when I was up, as well. So, that was it really. I mean, I have to say Joao I thought played very well. And yeah it was just a battle at the end, wasn't it? It was a hard one to take. Great atmosphere, as well. Feel privileged to be able to have played under the new Court 1 roof, to be honest."
When asked how long it would take him to get over this, Evans replied: "About 45 minutes I'll be over it. It has to be done, doesn't it?" Evans said that it doesn't do any good to feel sorry for yourself. Then he added: "Just got to come through those matches if you want to be top 50, top 30. You got to come through them. I was found wanting when I needed to find my serve in all five sets."
(Photo Source: Getty Images Europe)