Wimbledon: Nadal Withdraws, Kyrgios Advances To Finals

On Thursday evening, Nadal's quest for a calendar Grand Slam ended when he held a press conference at Wimbledon announcing he was withdrawing due to an abdominal tear.
That means that 27-year-old Nick Kyrgios of Australia advances to his first Grand Slam singles final, which will be played on Sunday.
Nadal had won the Australian Open and the French Open back-to-back and was bidding to become the first man since Rod Laver in 1969 to win all four majors in the same year.
Nadal explained: "Unfortunately, as you can imagine if I am here, I have to pull out from the tournament, no? As everybody saw yesterday [in his match with American Taylor Fritz], I have been suffering with the pain in abdominal. I know something was not okay there, as yesterday I said.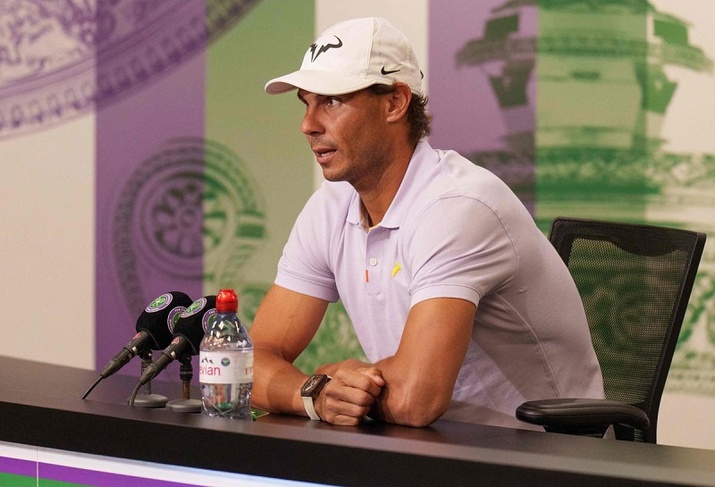 Photo Credit: AFP
"Yeah, that's confirmed. I have a tear in the muscle in the abdominal. The communication is too late because even like that I was thinking during the whole day about the decision to make.
"But I think it's, yeah, I think it's don't make sense to go. Even if I tried lot of times during my career to keep going under very tough circumstances, in that one I think it's obvious that if I keep going, the injury going to be worst and worst."
"That's the thing that I can say now. Feel very sad to say that."
During his match with Fritz, in the second set, Nadal's father and sister motioned from the player box that they wanted him to retire. But Nadal kept on playing. "Yeah, was the right decision because I finished the match. I won the match. I did the things that I felt in every single moment.
"I am not the kind of player and the kind of person that when you make decisions, I going to look back and say, I should not be done that, or I should do another thing.
"Of course, you learn from mistakes. I did during all my tennis career. I tried to not repeat mistakes.
"In the other hand, I didn't want to pull out, to go out the court in the middle of a quarterfinals match. Even if, as I say yesterday, the chance of retirement stays in my mind for a long time after the first five, six games, I find a way to finish the match. Something that I am proud of. Then you confirm that you have an injury, then you make the decision thinking about your health and your future."
Nadal said that the normal recovery time for this injury is three to four weeks and that he hoped to still play his normal calendar, which would include the US Open.
In a press conference on Friday, Kyrgios said: "It's not the way I wanted to get to the final. As a competitor, I really did want that match. It was obviously something that as soon as I beat Garin, Rafa was a high possibility, someone I've had so many good battles with before.
"We've both taken a win against each other at this tournament. I really did want to see how the third chapter was going to go.
"Obviously you never want to see someone like that, so important to the sport, go down with an injury like that. He's just played so much tennis. He's had a grueling season.
"I just hope he recovers. I'm sure I'll play him again on a big stage.
"Obviously I'm not going—it's exciting to say that I have a chance to play for a Grand Slam singles title after everything. It's pretty cool."