Wimbledon: Nadal Seeks to Exorcize Grass-Court Demons

Rafael Nadal's reaction to a Nick Kyrgios unforced error in the third set demonstrated how important winning on grass has become to the 18-time Grand Slam champion.
Nadal defeated Kyrgios 6-3, 3-6, 7-5 (5), 6-7(3), to move on to the third round where he will face Jo-Wilfried Tsonga.
After Kyrgios' final shot hit the net, an emotional Nadal bounced around the court and celebrated like he was advancing to the semifinals.
It wasn't the only emotional outburst from Rafa. Back to that unforced error, where Nadal served at 4-4. Kyrgios went for a winner down the line and missed. Nadal broke into fierce fist-pumping usually reserved for hitting winners instead of unforced errors.
It's clear how much winning at Wimbledon means to Nadal. Perhaps it's because Nadal knows that if he wants to be remembered as more than just the King of Clay, he needs to erase the perception that he's a one-surface pony.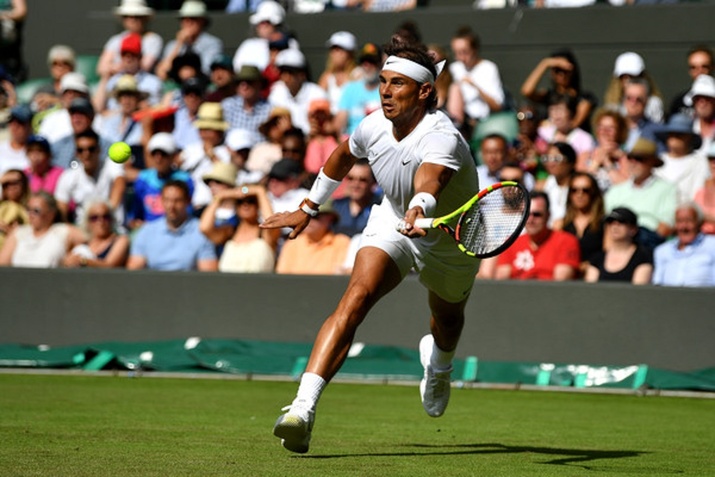 The clay-master tag stains Nadal's legacy like grass on white sneakers. He won his last Wimbledon title in 2010, nearly a decade ago. Since then, Nadal has returned to No. 1 more than once. Yet, his dominance on clay works against him.
Going into this year's Wimbledon tournament, despite being ranked No. 2 and more than 1,200  points ahead of No. 3 Roger Federer, Nadal was seeded third.
"It's just Wimbledon that does it. If everyone did it, I think it would be appropriate or correct," Nadal said in an interview with the Sun. "Either way, being second or third seed, I have to play at the best level to aspire to the things I aspire to. It is better to be second than third, but if they consider that I have to be third, I will accept."
Nadal is not bad on grass. He's just so far superior on clay that it makes him look like a one-surface specialist.
His clay-court career winning percentage is an astounding 91.8. On hard courts, he's just above 77.3 percent. On grass, he's about the same, 77.6. He's won 59 clay court titles to just four on grass. Of course, there are fewer grass court tournaments.
In contrast, Federer's clay-court record is almost the same as Nadal's grass court record. However, Federer's winning percentage on hard courts is 83.7. He's almost as good on hard courts as he is on grass (87.4).
By no means should Nadal's recent struggles at Wimbledon negate his masterful career. He's won six Grand Slams (three U. S. Opens, two Wimbledon titles and one Australian Open) away from clay. He has a career Grand Slam and an Olympic Gold medal. Those stats alone are enough to make anyone a lock for the Hall of Fame.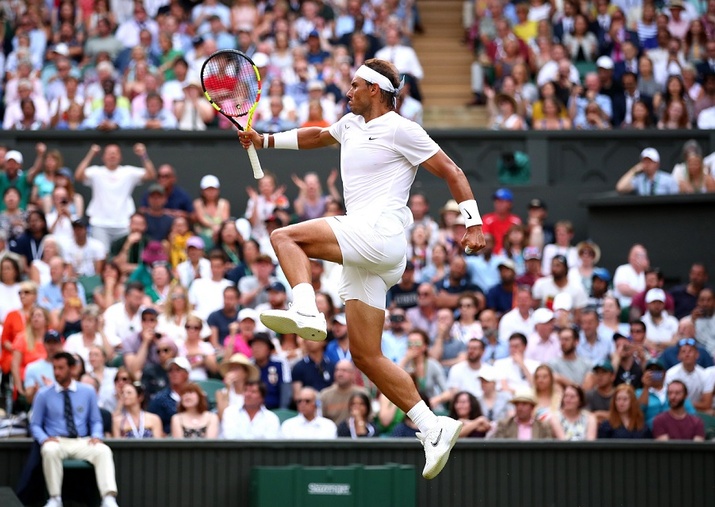 However, perception is an essential factor in any discussion about the greatest of all time. Nadal has a lopsided 24-15 winning record against Federer, who most call the greatest of all time. But because many of those wins have come on clay, Nadal is rarely elevated above Federer. In fact, Djokovic, who has three fewer Slams than Nadal, gets more love in those greatest of all-time debates. This is despite Federer and Djokovic having just one French Open title each.
After winning the 2019 French Open, Nadal told reporters (via his post-tournament press conference) that he thought he'd played well at Wimbledon. "I know I played a great event last year. I have been able to be very close to win another title there. As everybody knows, I love to play on grass," he said. "I was very close to being in the quarterfinals, and last year I was one point away to that final."
He's in Federer's half of the draw, which presents an opportunity at the ultimate revenge. Just because stats provide evidence of a far more three-dimensional career than he gets credit for, that doesn't mean Nadal doesn't take these slights personally. He's human.
That's probably why he was so emotional about getting passed a tricky opponent like Kyrgios, who defeated Nadal the last time they met at the All England Club.
According to ESPN's Peter Bodo, "This was a win he really needed, the kind of performance that blows the frustration out of a player's pipes. He had missed or been rendered ineffective at so many Wimbledon tournaments over the years due to injuries. He has encountered so many marauding grass-court specialists who bushwhacked him in early rounds before he could properly get his feet under him."
Yes, the demotion to No. 3 and the "King of Clay" banner flying above his name are real. Nadal can't ignore this. Instead, perhaps he might want to take a deep breath and inhale the fumes rising from the naysayers. It might be just the type of motivation an 18-Slam winner needs to fuel a title run at Wimbledon.