Wimbledon: Korda Advances Past Evans

In his Wimbledon debut, American Sebastian Korda glides across the grass of Centre Court to a four-set victory over British No. 1 and twenty-second seeded Daniel Evans 6-3, 3-6, 6-3, 6-4.
Like his father Petr Korda (who won the Australian Open and was world No. 2), Sebi is smooth—easy power, soft hands at the net, and a big serve.
Everyone in the Korda family is amazingly accomplished. His mother, Regina, reached No. 26 on the WTA Tour. His older sisters, Nelly and Jessica, are pro golfers on the LPGA Tour. Nelly, 22, just won her first major title and is ranked world No. 1. Jessica, 28, is world No. 13.
I first saw Sebastian Korda play in January at Delray Beach, Florida when the pandemic was still raging. Socially distanced in the stands, mask on, I was fearful of the virus and for being judged for being there.
But I still took a photo and posted it on Instagram. I wanted a record of that ineffable, intoxicating memory of first seeing Korda.
A friend commented on my post: "Wow, are you there?"
I didn't reply. How to explain how happy I was there in the midst of a pandemic?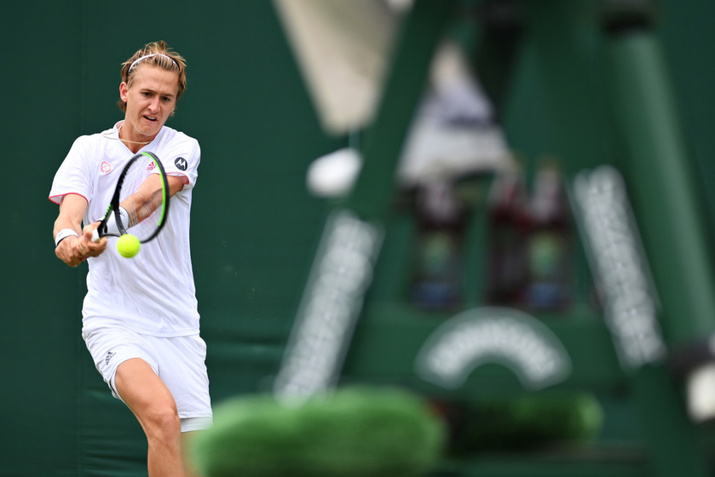 But I was in "a momentary stay against confusion," which Robert Frost says of poetry and which was also true of watching Sebi flow around the court, quiet as a cat.
What I was feeling was what David Foster Wallace wrote about Roger Federer: "This thing about the ball cooperatively hanging there, slowing down, as if susceptible to the Swiss's will—there's real metaphysical truth here."
So, in the third round of Wimbledon, even though he was playing crafty, feisty, dynamic Dan Evans, who would have the support of the crowd, who has an all-court game suited for grass, who has a wicked backhand slice, I expected Korda to win.
Evans at 5'9" doesn't have the firepower of 6'5" Korda.
Evans had to work so much harder and wasn't able to get any free points on his serve. In the match, Korda had 13 aces and Evans had none.
In the first set, each man held until the seventh game. At 3-all, Evans was serving, the crowd was raucous. Korda crushed a forehand down the line on the first point. He followed that with a massive backhand return off a second serve. At love-40, Evans managed to save one break point, but then Korda broke with a scintillating forehand return.
This turnaround for Korda happened quickly, but Korda's demeanor did not change. He has
incredible composure. He served the set out, finishing with a jumping overhead smash. He celebrated confidently, with only a subtle fist pump.
At the start of the second set, both players held at love. In the third game, Evans, serving, hit over his backhand for a winner that landed deep, crosscourt in the corner. He yelled, "Come on!" Korda stayed quiet, then hit a beautiful old-school backhand slice approach winner.
Evans hit a good serve, yelled another "Come on!" This seemed to underline the calm and quiet of Korda. Evans held, but in the next game, Korda hit a tremendous forehand down the line, with his excellent Federer-like timing.
In the next game, Evans fist pumped and tried to get the crowd into a frenzy. Korda hit a fluid forehand inside-out winner, the ball shooting off his racquet. Evans held, making a fantastic forehand crosscourt, but you could see all of his sweat and effort.
Korda did miss a forehand wide, and Evans broke, yelling: "Come on, Evo." Evans, with his intensity and the help of his fans, lifted his game and took the set.
In the third and fourth sets, Korda remained composed, showing little emotion. He hit sensational groundstrokes, smack on the lines several times, with chalk flying up. He made deft volleys, feathered dropshots, demolished overheads.
You could see the giddy effect his shots were having on even the Brits. You could see their astonished smiles in the crowd.
Korda finished the match with an ace down the T and then an overhead smash. He raised his arms for a moment in a V and grinned. He thanked the crowd by clapping his hand to his racquet.
Evans, understandably, left the court quickly.
In his on-court interview, Korda was asked: "How was that for a first appearance on Centre Court?"
"Not bad," Korda said.
He said he was most proud of staying calm in the biggest moments and that his win was a big achievement.
"A year ago, I was 220 in the world, and I'm here in the fourth round of Wimbledon. It's incredible. I have my family to thank, my coaches, everyone around me is awesome."
When speaking about his family's achievements, Korda said: "My dad won a Grand Slam. My sister just won her first major and is #1 golfer in the world. It's super inspiring. It's crazy."
On Monday, which is Korda's twenty-first birthday, he will play twenty-fifth seeded Karen Khachanov of Russia.
(photo credit: Getty Images)