Wimbledon: Fritz Storms Into Third Round

American Taylor Fritz is playing the best tennis of his life. In March, he won the title at Indian Wells, beating Rafael Nadal. Last week, he won the title at Eastbourne.
On Thursday at Wimbledon, with an overcast sky and the threat of rain, Fritz, the eleventh seed, won his second round in mostly routine fashion, beating British wildcard Alastair Gray 6-3, 7-6(3), 6-3 in two hours and four minutes.
Fritz's serve saved him throughout the match, hitting 73% of his first serves in and six aces.
Gray, though, had his chances—with his beautiful free-flowing one-handed backhand and his craftiness at the net.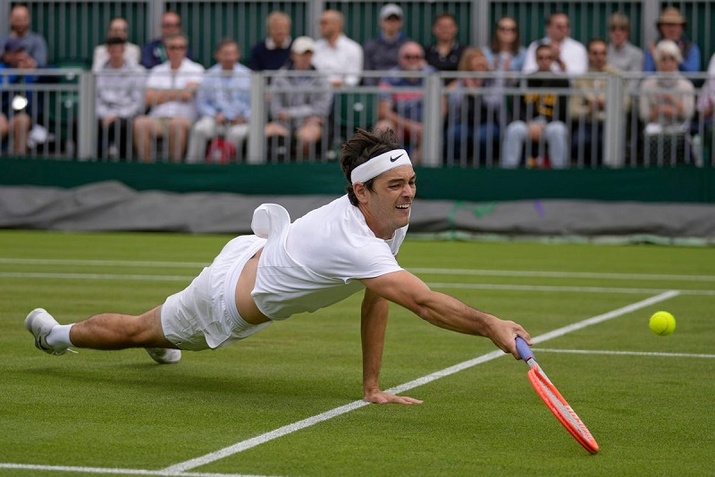 (AP Photo)
In the second set, Gray led 5-2, but double-faulted on a break point at 3-5, gifting Fritz the game. Back on serve, Fritz then held with two crushing serves—his average first serve speed was 120 mph—and two whippy, breathtaking forehands.
In the tiebreak, Fritz maintained his level and intensity, and at 6-3, he made an outrageous get with a stretch forehand volley to take the set.
In his post-match press conference, Fritz said, smiling: "First thing I looked at when I got off the court."
Fritz said: "Yeah, that was insane. I mean, it was a huge point, obviously. I hit the backhand line, saw him reaching, obviously he hit a good volley crosscourt. I don't know. I just thought, like, it bounced up a bit, and I thought—you know, I heard the crowd cheering like the point was over, but I was, like, I think if I fully lay out for this one, I'm pretty long, I was, like, I feel if I just dive at this one and fully lay out, maybe I can get a racquet on it.
"So, yeah, just dove and hit my strings like right in the middle. It felt really good, and I was just hoping I didn't hit it long, actually.
Fritz said of the match: "Yeah, I think it's never easy playing, like, the wildcard. He's got a good grass game, definitely very awkward to play against. Maybe came out a little bit nervous, but I thought, you know, I played pretty solid the whole time.
"I responded well when I was down a break in the second, did a good job fighting off a lot of break points in the first. Yeah, I'm happy to get through in three straight."
Fritz was asked again about that amazing shot, where would it rank. He answered: "That's got to be No. 1, because especially just the moment, as well. It's a huge set point. Really, really big point to do it on, just to go full dive and hit the winner."
When asked what he learned from the replay, Fritz smiled. "Oh, I didn't realize he was already, like, fist pumping. I saw it on the replay. I thought that was funny.
"I didn't realize that he had already thought the point was over. I just thought he hit the volley, and because he was kind of moving that way that he was off the court anyways. He kind of just watched it go past him. I didn't know he actually just fully thought the point was over."