Wimbledon: Forecasting The ATP Matches On Manic Monday

The second week of Wimbledon has arrived and Monday awaits several mouthwatering match-ups, with all top 4 seeds in action bidding to continue their dominance at this tournament. Let's get started by previewing and predicting all 8 matches, as we get closer to the latter stages of the most prestigious tournament on the tennis calendar.
Roger Federer vs. Grigor Dimitrov
Roger Federer comes into the second week with confidence after taking out Mischa Zverev in straight sets. However, he must now elevate his game a notch against the former semi-finalist who looks hungry to make a run. Dimitrov has had a stellar 2017 thus far, and each time he has played Federer he has made improvements.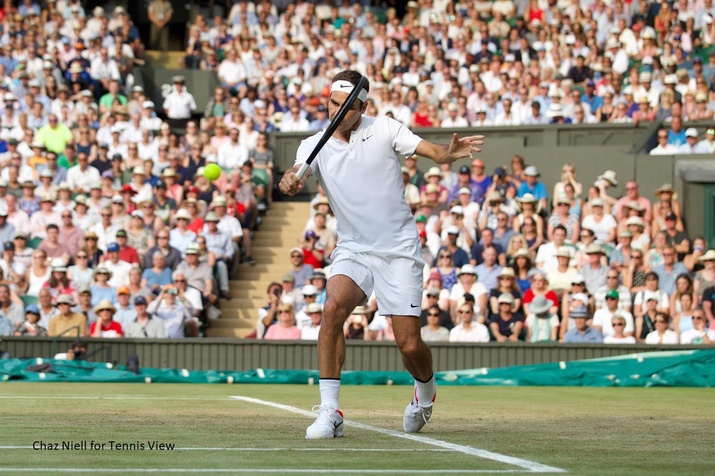 However, with Federer the superior player in every department, not to mention his undeniable experience and record, this is a match-up of master vs. apprentice, where Federer will use his all-court game and shot selection to out-play Dimitrov in a game similar to his. This will be Federer's biggest test so far, but Federer will win this match.
Prediction: Federer wins in 3 tight sets
Rafael Nadal vs. Gilles Muller
Muller comes into Wimbledon with a lot of confidence, winning a tournament, and narrowly losing to Cilic in Queens. His lefty serve, and hands at the net, along with his movement on grass make him a threat. However, Nadal will be able to cut off the wide serve with his forehand and dictate from the baseline, not allowing Muller to win free points on his serve, or have much success at the net. Nadal has won 28 sets in a row, and his run of consecutive sets will continue.
Prediction: Nadal wins in 3 tight sets
Andy Murray vs. Benoit Paire
The unpredictable Frenchman is looking all business this tournament, and certainly has the talent to unsettle Murray, who just barely survived a hard-fought 4-setter against Fognini. Benoit can crack the backhand cross court and flat up the line, and takes short swings on his erratic forehand, which can make it difficult for his opponent to anticipate his shots.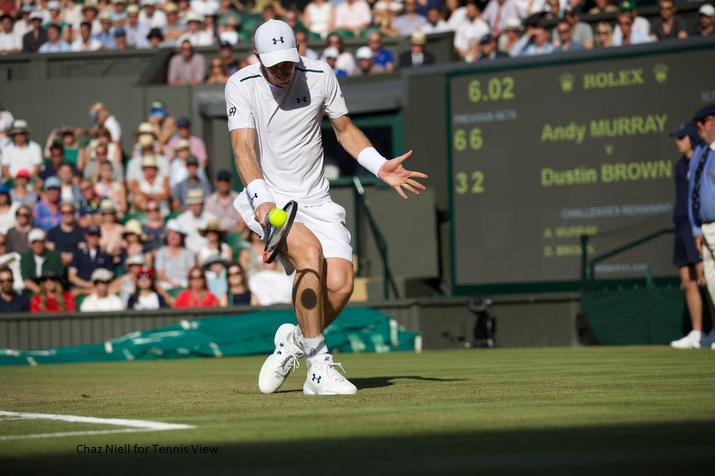 However, he doesn't possess the fighting mentality and consistency to sustain a high level of play for 3 out of 5 sets against Murray, who will step up and raise his game in week 2. I do believe Paire might win a set though.
Prediction: Murray wins in 4 sets
Novak Djokovic vs. Adrian Mannarino
Mannarino is a good grass court lefty who played an excellent match against Monfils, winning in 5 sets. The problem for him is he doesn't have any weapons that could hurt a solid player like Djokovic. Even if Novak doesn't play with his best form, I believe he is too quick on the court to anticipate his opponent's groundstrokes and too solid from the baseline and return to out-maneuver Mannarino, who will be pressured into playing a high-risk game. Djokovic is on the right track to gaining his form back and has looked very efficient and focused on the court so far. With Agassi helping him, he might be re-discovering his game rather quickly, making him a contender to win the tournament for the 4th time. This makes Djokovic a solid favorite to progress to the Quarterfinals.
Prediction: Djokovic wins in 3 sets
Marin Cilic vs. Roberto Bautista-Agut
Marin Cilic is a huge threat at this time of the year. He has made the quarterfinals 3 years in a row, and had match points against Roger Federer last year in an epic match. He will look to draw on his impressive grass court form, as he reached the finals in Queens narrowly losing to Lopez. Bautista-Agut had an impressive win over Nishikori, hitting penetrating deep balls and using his footwork to play a patient and deadly game, transitioning from defense to offense with his big, flat shots. He is unlike a lot of Spanish players, and is a player who is very comfortable on all surfaces.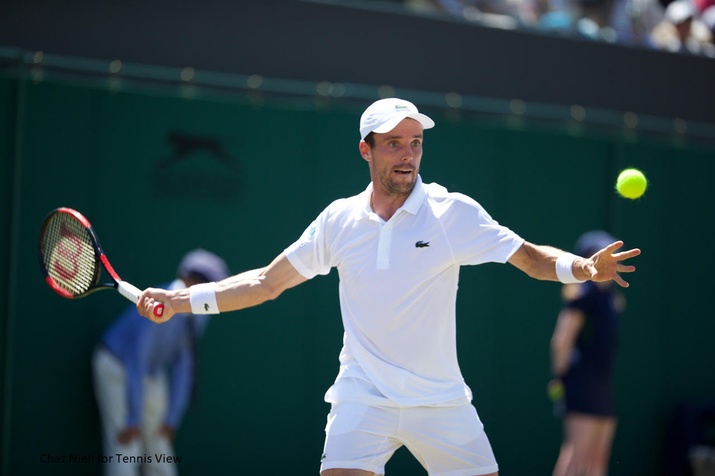 However, Cilic has a much better serve, and his first strike tennis will make his opponent uncomfortable. He also will mix up his game and will look to attack the net. It should be an entertaining encounter, as Cilic looks hungry and poised to make a deep run in the second week. He certainly has all the tools to do so.
Prediction: Cilic wins in four sets
Kevin Anderson vs. Sam Querrey
A match-up with two huge servers will contain a lot of aces. Sam Querrey had an impressive two-day win over Tsonga, playing the brand of tennis that got him into the last 8 in 2016. Kevin Anderson has taken advantage of his section of the draw, and he made efficient work of his 3 opponents. Due to their big serves, this match can go either way. Querrey has the slight edge in their head to head 7-5 and plays a more solid game from the ground. He will look to draw inspiration from his win over Tsonga and is a very slight favorite. Anderson is playing well, and with the height on his serve he will be tough to beat on this surface. However, he has also been very injury prone this season and this may be a factor at this stage of the tournament.
Prediction: Querrey wins in 4 tight sets
Tomas Berdych vs. Dominic Thiem
Dominic Thiem has made his best ever result this year on the grass, making the fourth round. However, he faces a tough test in Berdych. Berdych has struggled this year, and has not played close to his best tennis, dropping out of the top 10. However, Wimbledon is his best major and his groundstrokes can fly through the court with great acceleration, leaving his opponent with very little time to react. With the grass becoming more worn down after the first week, if Thiem can get Berdych into grueling baseline rallies, Thiem's heavy spin might trouble the big Czech.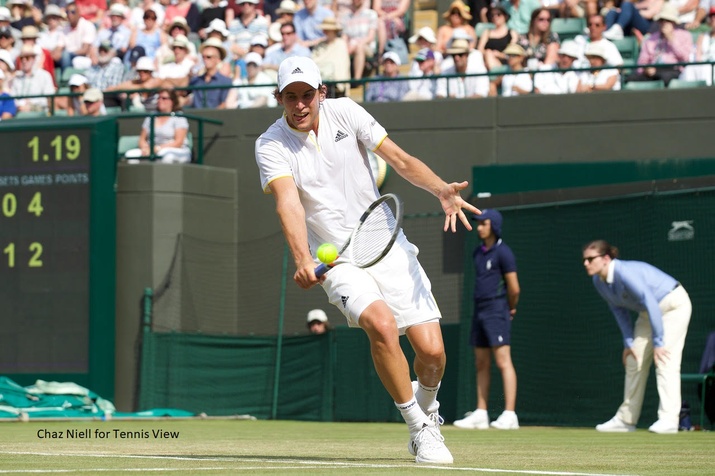 However, Berdych is a 2010 finalist and seems to be playing solid tennis, playing a clean match against Ferrer in the 3rd round. With Thiem and his court position on the return, grass courts don't suit his game like the clay. So, I think if Berdych serves at a high percentage and plays inside the court , he has a decent chance at making the Quarterfinals.
Prediction: Berdych wins in 4 tight sets
Milos Raonic vs. Alexander Zverev
This looks to be the most exciting match-up of the day. Milos Raonic made an impressive run last year on the grass, reaching the finals of Queens and Wimbledon. He can mix up his serve extremely well and has a very high 1st serve percentage. Zverev also has a good serve, but not the caliber and variety that Raonic has. Off the ground, Zverev has a more solid backhand and will look to move Raonic to his weaker wing. With Raonic's great serve, solid slice, and his game coming forward, Zverev's all court game will be pushed to five sets. This is a very hard match to predict given that this is by far Raonic's best surface and the fact that he is more battle-tested this tournament than Zverev, but Zverev is in very good form as he reached the final in Halle.
Prediction: Zverev wins in 5 tight sets