Wimbledon: Federer Forced To Regroup After Finals Loss

"I don't know what I feel right now," said Roger Federer, sighing. "I just feel like it's such an incredible opportunity missed; I can't believe it."
After most defeats, large or small, Roger Federer usually sweeps from the court to the press room in a matter of minutes, but this time the 20-time slam champion was speaking around 40 minutes after. He needed time to gather himself, to retain his composure before facing the world with all its questions and triggers. This one, his 7-6(5) 1-6 7-6(4) 4-6 13-12(3) loss to Novak Djokovic in the Wimbledon final hurt.
It hurt in part because even beyond the moment that Federer served for the Wimbledon title at 8-7 in the fifth set, he failed to convert one of his two match points and watched it all crumble and fall, he was the best player. He bettered Djokovic throughout the first few sets, as he held serve comfortably and moved to a 5-3 lead in the first set tiebreak and not giving up a single break point throughout. Then, despite the disappointment of the first set, he was in such soaring form throughout.
"Playing against Roger on any surface, but on grass, in a finals, it's a lot of constant pressure because he stays close to the line," said Djokovic. "Regardless of who he's playing against, whether the serve is coming 150 miles an hour or as mine, 120, he's there. He blocks the shots very well. He anticipates very well. He's so talented. He's got a perfect game for this surface."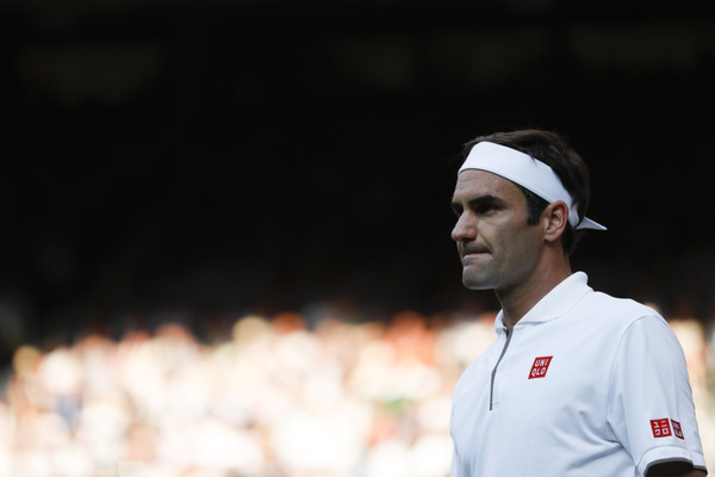 It hurt as well because, in the subsequent two sets, history repeated itself. Even after Djokovic, the greatest returner of all time, generated his first break 241 points into the final, Federer was still on top. He was the player finding first serves when he needed them with ease while also opening up with his driven backhand and putting pressure on return. It was Federer who generated a set point at 5-4 in the third set, only to lose it again. But he was playing so well that he came back once more with a strong fourth set that was never really in doubt.
It hurt because across the net, Djokovic wasn't playing well. He was uncertain with his return and he was hemorrhaging far too many errors for someone taking relatively few risks. But what Djokovic was doing was taking his chances, ruthlessly. Across the three decisive, important tiebreaks they played, Djokovic offered zero unforced errors to Federer's errors. When Federer betrayed a hint of nerves while serving for the match at *8-7 40-15 in the fifth set, Djokovic pounced with a strong, deep return and a brilliant forehand passing shot to save the championship points.
By the end of the 4-hour 56-minute battle, Federer led almost every single statistical category. He served infinitely better, he returned with far more success, he ran more and worked more, he converted break points like he never normally does. The only advantage Djokovic retained was in his 10 fewer unforced errors, but the 40 mire winners Federer hit more than made up for it.
None of it mattered in the end. As nerves struck Federer, the enormity of his efforts dawned and his muscles tightened, Djokovic tightened his game, took considered risks and refused to offer up anything.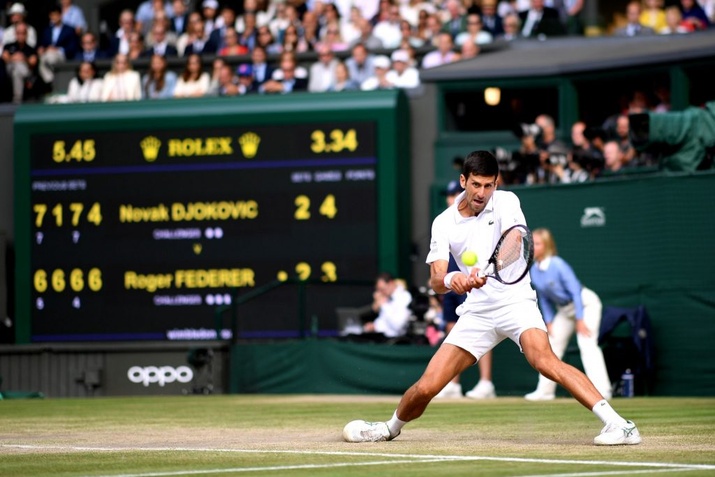 "I knew that I needed to bring in some variety in play," said Djokovic. "I needed to be sharp when the opportunity is there, when I have a shorter ball, to go for it. At times I did. At times, I didn't. Especially in the second serve returns, I was not doing well at all. I thought I had many opportunities, and I just didn't hit the ball, I didn't capitalize on those opportunities.
"But, you know, in these kinds of moments, I just try to never lose self-belief, just stay calm, just focus on trying to get the ball back, return, which wasn't serving me very well today. But in the most important moments, all three tiebreaks I guess, if I can say so, I found my best game."
This all also hurt because of all that Federer had done to put himself in the perfect position going into Wimbledon. It started after Wimbledon, when he fell to Kevin Anderson in five sets, also from match point up, before he went off to the US Open and disintegrated in the New York heat and humidity. After the US Open, he decided on something that he hadn't done for years - he added more tournaments to his schedule. He won in Basel, then played in Shanghai, then he went to Paris, where he hadn't played in years. In the semi-finals of Paris, despite still searching for his rhythm and forehand, he gave Djokovic all he could handle, narrowly losing in a third set tiebreak.
At the beginning of the year, he refused to be discouraged after a fourth-round loss to Stefanos Tsitsipas at the Australian Open. Federer continued on his route, playing matches and improving fractionally with every opportunity. Finally, he won in Dubai, reached the final in Indian Wells and, by the time he reached Miami, he was playing stunning tennis. Federer had already decided to play the clay season, yet after skipping the swing for two years, his first matches made him realize that he wanted to play even more so he traveled to Rome and then reached the Roland Garros semi-final.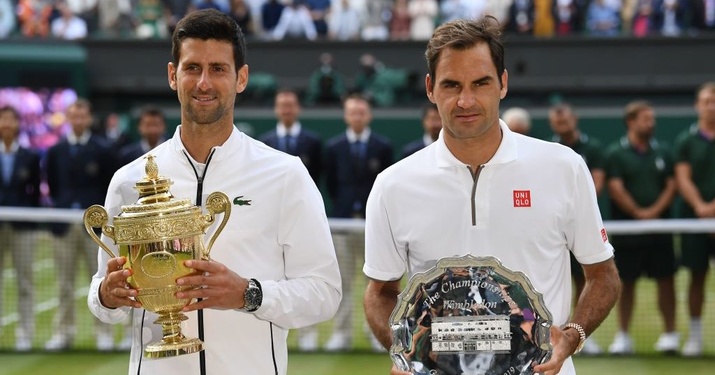 "I take motivation from different places," said Federer after being asked about the three-man chase to finish with the most career slam titles. "Not so much from trying to stay ahead because I broke the record, and if somebody else does, well, that's great for them. You can't protect everything anyway.
"I didn't become a tennis player for that. I really didn't. It's about trying to win Wimbledon, trying to have good runs here, playing in front of such an amazing crowd in this Centre Court against players like Novak and so forth. That's what I play for. Yeah, so things are different now. But I'm very happy with my level of play nowadays still."
At this Wimbledon, Federer moved through the rounds with strength and verve. It wasn't seamless, but his reaction to the potholes further assured that he was on the right path. He easily recovered after losing the first set to Lloyd Harris in the first round, then he came through a dialed-in Kei Nishikori to reach the semi-finals. Against Rafael Nadal, he was surely aware of the chatter about the slowness of the grass and the vulnerability of his backhand, but he played a sublime match to smother Nadal, who could only find his typical fight in the final game of the match.
It hurt for Federer because he arrived in the Wimbledon final ready for Novak Djokovic and he played like it for the majority of the match, but in the end, Federer lost and Djokovic won because of the simplest fact of this sport: the important points are what decide a match.