Wimbledon: Djokovic Off And Running

Wimbledon is underway, and four-time defending champion Novak Djokovic of Serbia was first on Centre Court defeating world No. 68 Pedro Cachin of Argentina 6-3, 6-3, 7-6(4).
It was, at times, a chilly, drizzly, windy day, and there was a rain delay, when the roof was closed, and Djokovic, to the delight of the crowd, came out with a towel to help with the drying of the wet, slick grass.
The roof was eventually open, and the sun broke through the clouds and bathed Centre Court in bright light, making the pristine grass court look especially exquisite.
Djokovic said of the delay: "A little bit of strange circumstances with the roof being closed, and us delaying the match for almost an hour and a half.
"Both of us players wanted to come out. We did several times to show to the crowd that we want to play, we want to be there. But it was just too many places on the court which were too slippery and really moist. Touch the grass and your palm is completely wet.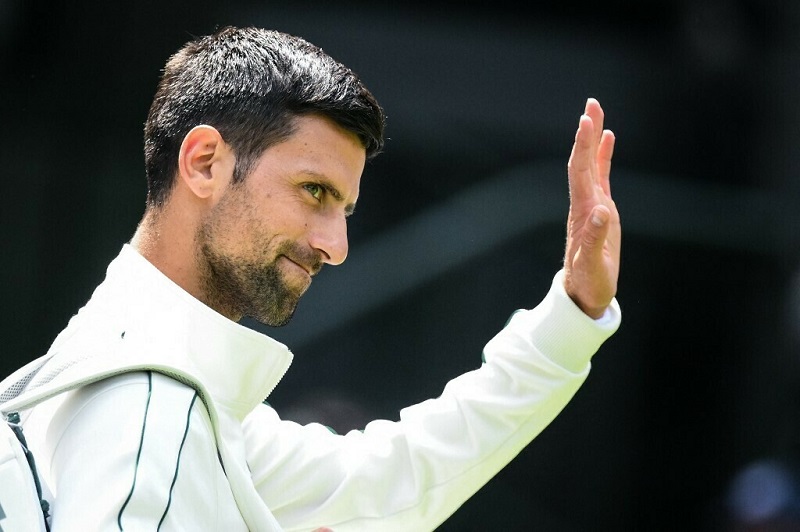 (Photo: AFP)
"It was very strange that for more than an hour the situation was not changing at all for better. I think they're tracking right now. I think they will probably answer this question better for you, whether it's the air-conditioning system, it was quite humid, so that didn't help.
"Grass is such a sensitive surface for maintenance. It's definitely very challenging if you have, say, a minute or two more of rain than you need to.
"At the same time, yeah, I think it was a good call from chair umpire, even though I did ask him. He wanted to finish the game. It was still playable, so to say. As soon as we finished the game, maintenance people from the court staff came inside and covered the court.
"I don't think it has gotten too much wet from that maybe extra minute and a half or something. I just feel it has something to do with something else. That's probably not a question for me.
"We were lucky that rain stopped so we could resume play with an open roof.
Djokovic is bidding to win his eighth Wimbledon title and equal Roger Federer's all-time record for the most Wimbledon men's singles titles won. He is also bidding to equal Federer and Helen Wills Moody in second place on the list for most Wimbledon singles titles won among men and women, behind nine-time Wimbledon champion Martina Navratilova.
If he wins his 24th Grand Slam title, he will equal Margaret Court's all-time record for most Grand Slam singles titles won among men and women. By winning his 23rd Grand Slam title at Roland Garros last month, he became the third player to win 23 or more Grand Slam singles titles, alongside Court and Serena Williams.
Djokovic did not play a grass court tournament prior to Wimbledon this year. But, he said, "It has worked the last four years. No reason to believe it cannot work again. It's a long tournament. So far, I'm feeling good.
"It's a feeling like no other tournament in the world of walking out on the Centre Court of Wimbledon as a defending champion, on the fresh grass. It's amazing, amazing to be back to a dream tournament, and to be able to get the first match out of the way.
"It was a solid performance. I know I can always play better, but at the same time after a long clay court season, coming into Wimbledon without any preparation tournament, lead-up event, any official match on grass, it was kind of expected I still would probably not be in my 100% of the level of my tennis.
"I've been in these situations before, so hopefully as the tournament progresses I'll raise my level as well."
Meanwhile, Americans Jeffrey John Wolf and Jessica Pegula won their first-round matches, while John Isner and Katie Volynets—perhaps the greatest tennis name ever—lost in their first rounds.
American Venus Williams, the five-time Wimbledon champion, playing in her 24th Wimbledon, lost in the first round to Elina Svitolina.