Wimbledon: A Confident Djokovic Advances To Semifinals

It has been a long, difficult road for Novak Djokovic since winning three grand slams in 2015, completing the "Nole Slam" by winning the French Open in 2016, and earning 10 Masters level championships in 2015-16.
After such a successful time period, the wheels began to fall off in 2017. In the Spring of that year, he split with long-time coach Marián Vajda. He brought on Andre Agassi prior to Roland Garros, which became a failed experiment. And then the unforeseen happened as he was forced to shut down the remainder of his 2017 in mid-July and miss the US Open due to an elbow injury.
Attempting to come back at the Australian Open in 2018, Djokovic was defeated in the third round and then opted for elbow surgery, further pushing back his full return.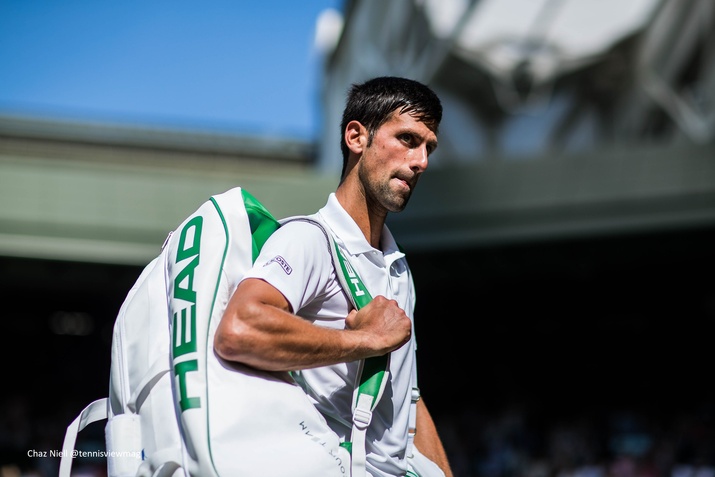 But the Serb would continue to plug away, rehiring Vajda as coach and began to show some signs of his former self. However, the results were inconsistent and as time went by, the frustrations began to bubble to the surface. Constantly questioned as to his health and playing status, the former world no. 1 - and a player who is typically cordial - began to lose patience. This was clearly exhibited after his Roland Garros quarterfinal loss to Marco Cecchinato where he was agitated in his post-match press conference, giving short responses, and hinting that he may skip the grass season altogether.
Fortunately for him, he got back to work as the disappointment subsided and made a run at London's Fever-Tree Championships prior to Wimbledon. There, he advanced to the finals where he fell to Marin Cilic, but he entered Wimbledon with confidence and finally appeared to be seeing the result of his work after so many ups and downs.
"Being absent from the tour for six months but then coming back, going back for surgery again as the season started, was too much mentally to handle," he told ESPN. "I just had to go back to the basics and just try to get comfortable with my game and try to gain as much confidence as possible through match play.
"I was really glad to play Queen's and to get five matches there. Coming into Wimbledon I already felt more comfortable and didn't need time to settle in."
On Wednesday, Djokovic would defeat Kei Nishikori 6-3, 3-6, 6-2, 6-2 to advance to the Wimbledon semifinals. And the 12-time major champion is finally feeling good about his game again.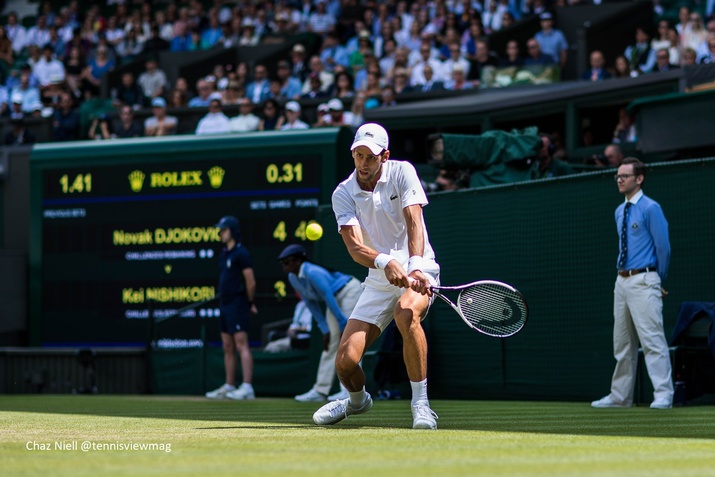 "I know, as everything in life, we are evolving. I'm a different person, different player today," he said. "I like the level of tennis that I'm playing on right now. I really do. I think with the performances I've had, I deserve to be in the semi-finals. I don't want to stop here. I hope I can get a chance to fight for a trophy."
To do so, he will have to defeat Rafael Nadal, who is playing at a high-level and coming off of another French Open title.
Perhaps this will be the litmus test as to how far Djokovic has come since his adversity began. His quarterfinal opponent praised his game afterward. "Yeah. Maybe he has good chance to win the tournament, said Nishikori. "You can see whole this week, he was pumping himself up. He was playing, you know, good tennis again. I'm sure he's in good shape again. I think confidence is back for him."
But, more importantly, Djokovic is feeling good about himself and his chances and believes he is getting back to the level of play that earned him Wimbledon titles in 2014 and 2015. "I feel if I have to compare the game that I've played, the level of tennis that I've had those years and today, I think it's pretty close," he said.
Nadal and Djokovic will square off on Centre Court on Friday.