Wimbledon: Anderson Comes Back To Defeat Federer

"Yeah, it's interesting," said Kevin Anderson, grinning widely. "As players, you always look to evolve. I think from an emotional standpoint, with my team, we've sort of evolved a little bit more. I feel like I'm able to harness some of that energy without being as outgoing with it. That's been a positive step forward for me."
What Anderson was referring to was the noise, the energy, and verve that had become characteristic for him throughout the last 10 months. From last year's US hardcourt season, and throughout the best period of his career, Anderson made the conscious decision to ape the loud, demonstrative cheers of extrovert players in an attempt to pump himself up and reinforce positivity in a mind famed for stuttering close to the finish line.
At times it was comical and seemed not to fit such a soft-spoken man, but it worked. He marched through an opportunity-riddled bottom half at the US Open to reach his first slam final, punctuating every victorious point with fist pumps, loud cheers, and barks of 'come on!' The results he recorded included a title in New York, finals at the US Open, Pune and Washington, a semifinal at the Madrid masters and quarters in Indian Wells, Miami, Canada. His victories were accompanied as surely with a fist pump as they were with fortitude and reservoirs of nerves at moments when they would have certainly betrayed him in the past. He was playing the best tennis of his career, and there seemed no reason to stop.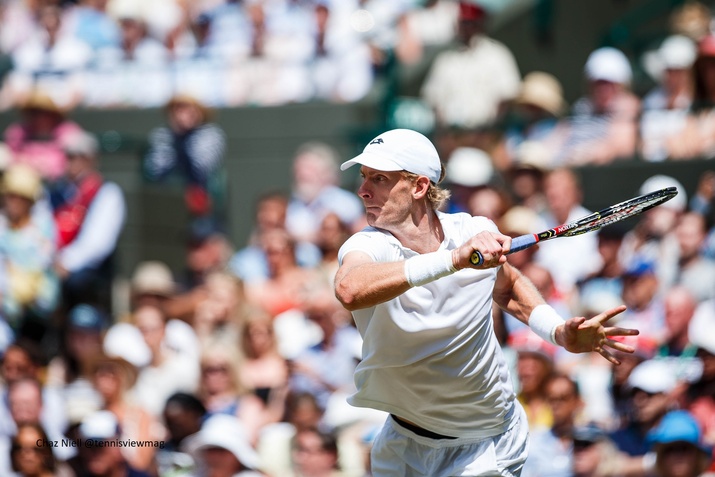 And yet, stranded in the middle of Court One, down two sets to love against Roger Federer, Anderson was silent."I just kept on telling myself I have to keep believing. I kept saying that today was gonna be my day," he said after the match.
Instead, in a seemingly impossible moment, Kevin Anderson trusted himself. From two sets down and 5 all, he showed that as monumental as they seem at the time, as difficult as it seems to harness three sets in a row against Roger Federer on grass, the most significant element in tennis is momentum. A big server firing down bullets, untouchable on his serve is perhaps the height of momentum. For Federer, the act of returning his serve was a lottery.
"I think it went in spells a bit also, how I was able to return his serve," said Federer. "I had moments where I was great, I felt like I was reading his serve, other moments where I don't know where the hell I was moving to. I don't know if that was his serve."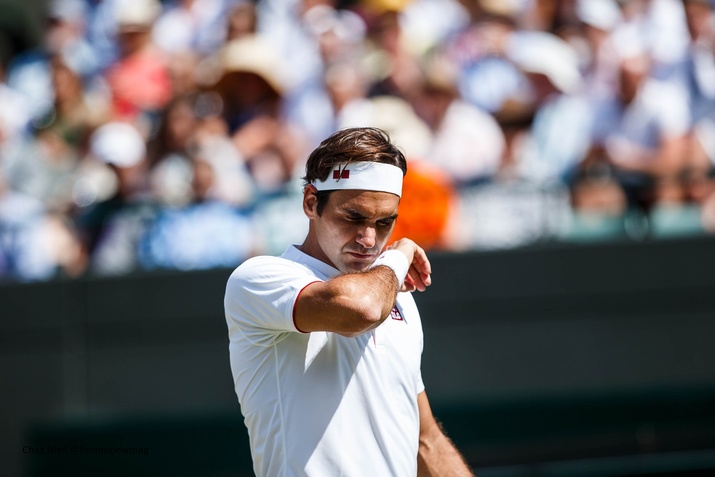 Anderson found his long stride, pumping together hold after hold, Federer soon couldn't keep up. Suddenly it was Federer struggling to hold easily. And even when he did, the swift statement holds with 1, 2 shot rallies were conspicuously less present.
"I couldn't really get the rallies going the way I wanted to, especially 1-2 punch wasn't working at all today," said Federer. "I don't know if it had something to do with the breeze, just a bad day from my side, except the first set. After that, I never really felt exactly 100%."
As Anderson leveled with Federer, the victor would face John Isner or Milos Raonic who were yet to arrive on-court. The servebots were coming. Yet throughout the set, the most interesting thing to me was how often Anderson relied on other things to keep his momentum. His serve was the game changer, the reason he was able to fortify his comeback. But he pushed Federer on serve, and there were numerous times in the final set when he trusted himself to make crucial winners from neutral positions in the back of the court, in addition to punishing Federer's second serve or stepping in to dominate with his forehand. When Anderson was asked to evaluate the separate challenges of Isner and Raonic, it was particularly interesting to see him make his baseline superiority clear.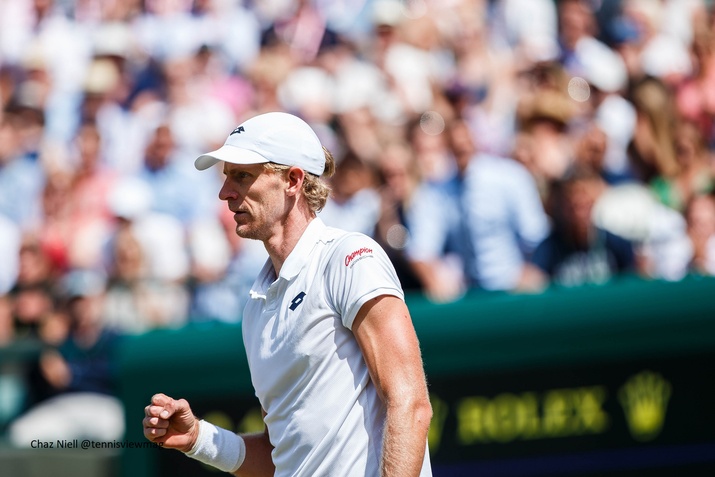 "I feel confident in sort of baseline exchanges I'd say quite a lot with John." he said. "I feel, again, comfortable with Milos from the baseline exchanges, I feel like if we just played a baseline match, I'd be pretty confident against him."
Anderson revealed that he had decided to forego the loud, energetic fist pumps because energy is what he needed to conserve. At the French Open against Diego Schwartzman, he himself lost from two sets to love and pinpointed wasted energy for a reason why he slipped, or why he couldn't rise in the important moments as the match slipped away.
As the South African grinned in his press conference, it belied the fact that perhaps beating Roger Federer 2-6 6-7(5) 7-5 6-4 13-11 from 2 sets to 0 down on Centre Court wasn't the sole high point of his victory. The victory was special, but perhaps even more satisfying was the fact that the successes of the past year have changed him, as you would expect, and his confidence and mental fortitude have pierced deep within. Although he silently reinforced his urge to fight and win, he doesn't need to go out of his way to awkwardly bark reminders to himself of what he is and what he can do on a tennis court. He already knows it.