Wimbledon 2014: The Jumbo Preview

The Tennis View digital contributors mulled the Wimbledon draws on Friday, selecting contenders and dark horses for both the men and the women. The third major of 2014 looks as open as any marquee event has looked in a long time, but here is our best shot at making predictions. Who struck aces? Check back in two weeks.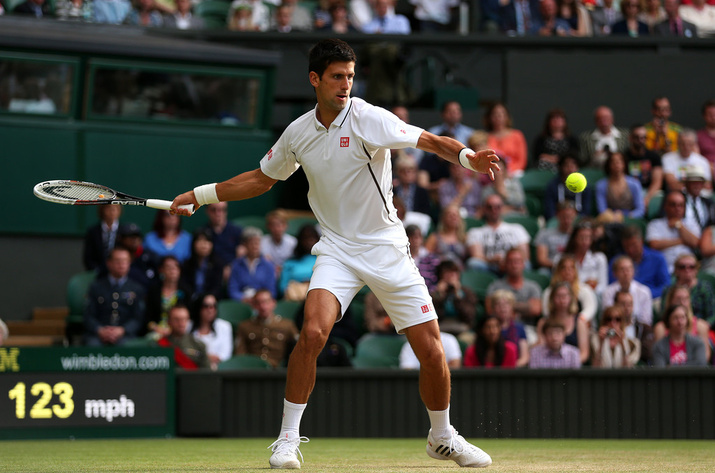 Joanie Agler:
Men's Champion: Novak Djokovic
Djokovic has reached the semifinals or better at Wimbledon in each of the last four years, including winning the title in 2011. Overall, he has played better tennis in 2014 than Andy Murray and Roger Federer, and lately he has enjoyed more success on the grass than Rafael Nadal. He may not be a heavy favorite, but he gets the nod.
Women's Champion: Serena Williams
Serena has already proven on multiple occasions that she knows what it takes to win at Wimbledon. Her early matchups are less threatening than what she faced at Roland Garros, and it is easier for her to hit her way out of trouble here. Finally, it was at Wimbledon where she turned her 2012 season around after losing her opening match in Paris, so she will likely be motivated to do so again.
Men's Dark Horse: Grigor Dimitrov
Dimitrov has the talent to be a top player, and this Wimbledon could be a breakthrough for him. He should be confident after winning the title at Queen's Club, and the highest seed in his quarter, David Ferrer, is coming in off of a virus that forced him to cut short his grass-court preparation. Dimitrov has an excellent look at making it to Week 2 and possibly going deep.
Women's Dark Horse: Caroline Wozniacki
After a strong effort in Eastbourne, Wozniacki has landed in a very workable section of the draw. The two highest seeds in her quarter, Li Na and Petra Kvitova, are streaky players who can be stymied by the Dane's consistency. Additionally, as a former No. 1 and Grand Slam finalist, Wozniacki is unlikely to be overawed by any occasion.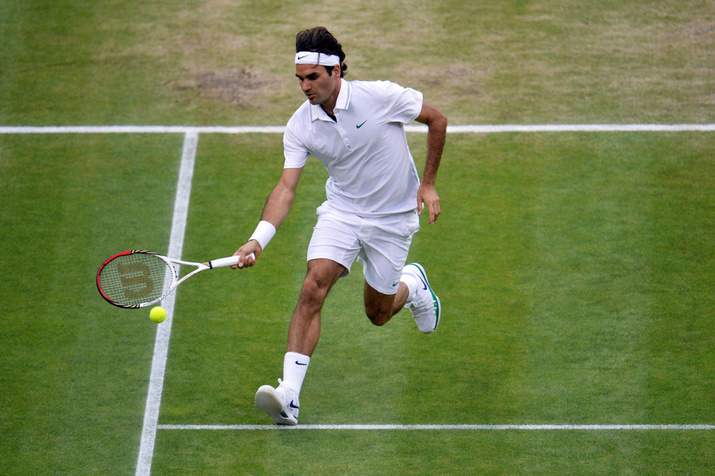 Victoria Chiesa:
Men's Champion: Roger Federer
With questions surrounding Novak Djokovic's health, and how Andy Murray will deal with the pressure of defending a title, perhaps Federer's rounding into form at the right time. It's hard to believe that Federer and Rafael Nadal haven't played at Wimbledon since 2008, and a potential semifinal between the two stands out as Federer's biggest obstacle to a seemingly never-ending quest for an elusive 18th major. Nadal's looked vulnerable in shocking defeats here each of the past two years, and with another uncomfortable draw, there's a chance he might not even get to the semifinal stage. With uncertainly surrounding many of the men's top contenders for the first time in recent memory, who better than a seven-time champion to take advantage of what might be his last opportunity to taste Wimbledon glory?
Women's Champion: Serena Williams
Williams' Australian Open and Roland Garros campaigns ended much earlier than most people, including herself, certainly expected. With as much to prove as a 17-time major champion ever does at this point, Williams has made a habit of erasing subpar Roland Garros performances with stunning Wimbledon runs over the course of her career. A favorable draw, where only Eugenie Bouchard looms as a credible challenger before the quarterfinals, will do much to boost the top seed's confidence and raise her chances of claiming her sixth Wimbledon crown.
Men's Dark Horse: Grigor Dimitrov
With my perennial dark horse pick Ernests Gulbis now safely inside the top 10, the next logical choice is the man who sits barely outside it. Dimitrov put on clinical performances to reach his first career grass-court final at the Queen's Club and was forced to dig deep against Feliciano Lopez in the final to win it. He showed off a full set of skills to rally from a set and match point down against Lopez, so he should also be riding high on confidence. A brutal first-round draw in the form of Ivo Karlovic was his undoing at Roland Garros, and with no such threats here, the Bulgarian should find himself in the second week for the first time.
Women's Dark Horse: Tsvetana Pironkova
Pironkova has only won back-to-back main draw matches once since capturing her first career title in Sydney as a qualifier, but consistency's rarely mattered for the woman who plays well above her ranking at Wimbledon. She almost made the seedings this year, but her draw is kind nonetheless. Should she get past Varvara Lepchenko in the first round, Sara Errani or Caroline Garcia wouldn't strike fear in the Bulgarian's grass-loving heart. With Ekaterina Makarova the other seed in this section, don't be surprised if the enigmatic Bulgarian finds herself in the second week once again.
Neha Ganeriwal:
Men's Champion: Novak Djokovic
The player who terrorized the tennis world in 2011 has had a sub-par year-and-a-half by his standards, losing three consecutive Grand Slam finals and winning just one of his last six. Djokovic and will be determined to settle for nothing less than the winner's trophy, assuming his wrist issues recede. His game needs no introduction and neither does his steely resolve. This may be put to the test by Roger Federer but should eventually prevail amid some transcendent tennis, tears, and shirt-ripping celebrations.
Women's Champion: Serena Williams
She made a statement after her worst ever Grand Slam loss last month, vowing to work five times as hard so she'd never lose again. It's good to see Serena's fierce competitiveness back because that's really all that she needs, together with some swagger on her serve. We already know that she owns the grass and is more competent and mentally stronger than anyone out there, even more so when critics are out writing her career eulogy. Serena has an unrealistically difficult draw with Alize Cornet (her nemesis in Dubai) and potentially all four semifinalists of Roland Garros to defeat before reaching the final. When she has a point to prove, though, it doesn't matter who her opponent is, or whether they're playing on grass or ice or charcoal.
Men's Dark Horse: Dominic Thiem
Grigor Dimitrov has a promising career ahead, but I'm going to opt for arguably one of the fastest-rising talents in the game: 20-year-old Dominic Thiem, who could well knock Dimitrov out in the second round. The youngest player in the top 100, Thiem started the year ranked No. 139 and has since then undergone an exponential rise to arrive at his current ranking of No. 55. With a strong serve, brilliant backhand down the line and a powerful forehand, he has a complete game for the grass and might well cause some career-enhancing upsets.
Women's Dark Horse: Camila Giorgi
The tiny but feisty 22 year-old Argentalian woman Camila Giorgi is my dark horse for Wimbledon. She is one of the smaller players on tour at 5-foot-6 and is in the same quarter of the draw as Serena and Maria Sharapova, but I'll be putting my money on this young talent if she is to face off with Sharapova in the third round. At home on grass, Giorgi's slight stature allows her to tackle the low bounce with ease and launch an Agassi-esque ferocity and precision into each of her groundstrokes, a welcome sight for any WTA fan. It's no coincidence that she has defeated Sharapova, Victoria Azarenka, and Caroline Wozniacki in the last 12 months and is currently at a career-high ranking of No. 42.
Yeshayahu Ginsburg:
Men's Champion: Andy Murray
This looks like the most wide-open tournament we've had in a long time on the men's tour. Rafael Nadal is not great on grass now, at least in the first week, and a rematch with Lukas Rosol looms in the second round. Novak Djokovic drew the toughest possible path. Roger Federer and Andy Murray both have been showing weaknesses. But nobody outside that group is really stepping up, so Murray should defend his title, now that he has the Wimbledon monkey off his back.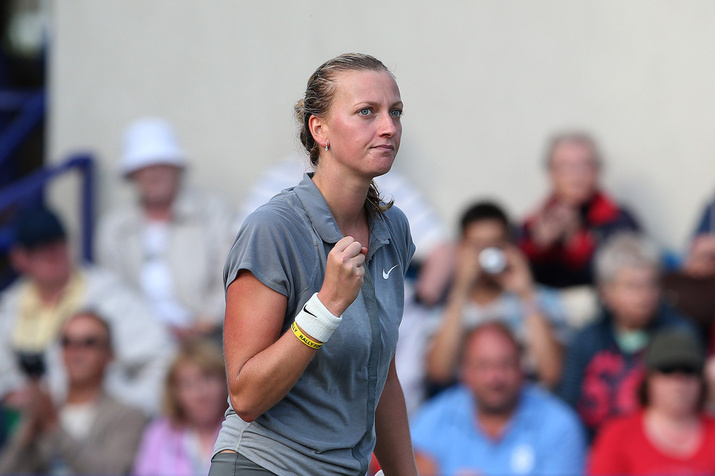 Women's Champion: Petra Kvitova
It feels weird without the defending champion competing this year, so we have to find a favorite who can fill Bartoli's shoes. With two favorites and a third prominent dark horse all drawn in the same quarter, the rest of the field is wide open. Whoever comes out of the bottom half of the draw should win this tournament. I have no idea who it will be, but I'm leaning towards Petra Kvitova at the moment.
Men's Dark Horse: Philipp Kohlschreiber
Kohlschreiber is in form, and a favorable draw means he can definitely reach the quarterfinals (or further) here. The biggest test will be Kei Nishikori in the third round if Nishikori is healthy. Most of the other potential dark horses have especially difficult draws.
Women's Dark Horse: Ana Ivanovic
Popular dark horse pick Eugenie Bouchard could potentially face Serena in the fourth round, and that type of result shouldn't qualify as a surprising success for Bouchard anymore. So I am going to once again pick Ivanovic. She is in good form now for extended periods of time, although she still has trouble playing top-level tennis for entire matches. But Ivanovic has a favorable draw, so I can see her reaching at least a quarterfinal.
Mike Holder:
Men's Champion: Novak Djokovic
Djokovic last won a Grand Slam in Australia last year, just lost a gut-wrenching final at Roland Garros, and appears to have a wrist injury. Yet the 2011 champion is primed to hoist the trophy again. Playing arguably the most consistent tennis of all the top player thus far this season, the Serb still has no Grand Slam titles to show for it. However, he has won three of the seven tournaments that he has entered, falling short of the semifinals in just one. Despite his recent misfortune, perhaps Djokovic is simply due, and his high level of play in 2014 will finally pay off.
Women's Champion: Serena Williams
Quite simply, Serena Williams was embarrassed a few weeks ago in Paris, and the wound is probably still open. History has shown that the world no. 1 launches a relentless assault to distance herself from the memory of a Grand Slam defeat, particularly when such poor effort was involved. Her French Open loss may have stoked the fire of a champion with a fierce will to win. The results could be an overpowering Wimbledon for the five-time titlist there.
Men's Dark Horse: Kei Nishikori
When picking Nishikori, injury must always be in the back of your mind. However, if the native of Japan can stay healthy this fortnight, he has the power and skill to create difficulties on the grass surface. Placed in the portion of the draw featuring Milos Raonic and Rafael Nadal, Nishikori has defeated the Canadian in both career meetings and could see a wounded Nadal if he advances. A run into the second week is not unrealistic for a healthy Nishikori.
Women's Dark Horse: Sabine Lisicki
Given her run to the final at Wimbledon last season and sparkling record on grass, perhaps it is too easy to pick the German as a dark horse. However, given her struggles since Wimbledon 2013, some see these results as fools' gold. This is Lisicki's chance to breathe life into a dismal season on a surface and venue where she holds supreme confidence. While a repeat finals appearance may be overly optimistic, a potential run into the second week could happen if she can battle past Ana Ivanovic.
David Kane:
Men's Champion: Andy Murray
A soft draw will allow the defending champion to play his way into form. By the second week, Murray should be feeling confident he can take a second major title on home soil. The hopes and expectations from 77 years of a nation's waiting are long gone, and with Amelie Mauresmo, the woman who helped coach Marion Bartoli to the ladies crown, in his corner, the No. 3 seed comes to Wimbledon fit and prepared for a title defense.
Women's Champion: Serena Williams
The top seed went into the last two major tournaments a heavy favorite, only to lose before the quarterfinals in both outings. The American has always played her best when she feels she has something to prove, and Wimbledon represents a make-or-break moment for a period of dominance that stretches back to the spring of 2012. Williams could have a tough fourth-round match against Eugenie Bouchard who, on her least favorite surface, pushed eventual champion Maria Sharapova to three sets at Roland Garros, But should the five-time champion survive that early test, it's hard to see anyone else lifting the dish that shares her sister's name.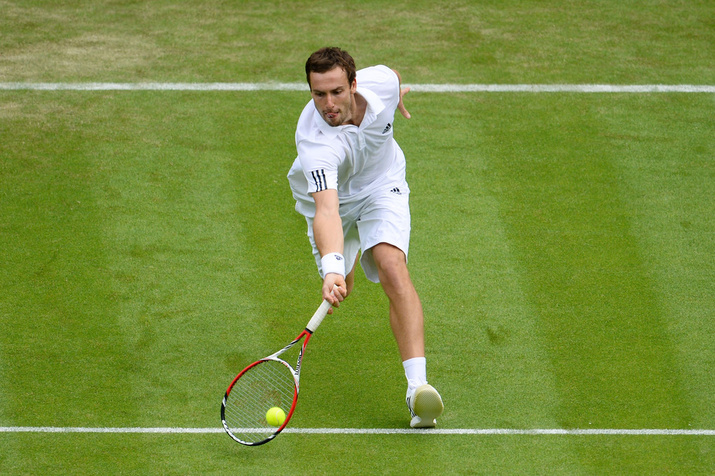 Men's Dark Horse: Ernests Gulbis
The mercurial Latvian finally made good on his promise with a run to the French Open semifinals, taking out Roger Federer along the way. Gulbis has had success at the All-England Club before, knocking out Tomas Berdych in straight sets two years ago. Whether he continues his run of good form is likely all up to Gulbis himself, who could face another Federer slayer in Sergiy Stakhovsky in the second round.
Women's Dark Horse: Camila Giorgi
When the Italian is playing well, she is nearly unstoppable. With her thumping serve and ground game, Giorgi took out Victoria Azarenka and won a set from Caroline Wozniacki en route to the quarterfinals of Eastbourne. The 22-year-old can be up and down, but she can be relied upon to take out one big name. That would be No. 5 seed Maria Sharapova, whom she beat in three ugly sets at Indian Wells.
Steen Kirby:
Men's Champion: Andy Murray
The defending champion is finally finding his form this season, after a surprise run to the French semifinals, and he should be rested after losing a bit early at Queen's Club. Novak Djokovic may have a wrist injury and be thinking toward his honeymoon, while Rafael Nadal also doesn't seem fully fit. Roger Federer is Murray's main rival this year, and the Brit has defeated him on grass at the 2012 Olympics. Look for him to keep the British crowd happy for another year.
Women's Champion: Maria Sharapova
I like the French Open champion to continue her strong run of play, given that Serena seems a bit out of form. The two champions are projected to meet in the quarterfinals, and Sharapova seems like the best women's player at the moment.
Men's Dark Horse: Kei Nishikori
Nishikori has had a strong season, and he reached the semifinals in Halle on grass. He is in the Nadal section of the draw with the Spaniard seemingly less than 100% and playing on his worst surface. Nishikori should have beaten Nadal on clay this year had he not been injured in Madrid, and this year he should make the semifinals at Wimbledon. The other high seed in this section, Milos Raonic, struggles on grass.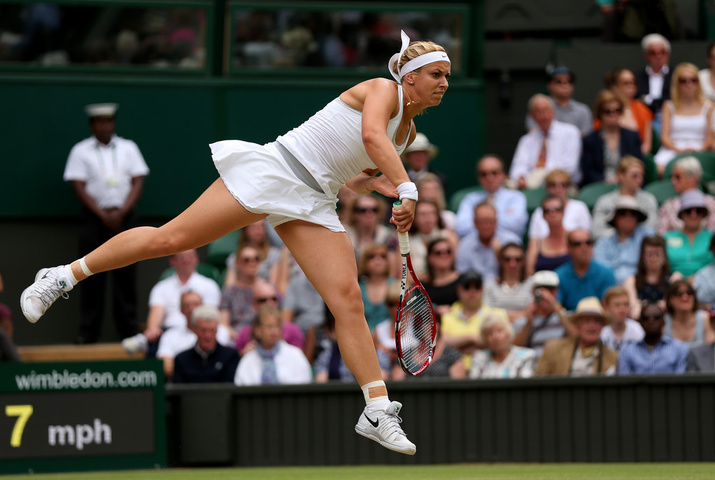 Women's Dark Horse: Sabine Lisicki
The defending finalist has a draw that she can exploit if she can find her form from last year. It hasn't been the best of seasons for the German, but she has the game to do well here, and there aren't a lot of other dark horses who are in form.
Nick Nemeroff:
Men's Champion: Roger Federer
At the French Open, making this selection is about 50% easier. Going in, it's either Rafael Nadal or Novak Djokovic. For Wimbledon, Andy Murray and Roger Federer come back into the picture as legitimate title contenders. It's been quite a while since I've picked Federer to win a Grand Slam, but if he can deal with or avoid Nadal and get through some tricky matches early on, he'll have a wonderful chance to secure his 18th major.
Women's Champion: Serena Williams
Until Serena retires, it's going to be tough to pick anyone else to win a major. Irrespective of surface, Serena is the favorite if she is at her best. Her ability to dominate from offensive positions with such ruthless authority is unprecedented, a level of control that is highlighted on grass. With Eugenie Bouchard and Maria Sharapova in her quarter, her toughest matches may come before the final weekend.
Men's Dark Horse: Feliciano Lopez
Feliciano Lopez is one of the few Spaniards who truly flourishes on grass. He's recovered from an early loss at the French Open by reaching the finals of Queen's Club and Eastbourne. Lopez should have no trouble navigating his way through the first three rounds of the tournament before he would face Stanislas Wawrinka and possibly Roger Federer in the quarterfinals. Lopez's variety, power, and ability to do damage serving and volleying make him a threat against any opponent.
Women's Dark Horse: Sabine Lisicki
It's very odd to be picking last year's finalist as a dark horse, but Sabine Lisicki just hasn't had the results this year to call her a favorite, even considering all of the success she's had at Wimbledon. Lisicki has only won consecutive matches once this year and has not reached the quarterfinals of a single event. The powerful German has been placed in a soft quarter and is far and away the best grass-court player in that quarter. It's also worth mentioning that Lisicki has defeated the French Open winner the last four times she's played Wimbledon.
Van Sias:
Men's Champion: Rafael Nadal
To say Wimbledon has been disappointing the past couple of years for two-time champion Rafael Nadal would be an understatement. And based on his recent poor form on the grass, the All England Club made the Spaniard the No. 2 seed, despite his top ranking. That's just the wakeup call Nadal needed. Few players in the history of the game have responded to doubts or challenges to his status as he has. His draw is brutal from the opening ball, but if anyone's capable of overcoming challenges, it's him.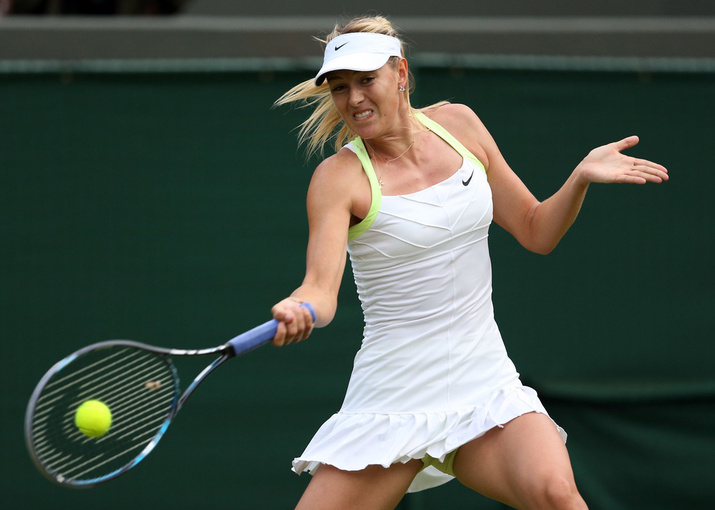 Women's Champion: Maria Sharapova
It's been a long time since Maria Sharapova lifted up the winner's plate at Wimbledon. Since her maiden major title, however, she's completed a career Grand Slam and just won her second French Open a couple of weeks ago.
Since 2004, too, she's become the personal foil of world No. 1 Serena Williams, who has a winning streak against the Russian in the double digits. The two are seeded to meet in the quarterfinals. While Sharapova didn't get a chance to reverse the tide in Paris with Williams' early loss, expect her to do so here and go on to take the title.
Men's Dark Horse: Feliciano Lopez
In this era of the Big Four, you always hear about perennial top-10 players today coming out on the wrong side of history: For instance, would Jo-Wilfried Tsonga or Tomas Berdych have won majors if they played 15 or 20 years ago? Feliciano Lopez has never cracked the top 10, but he is one of the most dangerous players in the world on grass. With a classic style of play suited for the surface, the Spaniard possibly could have been an even greater threat at Wimbledon in another era. Right now, he's on a hot streak on the turf and could find himself in the quarterfinals for the fourth time in his career.
Women's Dark Horse: Venus Williams
The bottom half of the women's draw is essentially wide open. Li Na is the second seed and Agnieszka Radwanska is at No. 4. Neither of them are sure bets to get far at Wimbledon despite their past successes. So why can't Venus Williams make a run through there? If she can somehow recapture some of the form she showed earlier in the season, a run to the finals at her best major is definitely possible.