Wimbedon: Nadal Survives Early Hurdle

Rafael Nadal defeated Nick Kyrgios 6-3 3-6 7-6(5) 7-6(3) to survive his horrific draw and move into the Wimbledon third round, but it wasn't without its supreme challenges.
Kyrgios started appallingly, quickly falling to 3-0 in a flurry of errors. As the Australian looked listless, it began to seem like the match had perhaps been overestimated and it wouldn't live up to the billing. But Nadal remained focused, finding his forehand down the line and serving well enough to keep his opponent at bay,
As the first set wore on, Kyrgios began to find his feet. He started to unleash on second serve aces and then closed out his final service game with an underarm serve ace. Nadal, standing by the linesmen, skipped towards the ball and could not suppress a smile as he picked it up. He knew the match had really begun
Kyrgios broke early in the second set and raced to a 4-1 lead, soaring at his unpredictable best. He served and volleyed, raced into the net at the most unexpected times, threw in dropshots, angles, trick shots and just continually kept Nadal off balance, both with his play and with his behavior between points.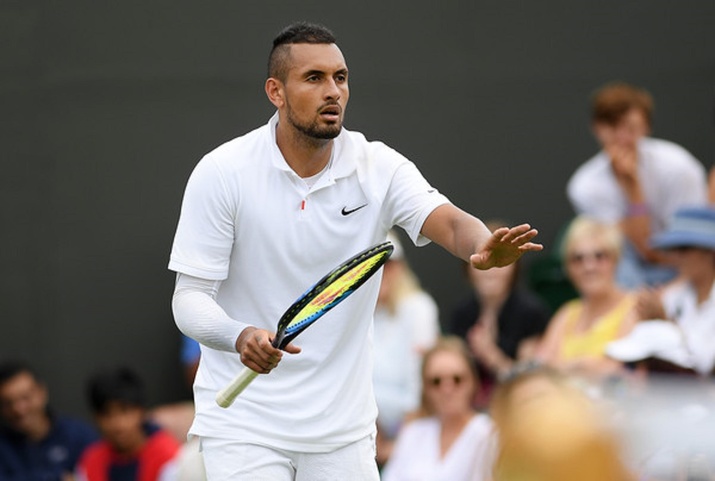 The match had begun, but so had Kyrgios' temper. Throughout the second set, the 24-year-old became increasingly agitated with the officiating. The match pitted Nadal, one of the slower players between points, against one of the fastest players in Kyrgios and each time the Spaniard put a hand up and forced him to adjust to the receiver's pace, Kyrgios seethed a little more.
After a bad service game from the Aussie at 4-2, Nadal pegged him back. As Kyrgios sat down, he exploded. By the end of the change of ends, both player and umpire were shouting at each other.
"I'm serving, I'm like starting my routine", Kyrgios said. "The rule is like play to the speed of the server. Why do I have to wait for him to get into his rhythm every time? I got angry at the ref. He's like, No, I'll tell him what I want to tell him. I was like, Oh, a little bit of a power trip there.
"He obviously feels pretty important sitting up in the chair. I don't know. I don't know. He was just terrible. I thought the way he handled the match was just bad. "
For Nadal, sitting inches away from them, the moment was a distraction and he lost his concentration. But it came back in spades across the final two sets, both decided with no breaks and two tiebreaks. As the match wore on, the tension petered out as both players became too focused on holding serve. Before today, Nadal had never won a tiebreak against the Aussie, but this time he won both to finish off a clean victory and avoid about the most dangerous draw he could have asked for.
"I thought I started a little slow, but I thought he played really well today," said Kyrgios. "I knew his game plan, I got onto it pretty quickly. He directed most of his serves to my forehand. He hasn't really done that in the past. It's definitely my weaker return. He was definitely trying to stay away from my backhand return a lot.
"But I thought just on big points, I mean, he played well. Hit his forehand extremely well. When Rafa plays well, he hits his forehand line extremely well. I thought today he was on fire with that shot. Every time he redirected, he was hitting balls just within the line, so…"
Kyrgios' press conference afterward was one of emotions and burns. He told one journalist: "You looked way too excited to ask that question. You must have a really boring life", while he noticed that another had been present during his already famous night on the town the evening before. As she asked a question, he burst into a wide smile: "You were at the pub last night!" he said as the room exploded. "That's hilarious. This is awkward."
When asked about a shot that had flown straight at Nadal and elicited a long, hard stare between them, he shook his head. "I don't care. Why would I apologize? I mean, the dude has got how many slams, how much money in the bank account? I think he can take a ball to the chest, bro. I'm not going to apologize to him at all… I was going for him. Yeah, I wanted to hit him square in the chest."
Nadal was the victor, but as has so often been the case over the past 5 years since the Spaniard was stunned by the Aussie at this very event, so much of the narrative became about the loser. When asked about whether Kyrgios could win a slam if he was to apply himself, the 18-time champion shook his head."
"If, if, if. Doesn't exist," he said. "As I said plenty of times, he's a very top, talented player. But there is a lot of important things that you need to do to become a champion, no? He has a lot of good ingredients.
But, of course, remain an important one sometimes, and that is the love, the passion for this game. Without really loving this game that much, is difficult to achieve important things. Anyway, with his talent and with his serve, he can win a Grand Slam, of course. He has the talent to do it."
(Photo Source: Getty Images Europe)