Why Indian Wells Is Almost (But Not Quite) a Fifth Slam

Is the BNP Paribas Open at Indian Wells a true "fifth Slam?"
Before we discuss, we have to define our terms. By definition, there are currently only four Grand Slam tournaments (majors) in tennis. The ITF, not the ATP or WTA, controls those four events. The Australian Open, French Open, Wimbledon, and US Open are worth 2000 ranking points, more than any other tournament. They are the only tournaments where men's matches are played as best-of-five sets with 128-player draws. In the women's game, they are still the only tournaments with 128-player draws, although matches are played as only best-of-three sets.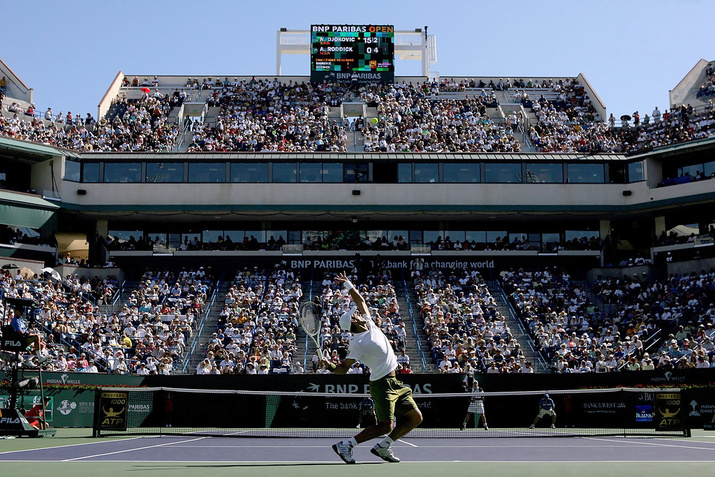 So does Indian Wells deserve to be grouped with those four in terms of attractiveness and prestige? It is not technically on that level, but it is often described as "the fifth Slam." The question of whether it deserves that moniker consists both of asking whether it is above every other non-Slam, and whether is it really on the level of the other Slams?
Granted, Indian Wells begins this discussion a step behind the majors in a way that cannot be made up, at least on the men's side. The majors are vitally different in that they require a champion to win seven best-of-five matches. Indian Wells does not. A seeded player only needs to win six matches at Indian wells, and every match is only best-of-three. That already changes the dynamic of the entire tournament.
That being said, Indian Wells has made great strides under the leadership of owner Larry Ellison to put itself ahead of the pack, even ahead of the Grand Slams in some ways. A few years ago, it became the first tournament to make Hawkeye available on every single court, something even the majors have not yet matched. The atmosphere is amazing, lagging only behind the majors in terms of overall attendance. Also, the Indian Wells Tennis Garden is a beautiful facility that is larger than every other tennis-only venue in the world aside from Arthur Ashe Stadium.
Other non-majors might have a claim to being on par with or ahead of Indian Wells. The Shanghai Masters 1000 tournament is a favorite of both fans and players, and it won the player-elected Masters Tournament of the Year every year from 2009-12. The ATP World Tour Finals, currently in London, is also a very popular and prestigious event, but its unique format makes it hard to compare to other tournaments.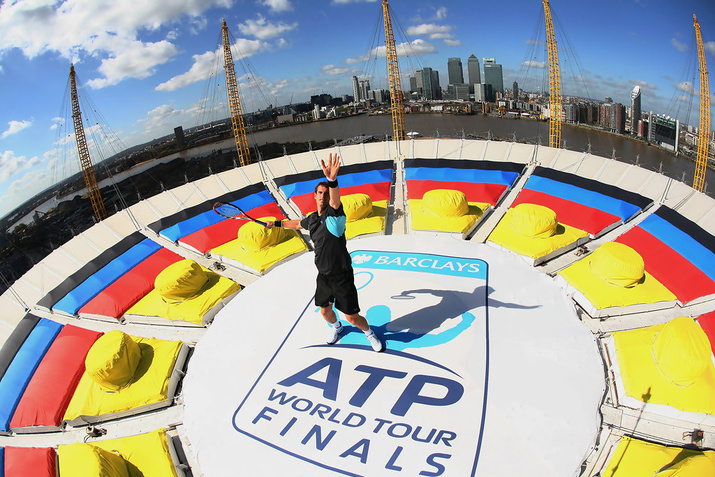 A key part of this discussion, however, must be the players. The prestige of a tournament is largely determined by how much the players care about it. Almost nobody skips Indian Wells by choice, but players are more likely to withdraw with a more minor injury than from a major. Candid opinions from players, which are unlikely to be forthcoming, would matter greatly in helping us determine where Indian Wells sits on the spectrum.
At the end of the day, though, not all majors are created equal, just as not all smaller tournaments are equal. For most of the sport's history, the Australian Open lagged far behind the other majors. Many top players didn't bother to show up for it as late as the 1980s. The Australian Open is rapidly catching up to the others, if it hasn't already, but that distinction is still there in the minds of many. Similarly, Wimbledon is the most prestigious tournament in tennis by any measure. It carries a gravitas that none of the others can match. This isn't reflected in ranking points or in all-time title counts, but, if you offered every player the chance to win just one major, the vast majority would take Wimbledon.
So Indian Wells is probably a few steps ahead of the other non-majors, with Ellison quickly trying to widen that gap. Maybe someday it could even become a fifth Slam in reality. But so far it does not carry quite the same weight, emotion, and intensity that the four Grand Slams carry—yet.