When Wild Cards Get Wild: The Story Behind "Linzgate"

If you had not heard of Lisa-Maria Moser last week, you might have heard of her by now. In less than a day, this Austrian journeywoman became perhaps the most famous tennis player who has never spent a day inside the top 300.
Moser, 22, actually began the year ranked outside the top 1000. Yes, three zeroes. Even the most obsessive tennis fanatics would have given up before they found her name on the 11th page of the WTA rankings. She doesn't have a photo paired with her WTA or ITF information, and the only vital statistic listed on her player page is her date of birth.
After having improved over 300 spots in the rankings to No. 725, Moser was given a wildcard to the WTA event in Bad Gastein in July, the first of two events on the WTA calendar in her home nation. Not only was it Moser's first WTA event, but it was only the second time in her career that she had competed in a tournament with a purse greater than $50,000 . In her WTA debut, Moser reached the quarterfinals before falling to the eventual runner-up, Andrea Hlavackova. She defeated Mona Barthel for her career-best win and cut her ranking in half as she moved into the top 400.
Moser, now with a world ranking of 337, was rewarded with a wildcard to the second WTA event in Austria, this week's tournament in Linz. Or so she thought.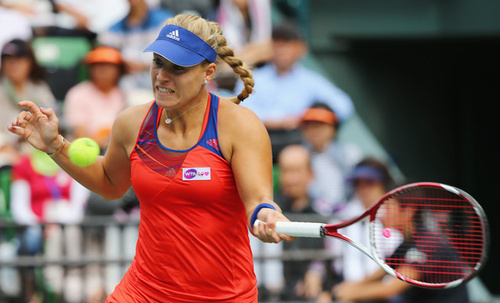 Following Petra Kvitova's withdrawal, the main draw in Linz was made on Saturday with Sloane Stephens as the top seed and Ana Ivanovic as the second seed. Since qualifying had started, only a lucky loser could replace Kvitova in the draw. However, on Sunday, Angelique Kerber was announced as a last-minute wildcard to replace Kvitova as the featured top-10 player. Wild cards can only replace other wild cards in the draw, so one player drew the short end of the stick.
That player was Lisa-Maria Moser.
Based on the tournament's official statement, they approached Moser and asked her to give up her wild card in favor of Kerber. As the story unfolded, it initially appeared that Kerber's entry broke a host of WTA rules. Aside from the fact that she was announced after the draw was made, she is allowed as a top-10 player to play only one International level event before Wimbledon and one after. This year, Kerber played in Monterrey, Mexico before Wimbledon and Washington, D. C. after Wimbledon.
When all was said and done, however, the entire kerfuffle fell in line with WTA regulations.
Kerber was allowed to compete in Linz because the event in Washington, D. C. did not count towards her International tournament total for the year. The Premier tournament in Carlsbad, held the same week, was over-subscribed in its number of top-10 entrants. As a result, Kerber played Washington instead, and it did not count against her.
"Personal reasons" was the official explanation for Moser's withdrawal. According to the official tournament statement, she and Nicole Rottmann instead received a doubles wildcard as "a small compensation." Had Moser withdrawn for medical reasons, she would have been ineligible for a doubles wild card. With a singles wild card now free for Kerber to take, she was allowed to enter the draw, and it was reshuffled to accommodate her.
At the time, Kerber stood just a handful of points ahead of Jelena Jankovic for the final spot at the year-end championships in Istanbul. Her last-minute move to pick up more qualifying points was a calculated one. However, with the news on Monday that Maria Sharapova has withdrawn from the year-end championships, the controversy could end up being all for naught.
Following Sharapova's withdrawal, Kvitova, Sara Errani and Jelena Jankovic all officially qualified for Istanbul. With one place left, Kerber leads the pack and qualifying is in her hands. If she reaches the semifinal in Linz, she will punch her ticket to Istanbul. Caroline Wozniacki, who is entered in Luxembourg and is No. 9 in the race, can pass Kerber only if she wins the title there and the German drops her first match in Linz and in Moscow, where she is also entered.
The week did not end well for Moser, for she and Rottmann drew and lost to the top seeds, Gabriela Dabrowski and Alicja Rosolska, in the first round. Moser, who has made $12,761  of her $18,202  career prize money this year, earned approximately $450 in the loss. She could have earned nearly $1500 for a first-round exit in singles.
"Linzgate," as the incident has been called, has two sides. Any event loves to see a top-10 player step in when another withdraws, and the excitement of a down-to-the-wire race to Istanbul is good for the tournament and fans alike. But asking a lower-ranked player to give back her wild card to facilitate that does not seem fair.
With Kerber's prospects for Istanbul looking bright, it remains to be seen if it was all actually worth it.