When the Djoker Laughs Last: Monte Carlo and Fed Cup

Two thumbs up: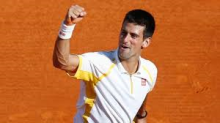 Novak Djokovic: The week did not start well for the world No. 1, who lost the first set in each of his first two Monte Carlo matches and committed 45 unforced errors in the second. In fact, the week nearly did not start at all for Novak Djokovic, for an ankle injury incurred at Davis Cup caused him to think twice about participating in this tournament. Banishing those doubts from his mind, he called the decision to play the best that he ever has made in view of how the week ended: a 14th Masters 1000 title and, more importantly, a commanding victory over archrival Rafael Nadal.
The first man to win three clay matches from the greatest clay player ever, Djokovic hammered away at the Spaniard's backhand with the relentless purposefulness that had escaped him during his March skid. When Nadal threatened to seize the momentum late in the second set, the Serb simply grew bolder and more determined. Djokovic now has won every Masters 1000 tournament except Cincinnati, where he has reached four finals. Only one major still eludes him, and his scorching Sunday performance delivered a statement of intent that he can complete the career Grand Slam at Roland Garros. For the neutral viewer, the clay season just got a lot more interesting.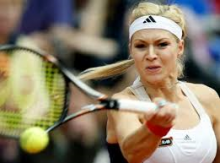 Russia: For the second time, captain Shamil Tarpischev's squad rallied from a 0-2 deficit to win a Fed Cup World Group tie. Ambushing France before, Russia surged back against Slovakia in Moscow despite lacking their top two singles players in Maria Sharapova and Nadia Petrova. Maria Kirilenko especially impressed by recovering from a dispiriting Saturday loss to start the comeback on Sunday, and Ekaterina Makarova showed poise in weathering a three-set rollercoaster that her team needed to survive. Russia will seek its fifth title in the last ten years at the end of the WTA season in November.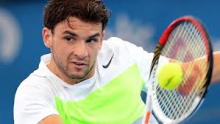 Grigor Dimitrov: On the verge of winning a set from Djokovic at Indian Wells and Murray at Miami, this future star collapsed under the pressure of a beckoning breakthrough. Dimitrov lost the first set easily to Nadal at Monte Carlo, which surprised nobody. Then, he stormed through a dominant second set while winning his share of the long rallies, which surprised everybody. Nor did Dimitrov fade in the third set, keeping Nadal at bay until a single late break decided their quarterfinal, his first at this level.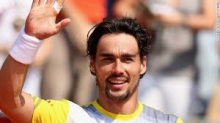 Fabio Fognini: Like Dimitrov, Fognini never had reached a Masters 1000 quarterfinal. While his native clay seemed the most likely venue for him to reach his first, he surpassed expectations by forging past two top-ten opponents en route to the semis. Straight-sets wins over Tomas Berdych and Richard Gasquet illustrated Fognini's underrated sense of point construction and showed what he can produce when he applies his talents. An opening three-set victory over compatriot Andreas Seppi hinted at what lay ahead, for he displayed an uncharacteristic degree of tenacity in fighting through that contest.
Thumbs up: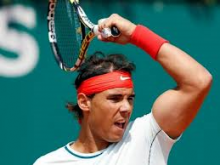 Rafael Nadal: All things must come to an end, even the singular stretch of sustained mastery that he maintained at Monte Carlo for nearly a decade. Anything short of a ninth straight title would have seemed a disappointment to Nadal with the expectations that his streak had generated. Still, he has reached the final in all five of his tournaments this year, showing a remarkable consistency. Offered that prospect at the outset of his comeback, he surely would have leapt to accept it. Nadal probably will make adjustments after his first meeting with Djokovic in nearly a year, and the chess match between them in the coming weeks could be fascinating to watch.
Jo-Wilfried Tsonga: On his least effective surface, he reached the semifinals and submitted a reasonable competitive effort there against Nadal. Tsonga knocked off a pair of opponents with stronger clay resumes in Jurgen Melzer and Stanislas Wawrinka to reach that stage, which bodes well for a man who nearly reached the Roland Garros semifinals last year.
Ana Ivanovic: While Serbia ultimately lost their World Group playoff tie to Germany, their top-ranked woman left everything on the court in two valiant victories. Surviving a three-setter against rising talent Mona Barthel, Ivanovic edged past German No. 1 Angelique Kerber a day later in her first win over a top-eight opponent this year. The former Roland Garros champion, a disappointment in her last few tournaments, may have gained the boost that she needs to become an intriguing dark horse on the clay.
Jarkko Nieminen: Stepping into the role that Tommy Haas played in Miami, the 31-year-old lefty from Finland upset two seeded opponents in Monte Carlo. Despite his age, Nieminen won consecutive third-set tiebreaks from mighty giants Milos Raonic and Juan Martin Del Potro to reach the quarterfinals. Both of his much younger opponents seemed to take him too lightly and paid the price.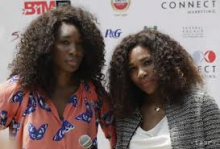 Williams sisters: Fed Cup rarely has ranked among their priorities, but this weekend proved a welcome exception. Serena and Venus combined to secure all three of the victories that Team USA needed to stay in the World Group next year, outclassing a game but overmatched Swedish squad. The only event on hard courts this week, the tie in Delray Beach allowed the sisters to stay near home a bit longer before venturing onto the European red clay.
Stanislas Wawrinka: When he lost that Australian Open epic to Djokovic, some questioned whether he would take more positives or negatives from the near-upset. An encouraging answer to that question may have surfaced from Wawrinka's resounding victory over Andy Murray in Monte Carlo. This tournament has witnessed some of his more impressive results, including his only career victory over Federer. That said, Wawrinka let a winnable match escape him against Tsonga a round later.
Thumbs down: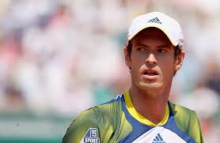 Andy Murray: Dropping behind Federer again to No. 3 in the rankings, he showed listless body language in an early Monte Carlo loss to Wawrinka. Murray rarely finds his best tennis on clay, often appearing to save his energy for the pressure-packed grass season that follows. But one expected better from the man who just won Miami than his most lopsided defeat in three years, lasting less than an hour. Murray's 400th career victory will have to wait.
Ernests Gulbis: The charismatic shot-maker roared back into relevance with a 13-match winning streak through the spring hard courts, recapturing the hearts of some fans who had abandoned him. Last week revealed a less appealing side of Gulbis, who indulged in three instances of unsportsmanlike conduct during a three-set loss to Juan Monaco. As warning, point penalty, and game penalty trickled past, his career-long lack of discipline emerged.
Switzerland: Ceding home-court advantage for more convenient clay preparation, Stosur and her Australian countrywomen found themselves mired in torrential rains. Neither Saturday nor Sunday could feature live tennis, so this Fed Cup playoff tie may disrupt Stosur's schedule almost as much as playing in Australia would have. Careful what you wish for, Aussies.
Two thumbs down:
Monte Carlo wildcards: The tournament boasted an impressive trio of wildcards when it began, including fifth-seeded Juan Martin Del Potro, Houston champion John Isner, and former Roland Garros semifinalist Gael Monfils. Those men won one total match among them as Monfils failed to outgrind Spanish qualifier Albert Montanes, Isner wore down from fatigue over three sets against Gulbis, and Del Potro fell to Nieminen in a match clouded by a cramping controversy. Only sporadic entrants in Monte Carlo, all three of these men may think twice before returning there.
Tomas Berdych: Still troubled by the fatigue that undid him in Miami, he never looked comfortable on the Monte Carlo clay. Huge quantities of unforced errors flooded from Berdych's racquet, and he even cracked a little mentally during his routine loss to Fognini. He may want to rethink his February schedule in future to avoid this lull when he reaches tournaments that matter more.